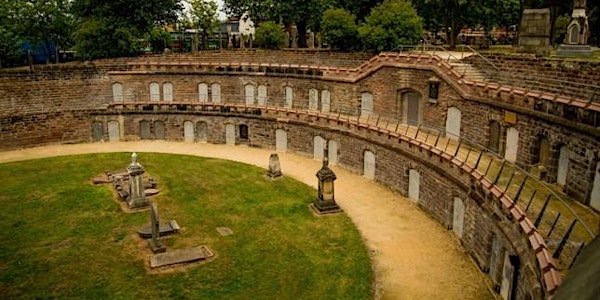 A rare opportunity to view the interiors of the Birmingham Catacombs in War
Location
Vyse Street, near Pitsford Street
Vyse Street
Birmingham
B18
United Kingdom
Sales Have Ended
Ticket sales have ended
Please ensure each ticket is in the attendee's name rather than example 2x John Smith. Email: friends-kh-wl-cem@outlook.com Please arrive 15 minutes before the tour begins to allow time to be booked in.
A rare opportunity to view the interiors of the Birmingham Catacombs in Warstone Lane Cemetery and neighbouring Key Hill Cemetery
About this event
Welcome, please note for health and safety reasons we require each ticket to be booked in each of the attendee's names for all tours. As part of the JQ Festival, these guided tours will begin in Warstone Lane Cemetery viewing the interior of one of catacombs, then walking to neighbouring Key Hill Cemetery to view the interior of several catacombs, this is an uneven terrain and the catacombs are dark.
Learn about John Baskerville who was buried three times and his last resting place is Warstone Lane Cemetery Catacombs.
Please Note: No human remains or coffins will be visible.
Pre-booking essential: Tour fee: £6.00 per person, plus booking fee.
Please book each ticket in the attendee's name and bring each eticket to the sales and information stall 20 minutes before the tour begins.
The first guided tour will commence at 12 noon first viewing the interior of Warstone Lane catacomb than walking to neighbouring Key Hill Catacombs to view the interior.
This tour will be repeated at 2pm
Meeting place: at the Friends Sales and Information stall in Warstone Lane Cemetery 20 minutes before each tour commences. Please bring your eticket with you.
Please wear suitable footwear.
Information and Sales Stall in Warstone Lane Cemetery 10.30am- 4pm. Last inquiry 3.45pm
Warstone Lane Cemetery is listed as Brookfield's cemetery on some modern-day maps.
PLEASE NOTE : There is now a strict no visitor photography or filming rule. Please do not bring recording devices. All mobile phones must be switched off before entering.
F.A.Q
Toilet facilities – Vyse Street facing Warstone Lane Cemetery.
There are plenty of café's , bars and restaurants nearby.
Sorry no refunds, should you wish to cancel your ticket for any reason please note we require 7 days notice to allow time to re-sell your ticket.
Not suitable for young children.
Admin will not be available to reply to any questions after Wednesday 20 July. Website address below.
Getting here : See map below
Train and Tram stops at the Jewellery Quarter Station in Vyse Street.
Bus -the 101 bus from Colmore Row to Chamberlain Clock walk to Vyse Street , see Sunday service via nxbus.co.uk and plan my journey https://nxbus.co.uk/west-midlands/plan-your-journey.
Car – Clean Air Zone from 1st June 2021 Birmingham Clean Air Zone
WILL YOU NEED TO PAY?
Charges are from midnight to midnight. Birmingham's Clean Air Zone started charging on Tuesday 1st June 2021 but estimates predict that 75% of cars will be exempt from charges. The zone, covering the centre of the city , aims to reduce pollution levels and encourage more people to switch to public transport to visit the city centre. It is different to the London congestion charge which charges all vehicles so it's important that you know whether it applies to you or not. Check your vehicle here to see if you would be charged: https://www.gov.uk/clean-air-zones
FINDING A GRAVE: Should you require to find the location of a family grave, the Friends may be able to assist. Please note this is unlikely to be achieved before , during , or after a guided tour. With prior notice the Friends may be able to arrange for you to meet a volunteer on a separate day with a date and time to suit you both. Should you require this voluntary service please email the Friends in advance with the family names and year of death if known, also state which cemetery if known.
Other EVENTS : Please see the Friends cemetery tours the second Sunday of the month( these do not include the interior of the catacombs)
Volunteers of the Friends of Key Hill Cemetery & Warstone Lane Cemetery , RAISING FUNDS FOR GRAVE RESTORATION preserving our history and caring for the community since 2004
www.fkwc.org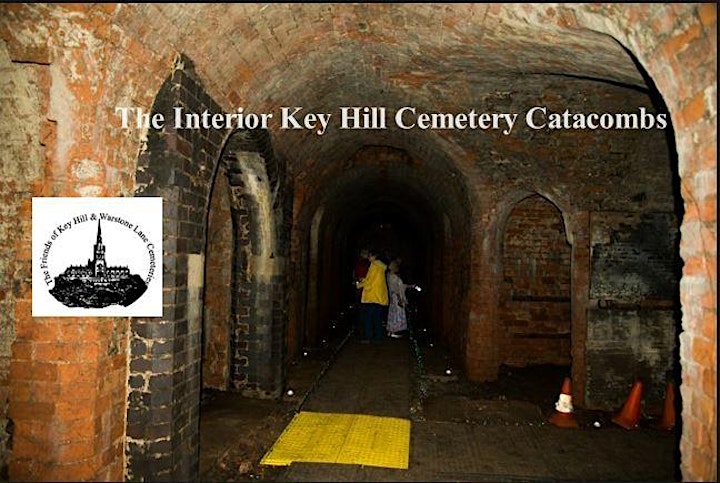 The interior of Key Hill Cemetery Catacombs. Key Hill Cemetery was formally known as the General Cemetery.