A REAL Mind-Body-Spirit Makeover for the Year Ahead

Saturday, December 2, 2017 at 9:30 AM

-

Sunday, December 3, 2017 at 7:00 PM (GMT)
Event Details
THE MIND BODY SPIRIT ENERGY FEST 2017
SATURDAY 2nd & SUNDAY 3rd DECEMBER 2017
For the 7th groundbreaking year, I am delighted to announce that not only is this event back, it has for the first time ever been extended to 2 full days! 
Previous attendees had been suggesting it for the past 5 years so I have finally decided to listen to their feedback and act on it, so the December 2016 Mind Body Spirit Energy Fest will be 2-days!
Day 1 is all about bringing up your old stuff and clearing it in a safe and confidential environment using some super cool tools, which I'm sure would also have been added to by then. 
Day 2 is a series of innovative and unique experiential processes and breakthrough exercises to really embody and set in motion what you choose and desire to create for the coming year and beyond. 
Below is a sneak peek of what we've got planned for the December 2016 event.
The Game of Life Cards - Wow to see them for your self and hear Gina Batt put them into words click here for the Facebook Live video

An Experiential 'Acting' Exercise to get to heart of any fears, blocks, or barriers

The 'Acting' As If Goal Embodiment Induction and Process

Past Life Regression - the likes of which you have never seen before! 

The Write & Burn

Huna Energy Clearing & Reenergising

Access Consciousness Belief Change Session

Choreographed #DanceBreak Segments

Future Life Progression Induction and New Life Script

Meet Your Guides Message for 2017

A Year Ahead Angel Tarot Reading

Using your Archetypal Life Journey to Rise and Shine

The Marilyn Devonish Life TranceFormation Process
Gina and I also did a Facebook Live Session where we shared an initial overview of what is to come.  To watch the Facebook Live video click here.
The glowing feed back the 2016 Attendees included:
"Brilliant. Fun. worthwhile. Self-realisations. Unmissable."

"Blessing. Gift. Potent. Fun. Adventure."

"Incredible. Amazing. Fab. Mind blowing. Love it."

"If you want to prepare for the coming year, and you want to clear and overcome all the challenges and obstacles that are holding you back, then you absolutely HAVE TO ATTEND THIS EVENT."

Feedback from the 2015 Attendees:
"Spectacular. At least 11/10!"
"A fantastic way to end a year and set intentions for the year ahead."
"If you are feeling blocked about the next steps in your life this is the perfect workshop for you."
"This is a fantastic way to complete a year and resourcefully start into the new one equipped with all you need and freed from limitations.  Absolutely amazing in every way."
"I would highly recommend the Fest, it was a wonderful way to create the success I want to achieve in the next year."
"The event has been amazing, as amazing as the one last year. It delivered once again above expectations in all ways."
"Brilliant speakers.  Marilyn and Gina are a cut above the rest."
That's just a tiny selection of the anonymous comments.  The rest are just as wonderful, which is amazing.
 As our previous delegates have said time and time again, year in, year out, this is an event with a difference where you will come away feeling inspired, invigorates, motived, and with a sense of excitement, purpose, and clarity about the year ahead and beyond.
Because of the experiential nature of this event, place are limited so please book early if you wanted to guarantee your place.
We very much look forward to working with those of you that are lucky enough to grab one of the coveted spots.
Marilyn Devonish
WHAT HAVE PREVIOUS ATTENDEES SAID ABOUT THIS EVENT?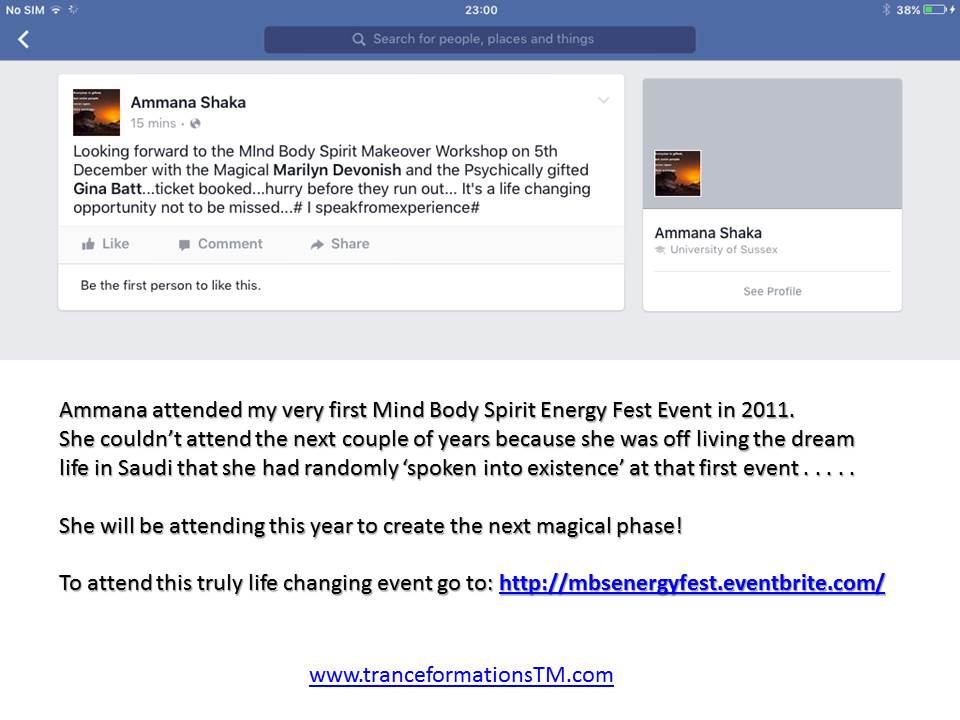 FEEDBACK FROM THE MBS DECEMBER 2014 ATTENDEES:
Wow. I haven't even looked at the feedback forms yet, just at some of the social media posts and e-mails about my Mind Body Spirit Energy Fest Workshop on Saturday. The comments so far have included:
"I'm still in awe of how fabulous Saturday was Marilyn, I didn't even know I could go that far in one day! I shall keep you posted."
"I will second that in thanking Marilyn for another mind-expanding and out-of-ordinary experience."
"Mind-blowing and heart-expanding."
"Spent an amazing day at the MBS Energy Fest with the lovely Marilyn Devonish. Can't wait to see what the next year holds."
"Many thanks to You, Gina, Sukhi, Lisa and Leena for such a spectacular and enjoyable day yesterday.
I look forward to receiving my letter in the post in due course 
Thank you also for your efforts in organising another great event. I also look forward to December 5th 2015!"
"Many thanks for organising a really good day yesterday. I felt exhausted by the end as my subconscious was very busy processing.
I'm intrigued with what will as a consequence."
"Fabulous day at Marilyn Devonish's Mind Body Spirit day today. Some amazing speakers and powerful processes. Thank you Marilyn, Gina, Lisa and Suhki! And thank you again lovely Linda for the ticket! Think I'll sleep like I've been knocked out tonight . Zzzzzzzz"
WHY ATTEND THIS EVENT?
It has changed the lives of previous delegates beyond their wildest dreams, and attendees have said that it was a wonderful way to end one year and start another and that everything that they worked on and more came true.  One, after searching for many years for his soul mate and true love found her.  Another wanted to move abroad to Saudi Arabia for a complete life change and she did it within months of attending the MBS Event.  Another wanted specific increases in their finances and they achieved it.  Another wanted to heal a specific healh challenge and it was done.  The list goes on and you can read about some of those amazing life changing stories below.
In the words of a couple of our previous delegates:
"Speaking as one of last year's success stories currently living in Saudi Arabia, I urge you to get in while the price is low . . . .  it's worth much much much more." AMMANA SHAKA 
Happy New Year Marilyn and an especially HUGE Thank You for the Power of Three! I have had some massive breakthroughs already in preperation for 2012 and now expect the most massive growth, expansion, learnings, connections & Love in the coming months! My very thought patterns and feelings & experinece has shifted! It seems like I am livimg in a new world! phenomenal! From the depth of my heart Thank you again and the very best wishes for you in this exciting year. KEITH HIGGS
WHAT IS THE MIND BODY SPIRIT ENERGY FEST?
It is an intensive 1-Day Workshop, this year with amazing 5 speakers, all dedicated to helping you make shifts and changes and breakthrough's with regards to your mindset, physical body, spiritual development, money, and soul purpose.  The original intention behind the event was to set people up for the year ahead and help to remove any blocks and barriers from all aspects of their lives, hence working on the mind, the physical body, the spirit, and the soul.  
WHO IS RUNNING THE EVENT?
The event is organised, run and facilitated by Marilyn Devonish.  
WHO ARE THE SPEAKERS?
The Mind, Body and Soul Section will be run by Marilyn Devonish who will be looking at shaking off old limitations and boundaries and taking you on a journey of Future Life Progression in order to go out into the future and bring back some incredible strategies that you can apply in 2016 and beyond.  
For the Spirit Section was have Clairvoyant and Psychic Gina Batt who will once again be giving you a glimpse into the future and what 2016 has in store.
There may also be additional specialist guest speakers so further details will be shared nearer.  Suffice to say that it will be a fantastic way to start your year. 
WHERE IS THE EVENT TAKING PLACE?
The event is taking place at the Jury's Inn Hotel in Watford, which is 20 minutes on the train from London Euston (and yes, you can use your Oyster card) and then a 5 minute walk from Watford Junction mainline station.
WHAT IS THE INVESTMENT?
The prices are above, and depending on when you book there is an early booking price.
WHAT IS INCLUDED IN THE PRICE?
If you book early enough, your ticke price also includes:
A FREE Soul Plan report

A FREE Written Channelled Psychic Reading done personally for you

All experiential sessions on the day
WHAT TYPES OF THINGS ARE WE COVERING ON THE DAY?
If previous years are anything to go by, infused into the mix will be some Hawaiian Huna, Angel Tarot Readings, Soul re-alignment, energetic goal setting, Access Consciousness, psychic readings, energetic cord cutting, and the shifting of old limiting beliefs, blocks, and barriers.  
"So the only question is, do you really want to create something COMPLETELY DIFFERENT or the beyond your wildest dreams kind of stuff for 2016 and beyond?"
HOW HAVE PREVIOUS DELEGATES BENEFITTED FROM ATTENDING THIS EVENT?
The previous MBS Energy Fest Days immediately changed lives . . . . . 
"A lovely man attended this event in December 2011 and his wish for all of the years that I'd ever known him was to find true love . . . . . He re-attended as my guest in December 2012 with, you guessed it, the love of his life because he wanted to share his amazing transformation and story with the new group of Mind Body Spirit Energy Fest delegates.  Having just checked his facebook page (in October 2014) he and his lovely lady are still together and I just watched a lovely little film they created together where they are Sky Diving for charity: www.justgiving.com/keithhiggsskydive " 
Another delegate attended the first ever Mind Body Sprit Energy Fest, and during one of the meditative processes came up with the idea of going abroad to work in 'Saudi or Dubai' which to all of us, herself included was completely random . . . .  Check out the video below about the life changing series of non-stop synchronicities that unfolded after the day she attended this event.  She couldn't be with us the following year because, you guessed it, she is still living out in Saudi!
(More background and detail to both of these amazing stories is outlined below, and you can watch an interview with Ammana about her complete life transition, moving to Saudi Arabia, and everything that unfolded for her at: http://www.tranceformationstm.com/testimonials.html  - The video entitled 'Speaking It Into Existence')
At the 2013 event I went around the room asking people what they wanted to take away from the event.  Person after person shared that they had attended in previous years and "had gotten exactly what they put out there and more, and were therefore back for more of the same!"
This live event will take place on Saturday 5th December 2015.  If you would like to reserve your place at this unique event use the ticket options above to book now.  
Feedback from the previous Mind Body Spirit Energy Fest delegates included: 
"Loved today's workshop, really glad I came."
The facilitators were all very special magical people and I had a fantastic day :-) - Make it 2 days!"
"Great speakers and healing sessions - Thank You."
"Thank you for your time and energy.  I'll leave with a bounce in my step." 
"The course was well planned and delivered.  Wouldn't have minded if the course was longer!"
We have delivered something amazing year after year, and this year, December 2014, the line up got even bigger and better so I can only begin to imagine what will unfold for our delegates as a result of attending the day.
One of the delegates verbalised an idea in the room that astounded even her, but the rest, as they say, is history . . . . . . 
"I do not know why my mouth said this . . . . Oh I might go and teach in Saudi or Dubai . . . . By the time I came to your workshop my job was gone, I was in a lower place, and earning a fraction of what I was earning . . . . One of the other delegates on the course had some experience of that part of the world and said it wasn't a good idea . . . . ."

It is an amazing and heart warming story. Thanks you Ammana Shaka for sharing.
Marilyn

just wanted to say thank you to you, and all your teams for an amazing day yesterday

I won't say I was a sceptic because I am not - but I was coming to just see and thats all no expectations.
I left feeling physically, mentally and emotionally recharged with a clear vision for 2013 - more importantly with the certainty and confidence to take ALL the actions and opportunities I am gifted with.

You nearly look a day younger - this was my first experience of you doing your thing and you are very good - but you know that.
Gina was lovely - not scarey - comforting and supportive - I loved her bit and of course.
Karina definitely a witch with her her way of magic - feel a bit stiff this morning after sleeping but defintely more aligned and planning a walk with Loran this afternoon.  (This refers to Vicki having a hip out of alignment which was re-aligned during the day).

So thank you again - have an amazing day, and fabulous Xmas and 2013
see you again soon

With much love and gratitude
Vicki  Wusche :) xx
Gratitude Expressed
 To:   The Powerful Power of 3 -  P3
This is a testimony from my heart to yours of which I know it will touch, for you are all gracious beings of light.....
You all come from a place of TRUTH and INTEGRITY that has the naturalness of breaths of fresh air inhaled when walking in the countryside with unpolluted air.
The realness and joy that comes when truth is the essence of where you spoke  and uttered your words of wisdom and genuine experiences.... which were practical , down to earth and real in it's feel.... which had a purple energy coming from your breaths as you spoke.....it was lovely to see
This is one of the 1st workshops, that I can recall having come into whereby each of you recognise and "see" / "sense" the spiritual gifts of the person before you and did not in anyway emit the energy frequency of giving as little information as possible for me to further enhance my gifts..... I have been to many to assist my reconnection to my sacred self, in order to reveal my Divine Sacred Service in this incarnation....and trust me, as soon as they became aware of my gifts the shutters and barriers and lack of sharing truthful and quality information for me to progress was in retrograde in an accelerated manner!!
To aver the positive – you all three gave of your beings in a way that was infectious, contagious, and so overwhelmingly believable even to those that did not even quite "get it". Truth is a wonderful and clean energy..... anyone who uses that room for the next few weeks are going to be astounded at the positive outcomes they are going to have.....!!!! Our final and closing "ceremony" was simply "OUT OF THIS WORLD" or as I like to say "orbital"
I am truly honoured to have been a part of yesterdays group of advanced teachers and workers of light who truly shone in all their efforts with devout sincerity to progress us all to the point that I saw and felt  BIG HANDS with the feel of velvet, gently pushing us all closer the desires of our hearts to experience the MAGIC of TRUTH , TRUSTING you with our ENERGY FIELDS and entering our SACRED SPACE......all  progressively working together for the greater good of all in UNITY and as ONE!
I am SO GRATEFUL, I could hardly form my words ....if I could have extracted my gratitude from my being and showed you all what it looked like, it would have filled the universe!!! That means I was full to bursting that I could not stop smiling....
Marilyn you saw the light beaming from my face in the photo you took when I was expressing my gratitude to P3...
Please let me know where I can view the photos from the workshop yesterday as well as the Testimonial video that I did with the assistance of the beautiful Bianca.
Kindly ensure that Katrina and Bianca receive a copy of this email please.
I look forward to attending this and similar events that P3 hosts in future, as well as recommend to people to whom I feel would benefit.
Immense Heart to Heart THANKS to you all eternally......
Blessings abound....
Jean O'Dean
A little more on some of those magical stories that were mentioned earlier . . . . . . .
This story begins on Saturday 10th December 2011.  I had the idea of putting together the Mind Body Spirit Energy Fest event to really help people get prepared for what they want to create in 2012. 
Trainer and Mentor Ammana Shaka attended the December 2011 event.  The day comprised of energy clearing and intuitive readings both before and during the event, goal and intention setting, and installing new strategies.  When it came to creating the intentions and goals for 2012 Ammana came up with idea that she wanted to live and work in Dubai.  Others in the room questioned why Dubai.  There was no logical answer.  Ammana had never been to Dubai, had no connections in Dubai, had no qualification to go over to Dubai so from the outside it looked like a random goal. 
THE GOAL BECOMES A REALITY - CREATING A NEW DREAM LIFE
On Sunday 29th July 2012 Ammana boarded a flight to go out to live and work in Dubai.  The accommodation is sorted, the job contract is signed, and the new life starts on the Monday morning.  Some of you have also heard the stories I've shared about money turning up in exact amounts immediately after doing Huna and Access Consciousness work with people, or new contracts coming into being seemingly out of the blue.  Ammana was also the subject of many of those experiences.
I also happened to sit next to another attendee of the MBS event at the London Yes Group in July and she excitedly shared how much her life has been changing since that day last December, which is just awesome.
Ammana recently wrote this update on facebook on her second day in Saudi:
"I am writing this from Saudi that's the only detail I need to correct on this testimony. Marilyn is an amazingly gifted and humble manifester. She empowers you to open your mind to untapped possibilities and claim what you want in your life. Those of you who were on that workshop know that the time of the utterance I did not know how it was going to happen. Speaking it into existence led me to someone who advised me to do the CELTA course with the promise that I would have plenty of offers for jobs abroad at the end of it. I applied in early Jan was blessed enough to secure a place on a course that only takes 12 students at a time and successfully completed the course in July ...the rest as they say .."
YOUR CHANCE TO ATTEND & EXPERIENCE THE POWER OF THREE 
LOVE & FINDING A SOUL MATE
One of last year's Mind Body Spirit Energy Fest delegates, Keith Higgs, a distributor for Utility Warehouse, continued on with the Power of 3 Programme. One of the things he chose to focus on was finances and relationships and finding a soul mate.  Within a few weeks of the Coaching things really started to happen and open up both in terms of the relationship and financially.
I was literally writing my eNewsletter piece about the December Mind Body Spirit Energy Fest and I got a call from Keith who had yet more wonderful news to share.  He has had so many magical things unfold since the event it would take me several pages to list them all here. One of the issues Keith chose to focus on was creating his soul mate relationship, and he'll be coming along this December to give a live testimonial and share with you all exactly how he did just that! He is currently working on documenting his journey and the strategies so it will be a most fascinating, enlightening and heart warming session. Congratulations to you both Keith! ♥ 
BONUS ITEMS!  
For everyone that has booked their place a month in advance, you will receive:
A FREE Soul Plan Chart and 4-Page Soul Plan Report.  

A FREE personally channelled written psychic reading from Clairvoyant Gina Batt
Your Soul Plan can help you:
More clearly see your greatest life challenges and how these can be overcome

Understand your past and reveal your best future for 2016 and beyond

Uncover your greatest strengths in the areas of career, creative, financial, and spiritual talents and align with your higher soul purpose

Get an insight into the unique vibration of your birth name and how this influences both your practical and spiritual life
You will receive your Soul Plan report at the live event and can use this as the basis for clearing specific limiting beliefs, challenges, and life and ancestral patterns.
For further information about the Soul Plan go to: http://marilyndevonish.com/soul-plan-the-key-to-unlocking-your-talents-destiny-soul-potential/
CREATING THE MINDSET FOR YOUR FUTURE BEST SELF
Marilyn Devonish is holding the space for the Mind Journey of the day and will be leading a deep clearing session for the group using various advanced energetic clearing techniques to neutralise many of the universal beliefs that hold us back from releasing and fulfilling our highest potential.  We will also be taking a Future Life Progression Journey out into the future, getting you into a mindspace unencumbered by your current thoughts, problems or challenges.
The Spirit Session will be led by Gina Batt.  Gina is a lifelong and well respected Clairvoyant who is best known for her accurate readings and direct access to the spirit realm where she works with a team of guides that have helped many people find clarity and insight into any concerns or issues.  Gina will guide you through a Stress Release process to clear out a major block, barrier or limitation in your life.
NEED YET MORE REASONS TO ATTEND THIS GROUNDBREAKING WORKSHOP?
Some people have been feeling as though they are on a downward spiral, fearful of what the future might hold, need to turn things around, or wanting to make sense of some of the chaos in their lives, and are looking for some kind of real clarity and direction. 
Others want to build on an already good year, and take things to the next level.  Others might be looking to accelerate their results, be physically and emotionally sharp and clear, and free of any barriers or limitations to their success. 
The Mind Body Spirit Energy Fest has already provent to be an amazing way of rounding off the year, and in addition to groundbreaking sessions, the 3 increble trainers with over 100 years experience between them (not counting Gina's past lives!), this live 1-day event also:
Connects amazing like-minded people

Provides Breakthrough Strategies for clearing out old emotional baggage and clutter

Gives unprecedented psychic insight into what's really in store for you in the coming year

Gets you physically balanced and in alignment using a cutting edge approach to physical wellbeing

Banishes niggling mental, physical or emotional blocks and barriers to your success

Allows you to celebrate and build on your successes

Shares incredible insights and approaches to help you create a fresh start

Gets you phsically, emtionally, mentally, and spiritually clear and in alignment

Opens you up to creating real magic and tangible change in your life (see the stories of the end of a life long quest for love, and starting a completely new life abroad)
What Can You Expect? 
Designed to work on all levels, spiritual, mental, physical and emotional, the day will leave you clear, focused, refreshed, energised, more free of emotional clutter, and with amazing insights, processes, and practices about what you can do to help ensure that 2017 is one of your best years yet. 
What is the investment?
The prices are as outlined above. 
* Please note that the early booking prices are time senstive and subject to availability so grab a place now! 
THE 3-MONTH POWER COACHING PROGRAMME OVERVIEW 
This bespoke and personally tailored Programme offers you the opportunity to work with Marilyn Devonish and Gina Batt over a 3-month period.
What's Included in the Programme? 
The Programme is structured to take you on a journey of increasing clarity, progression, creation, manifestation, and TranceFormation.  It includes: 
ü   A half day Breakthrough Session with Marilyn Devonish
ü   A 2 ½ day Private Psychic Development Foundation Course with Gina Batt
ü   Monthly Clairvoyant Reading with Gina Batt
ü   Monthly TranceFormation Coaching Session with Marilyn Devonish
ü   A Core Issue Therapy diagnostic and Soul Plan Card Reading
ü   A Past Life Regression Session with Gina Batt
ü   A Future Life Progression Session with Marilyn Devonish
 The Coaching Sessions and Clairvoyant Readings will also potentially include a combination of Access Consciousness, Huna, Soul Transformation Work, Angel Tarot Readings, Stress Release, energetic clearing work, as appropriate.
For those that have already taken the Psychic Development Foundation Course you will be upgraded to the Intermediate Psychic Development Course (usually £727) at no extra cost. 
How is the Programme structured? 
The 'monthly' timings above are for guidance only and you can of course space the sessions out as you wish. 
The Clairvoyant Readings with Gina is a 12 hour package to use as you choose, for example one Reading per week for the 12 weeks, or longer monthly Readings, etc.
The Programme has however been designed so that you can receive Coaching Sessions and Readings at least twice a month for the duration of the Programme should you choose to do so.
Where do the sessions take place? 
Coaching Sessions can be done in person, or via telephone or Skype to make more efficient use of time.  Marilyn is based in Watford – 5 minutes' walk from the Jury's Inn Hotel.  Gina is based in Desborough for the Psychic Development Foundation Course and it is a 2 night residential, staying with Gina (who is a fabulous host!).  The Clairvoyant Readings can be done via telephone or Skype. 
Why a 3-month Programme? 
Following on from the ethos of the main Mind Body Spirit Energy Fest Day, the monthly Coaching and Energy work Programme is designed to work on a number of different levels to achieve greater all round and long lasting success. 
Much as you wouldn't go to the gym for 1 day in December and then say 'Right, that's my exercise done for the coming year' the idea behind the Programme is about regular maintenance, building up momentum, and most importantly, having that sense of accountability so that good intentions turn into action and results.
When will the Programme start? 
The Programme will start as soon as you are ready to begin because you tailor the sessions to suit your requirements and schedule.
I would definitely like to attend - what do I do now?
Book now using the form above and I'll get back to you to confirm.  If you have any further questions or queries E-mail: marilyn@tranceformationsTM.com  
About Your Speakers
Marilyn Devonish - TranceFormational Belief Change Coach, Human Potential Consultant, Speaker, Writer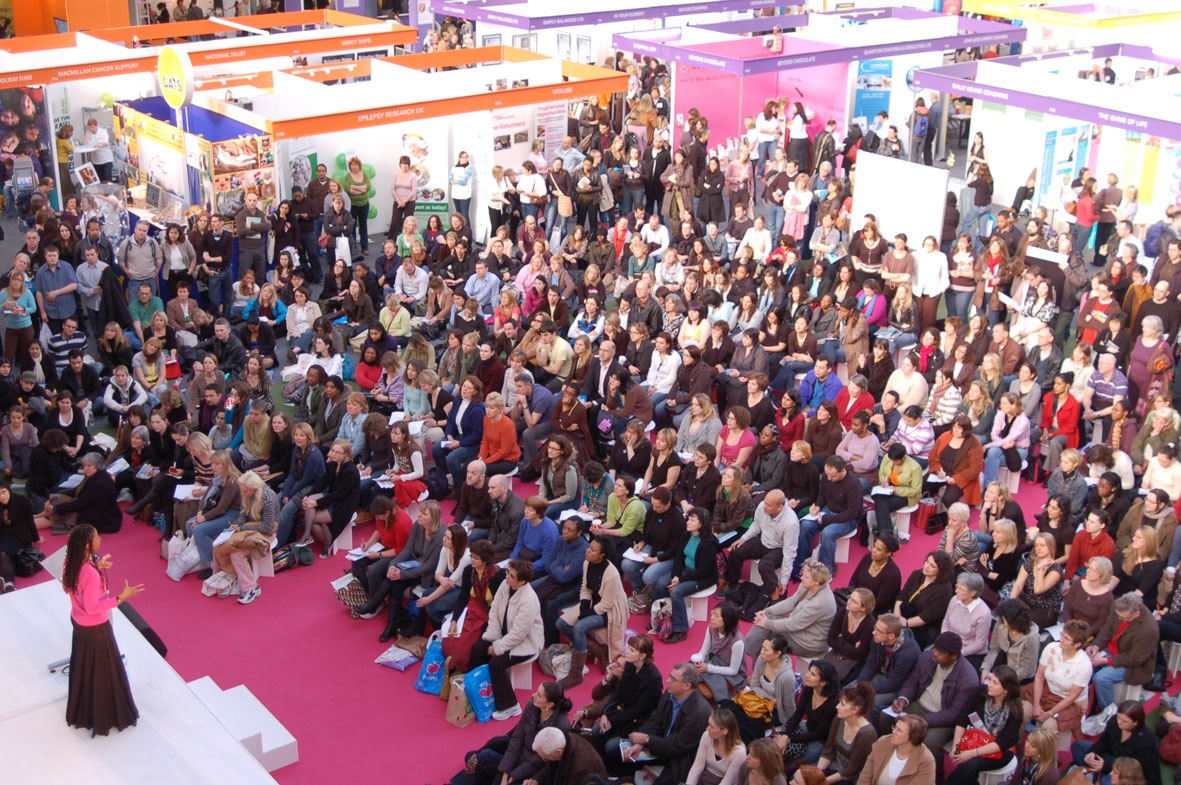 Marilyn Devonish is a Certified Trainer of NLP, Certified Trainer of Hypnosis, Certified Trainer of Time Line Therapy, Certified PhotoReading Instructor, Practitioner of DNA Theta Healing, EmoTrance, EFT, Reiki and Hawaiian Huna.  She is also a freelance writer, international speaker, radio and TV presenter and keynote speaker.
Gina Batt - Psychic, Intuitive Reader, Tarot Reader, Radio Presenter & Performance Coach
<img title="Gina Batt Skype Reading Photo" alt="Gina Batt Skype Reading Photo" src="https://evbdn.eventbrite.com/s3-s3/eventlogos/92304/ginabattskypereadingphoto.jpg"
Save This Event
When & Where

Jurys Inn Hotel
31 Clarendon Road
(20 mins fr London Euston. 3 mins walk fr Watford Junction station)
WD17 1JA Watford
United Kingdom


Saturday, December 2, 2017 at 9:30 AM

-

Sunday, December 3, 2017 at 7:00 PM (GMT)
Add to my calendar
Organizer
Trance Formations TM
Trance FormationsTM offers Training, Coaching, NLP Facilitation, PhotoReading and Accelerated Learning & Development courses to corporations and individuals.
A pioneer in cutting edge change technologies, and with over 20 years industry experience, Trance Formations offers Coaching and Events that enable people to tap into their own innate potential.
Contact Information:
For details of PhotoReading one to one coaching sessions and corporate training courses, you can contact Marilyn Devonish on: 
Tel: +44 1923 337282
E-mail: Marilyn@tranceformationstm.com  Web: www.tranceformationstm.com
A REAL Mind-Body-Spirit Makeover for the Year Ahead