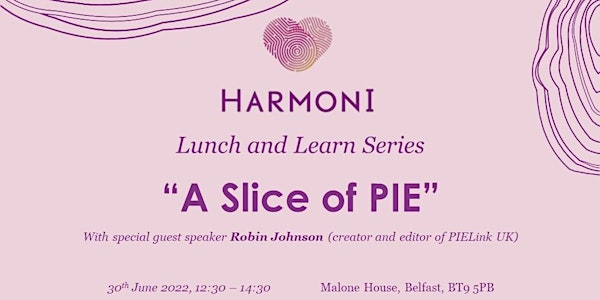 "A Slice of PIE" - HarmonI's Lunch and Learn Series
Location
Malone House - Harberton Room
Malone Road
Belfast
BT9 5PB
United Kingdom
Join us in-person at Malone House for an afternoon of discussion and learning on Psychologically Informed Environments (PIE).
About this event
Over recent years there has been increasing evidence and research into the concept of Psychologically Informed Environments (PIE) in the Homelessness Sector. Across the UK there has been a large number of organisations adopting the pillars of PIE with evidence of improved outcomes for both clients and staff. However, despite this PIE is yet to be embedded and established in Northern Ireland.
The purpose of this event is to share HarmonI's findings from research and introduce the concept of Psychologically Informed Environments (PIE) to the sector in Northern Ireland. As you will no doubt now know, a number of statutory bodies have referenced PIE in their new strategies, so we hope this event starts a conversation within the sector. We hope this will be the first of many events which leads to more collaboration in practice, learning and research.
We are delighted to announce that our speakers include:
Sam Humphries (CEO of HarmonI)
Robin Johnson (founder and editor of PIELink UK)
Natalie Timothy (HarmonI's Research Associate and PIE Lead for Northern Ireland)
Anthony Lavery (NIHE Project Lead for the Strategic Review of Temporary Accommodation)
We hope to see you at our event on the 30th of June.
Harmoni is one of the provinces oldest providers of compassionate support and care being founded in 1878. We deliver Supported Independent living to people living with a disability in our 33 property Supported Living service located at Strickland's Care Village Bangor. We also deliver support to men experiencing homelessness in our 59-bed unit at Utility Street Men's Hostel.