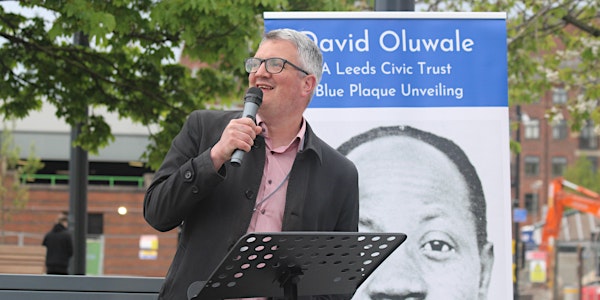 A South Leeds Community Event: The David Oluwale Sculpture Garden
Location
Hamara Healthy Living Centre
Tempest Road
Leeds
LS11 6RD
United Kingdom
Please join us at this exciting event. Talk with us about plans for a major new sculpture garden for David Oluwale in the centre of Leeds
About this event
We want to hear your views about our plans for a major new sculpture garden in the centre of Leeds in the name of David Oluwale. There will be a short film, some short talks and lots of discussion.
The David Oluwale Memorial Association, Leeds City Council and LEEDS 2023 Year of Culture are aiming to commission a sculpture by the world famous British-Nigerian artist Yinka Shonibare CBE, RA. It will be an awe-inspiring thing of beauty, 10 metres high, to be placed in the lovely Meadow Lane Green Space in Leeds 11, just south of the River Aire, close to Leeds Bridge. It will be installed in 2023 (funding permitting).
Our photo shows Cllr James Lewsi, Leader of Leeds City Council, speaaking in the new Meadow Lane Garden about the Civic Trust's Blue Plaque for David Oluwale (25.4.22).
We have the maquette (model) of the sculpture, some illustrations of the garden site, and a five minute film to show you. We want to create a special place in memory of David Oluwale.
We'd like to hear your views about this piece of public art -- the model will give you a good idea of what it will look like, and we will have some artist's impressions to show you.
We want to discuss the issues that David's life and death in Leeds (1949-69) provoke us to consider: migration, mental ill-health, homelessness, police malpractice and racism. We want to hear your views on the things we need to do to reverse all that, to help make Leeds more welcoming, more hospitable, more inclusive and more equal.
Our idea is that this sculpture garden will be a special place where all the peoples of Leeds, people of all colours, classes, religions and genders, can come together. We aim to stage performances there, with food and music, during the spring and summer months. The sculpture will attract visitors from all over the world. People will learn about the history of Leeds and what we are doing to make it a better place for all.
Our event will include short presentations and plenty of time for 'café style' conversations, and we will gather all your views in order to guide our work in the future.
Please join us on Wednesday 29th June 2022, 6-7.30pm at the Hamara Healthy Living Centre in Beeston, Tempest Road, Leeds, LS11 6RD. This event is completely free, but it helps us with the catering if you would register (via the Tickets button) below.
[There will be similar events in north, east and west Leeds, 6-7.30pm, as follows:
Tuesday 5th July at the Left Bank Centre, Burley
Thursday 7th July at Seven Arts, Chapel Allerton
Thursday 12th July at the Old Fire Station, Gipton
Eventbrite listings for each one will follow shortly.]
This ambitious project is fully supported by Leeds City Council, and it is being managed by the LEEDS 2023 Year of Culture. The maquette of the sculpture was funded by Arts Council England, LEEDS 2023, Leeds Civic Trust, the Scurrah Wainwright Trust, Lord and Lady Harewood's Charitable Settlement, Ruth Bundey and many small private donations. To create Yinka Shonibare's new 10 metre high sculpture we will need a great deal of support — nothing is certain until the funds are in place.

Cllr James Lewis, Leader of Leeds City Council, speaking in the new Meadow Lane Gardens, welcoming the Leeds Civic Council's Blue Paque for David Oluwale, 25.5.22 © Max Farrar