Description
Donald Maclean was a star diplomat, an establishment insider and a keeper of some of the West's greatest secrets. He was also a Russian spy, driven by passionately held beliefs, whose betrayal and defection to Moscow reverberated for decades.

On 1st May at 6.30pm, join author Roland Philipps at Heffers as he talks about his new book, A Spy Named Orphan, which draws on a wealth of previously classified material to tell Donald Maclean's story in full for the first time. In conversation with Christopher Andrew, Professor of Modern and Contemporary History at Corpus Christi College, Cambridge, Roland will take us back to the golden age of espionage, and reveal the impact of one of the most dangerous and enigmatic Soviet agents of the twentieth century.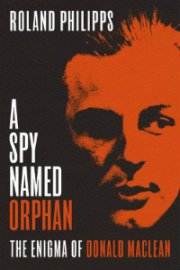 Tickets for the event are priced at £5 in advance (£6 on the door) and can be purchased through this page, by calling 01223 463200 or in person at Heffers bookshop. Please note that tickets are transferable but not refundable.
Like this? See a full list of our events here.