Location
Future Leap Bishopston
1-3 Gloucester Road
Redcliffe
Bristol
BS7 8AA
United Kingdom
Refund policy
Refunds up to 7 days before event
Eventbrite's fee is nonrefundable.
Join us in collaboration with Sustainable Fashion Week for an evening social of clothes swaps & mending, inspiring talks, music and drinks!
About this event
We are excited to collaborate with Sustainable Fashion Week on a Stitch & Switch...with a Future Leap twist!
Get inspired with amazing speakers representing Soil Association and Presca Sportswear.
Come on down with some clothes to swap, and bring any clothes you'd like to have repaired.
Meet a community of changemakers over music and drinks!
PLUS! Find us at The Mount Without on 21st September with Lucy & Yak collaborating on Sustainable Fashion Week's official Sustainable Catwalk!
More information to be announced.
Future Leap offers a spacious, covid-compliant event space with MHVR air conditioning units which take out old air and bring new air in. We also have reduced our capacity so you can be mindful of each other's space.
Ticket sales are solely for Future Leap fundraising, with £1 of each ticket donated to our carbon offsetting partner.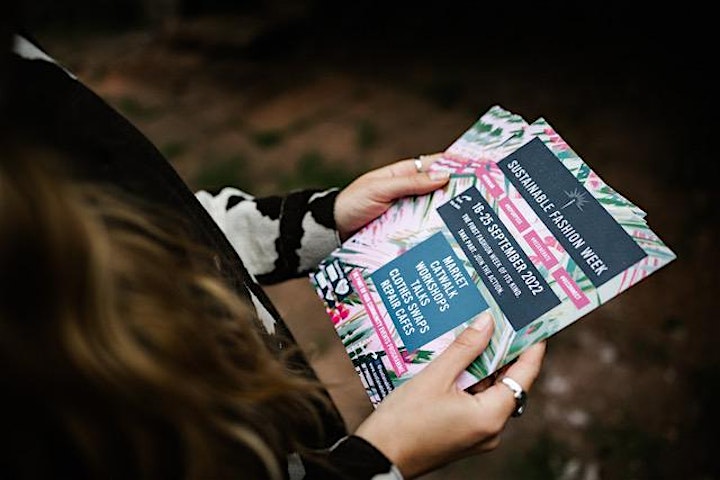 Image Credit: Sustainable Fashion Week
What To Bring (Optional):
Bring 1-5 pieces of clean, good quality clothing to swap (don't bring shoes, accessories, underwear or swimwear, or anything damaged or stained)
Bring items you'd like to get mended
Donations towards your repairs if needed
Bring your Stitch & Switch stamp card (if you have one)
There will be a paid bar open, please bring ID.
Agenda
7pm – 7:30pm – Arrival, Music, Drinks, Swapping and Repairing, Socialising
7:30pm – 7:40pm – Intro
7:40pm – 7:50pm – Sophie Robinson, Business Development Manager (Organic Beauty, Wellbeing and Textiles), Soil Association Certification
7:50pm – 8pm – Rob Webbon, CEO and Head of Climate Positivity, Presca Sportswear
8pm – 8:15pm – Q&A
8:15pm – 9pm – Music, Drinks, Swapping and Repairing, Socialising
Meet The Stalls, Collaborators and Speakers!
Sustainable Fashion Week (SFW) is the first fashion week of its kind. Working in community engagement, SFW help make sustainable fashion accessible. Taking a creative, grass roots approach, they seek to empower people with skills and knowledge to help drive positive change in our relationship with clothes. In September 2022 SFW be staging their second flagship event - working with individuals, community groups and organisations across Bristol and the UK to curate a packed programme of events and workshops. People from all backgrounds will be taking part to inspire their networks in a variety of informative creative formats.
The Stitch & Switch is SFW's touring clothes swap and repair shop - moving around Bristol, inviting people from across the city to come fix, switch and stitch their clothing. Offering accessible repairs for damaged clothing and the opportunity to refresh your wardrobe through swapping your loved items for something new (to you!). Bring your SFW Clothes Swap card to get stamps for each item you bring.
WearMyWardrobeOut is a circular fashion-as-a-service brand. They hand pick, rent, repair, upcycle and alter existing fashion items at their Bristol based Rent and Repair Studio. Fashion services are available either on demand or through tiered subscription services. Founder Maria Loria launched in January 2021. Their mission is to give everyone access to an affordable wardrobe experience by only wearing clothes already in existence and by extending the life of clothes for rental and for rewear. Steering people away from throwaway fashion consumption models by instead offering alternative ways to consume fashion as a service that suits their everyday lifestyle. Their strategy is to create an environment that upskills our local community with vital sewing skills and gives them the creativity needed to reinvent their existing wardrobe.
Sophie Robinson is the Business Development Manager on the Fashion and Textiles team at Soil Association Certification.
Her desire to understand and improve supply chains stems from a practical upbringing spent crafting and sewing with her seamstress mother. The rise of fast fashion led her to consider the health and systemic impacts of the textiles industry and prompted a transition from her systems role within the organic food sector. Sophie hopes that the slower pace of the past two years will transition into more thoughtful buying practices, with sustainability and thriftiness now becoming a real consideration for the British public.
----------------------------
Want to Know More?
If you would like to join our sustainable business community please get in touch via info@futureleap.co.uk or sign up easily here.
Follow the Future Leap Network on Facebook, Twitter, Instagram & Linkedin
Never miss what's next in sustainability by signing up to our monthly newsletter HERE
Opportunities, Suggestions and Conditions
Physical Attendees: It is important we look after each other and keep safe. Please do not attend if you have any covid symptoms or are having to self isolate.
We will share your name, job title & company with the other event attendees for this event only. If you don't want this information to be shared please let us know when you have purchased your ticket.
We take photos at our events for marketing purposes, if you don't want your picture taken please let us know in advance.
We record some of our events for marketing purposes, if you don't want to be in the recording please let us know in advance.
We have included a £1 carbon offsetting fee to all event tickets in our commitment to being carbon neutral in our operations.
Please let us know at least one week in advance if you have any other accessibility needs.
If you require a complimentary carers/assistant ticket, please email events@futureleap.co.uk at least one week in advance and we will be happy to support you!
#wegrowthhub #bristol #wastenot #social #community #drinks #organic #discussion #sustainablefashion #sustainablefashionweek #sfw #stitchswitch #circulareconomy #clothesswap #mendingsocial #slowfashion