A Traditional Chinese Medicine approach to boosting the immune system.
About this Event
This class provides a foundation for the practice of Qigong and Taiji that is based on TCM - Traditional Chinese Medicine. It includes breathing techniques, self nurturing movements and acupressure techniques. The best defense during these health challenging times is a robust immune system. Dr. Feng will share what is being done in China where Eastern and Western Medicine are combined to promote and maintain health. These are ancient wisdoms developed by Dr. Feng for our modern situation. Participants should wear comfortable clothing that they can move freely in for the practices that can be done from a standing or sitting posture.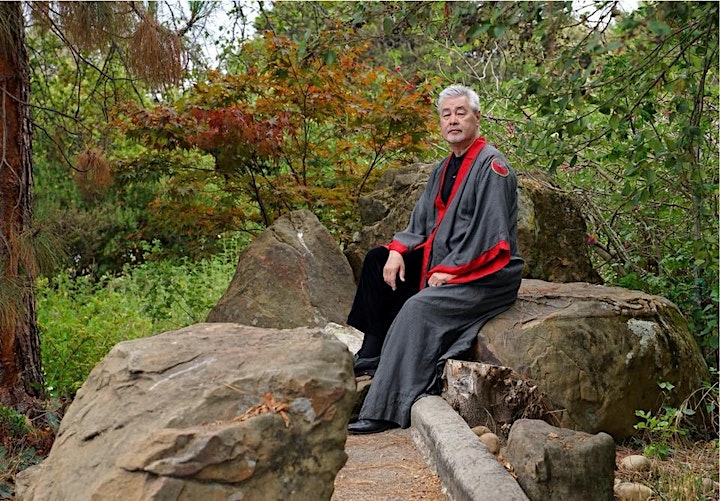 Dr. Alex Feng PhD, OMD, LAc was born in Guangzhou China to Drs. Wei Ren Feng and Elizabeth Bruckmann. Both parents were scholars and philosophers; Grandmaster Wei Ren's family is from Hainan Island and descended from a long line of Daoist teachers and scholars; Elizabeth was fluent in seven languages.They were both academics and professors in China before the family immigrated to the United States in 1963.
Prior to immigration, the Feng family went to Taiwan where Dr. Alex Feng at age 8 learned Qi Gong and was successful at curing his own asthma. He learned Daoism at the foot of his Father and was ordained as a Taoist Priest. As a young boy he studied judo and the martial arts. Dr. Feng continued his Daoist and martial arts studies as a young man in America by being tutored by masters his father identified. He earned the AIJF National Judo championship at the age of 16 and established his martial arts school, Wu Tao Kuan, in Berkeley in 1972. Dr. Feng was also apprenticed to Chinese Traditional Chinese Medicine practitioners and scholars; he was one of the first licensees when acupuncture was legalized in California in 1976. He created his Clinic for Traditional Chinese Medicine which has been in continuous operation since then.
Dr. Feng was instrumental in legalizing acupuncture in California and served on the California Acupuncture Board that regulates licensure of the profession. He continues to provide subject matter expertise and translation for Board investigations. He was elected to the National Commission on Asian and Oriental Medicine (NCCAOM) where he served as Chairman. Named one of the Ten Best Practitioners of TCM, Dr. Feng has a long commitment to promoting and mainstreaming TCM.
Dr. Feng was on staff at Chinese Hospital in San Francisco and he taught at the ACCHS Oakland School of Acupuncture. He joined the International Center for Integrative Medicine (ICIM) and serves on the ICIM Board. He worked tirelessly with ICIM founder, Dr. Ling Yi (Amy Matecki), to develop acupuncture services and a student internship in Integrative Medicine at Highland Hospital in Oakland and Alta Bates Hospital in Berkeley and Oakland.
Dr. Feng developed the class, Qi Gong for People Living with Cancer, which he has been teaching at Alta Bates Summit Medical Center's Comprehensive Cancer Center in Berkeley for the past 10 years. He remains on staff at Alta Bates whee he sees patients for outpatient acupuncture and also treats Intensive Care patients with such complex diagnoses as necrotic pancreatitis and stroke or cerebrovascular accidents with good results.
Dr. Feng was inducted into the Martial Arts Hall of Fame and was recognized for Lifetime Achievement in the Martial Arts by the International World Family Sokeship Council in Orlando, FL in August, 2019. He continues to teach and has produced champions in judo, point sparring, full contact sparring, and tai ji push hands
Dr. Feng founded Zhi Dao Guan, The Taoist Center in Berkeley and moved it to its permanent home in Oakland in 1999. He continues to provide guidance and teaching of the Tao with a monthly Study of the Tao with Dr, Alex Feng and hosts an annual conference, The Taoist Gathering. For further info go to Zhi Dao Guan - The Taoist Center' https://thetaoistcenter.com
Prior to attending a Get Active Online! session you are required to make a contribution towards the costs of paying the practitioners and supporting production. Following your payment, you will receive a password enabling you to access our 'Zoom Room' (ID: 8080804040).