New Year, same incredible opportunity. Make your mark on 2022. Enter a civilian, leave a Reservist. All in one action-packed summer!
About this event
What's this event about?
Did you miss the last Virtual Introduction to the Accelerated Programmes? Or simply want to join us again and chat with an RNR Recruitment Advisor? We've got you covered!
The Virtual Introduction into the Accelerated Ratings and Officers Programmes returns, ready to showcase once again, how you can condense up to 2 years' worth of training into a single summer.
Hear from the Ratings and Officers who've qualified detail their experiences. Everything from fitness training to firefighting, weapons training to boat handling, as well as celebrating course completion in front of their friends and family. The teams will also share how the programme helped to propel their Royal Naval Reserve careers, allowing them to gain qualifications and get out to sea much sooner.
Get ready to kick-start your part-time Reservist career. Streaming live on Monday 7th February at 18:30.
Don't Do The Everyday, Every Day. Pick up your FREE ticket today!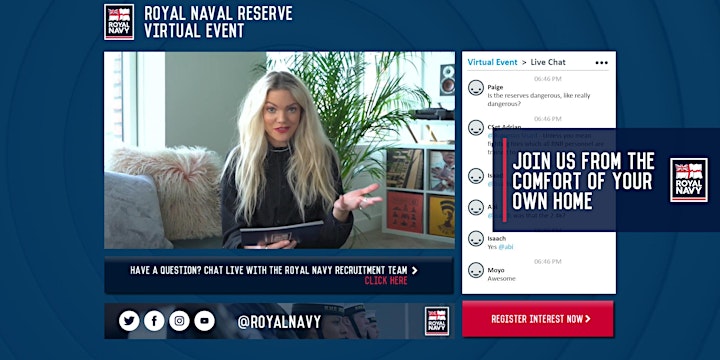 Here's a handful of topics that will be covered at the event
What to expect at every step during the Accelerated Programmes
How to balance everyday life with your new part-time career
Unique challenges and experiences you can only get in the Royal Naval Reserve
Development opportunities from the day you join and throughout your service
When will the Accelerated Programmes take place?
The Accelerated Officers Programme (AOP) will be running from 8th July - 10th September 2022, and the Accelerated Ratings Programme (ARP) will take place between 2nd July - 6th August 2022. Those on the ARP will return for a final week of training at BRNC and take part in a joint celebration marking the completion of the course alongside the AOP.
How do I attend?
First, secure a FREE ticket from Eventbrite. Second, open the email containing the event access link, which you will receive 60 minutes before the event. And finally, click the link at 18:30 (UK time). It's that simple.
The event access link will be sent to the email address used to register for a ticket on Eventbrite, so be sure to use an email address you personally have access to. We recommend using a laptop or desktop computer, instead of a tablet or smartphone, for the optimal experience.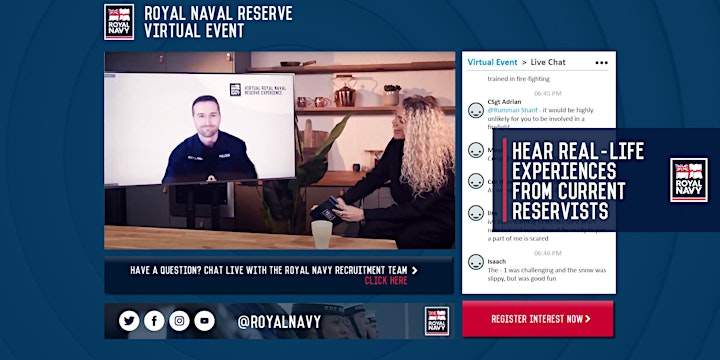 Do I need to have my webcam on?
No. You don't need a webcam or microphone. However, if you would like to speak to a member of the team during the event, you can use our text-based live chat to talk to a Royal Naval Reserve Recruiter who will be able to answer any questions you may have.
Worried about committing?
This is a FREE online event to educate those interested in a career in the Royal Naval Reserve. There is no pressure or obligation to apply after the event.
Is the virtual event COVID-19 safe?
All the COVID-19 Government guidelines that were in place at the time of filming were followed by personnel and crew.
What does a career in the Royal Naval Reserve offer?
Meet like-minded people from all walks of life
Gain career-related qualifications up to a Masters degree/level
Develop transferable skills, such as confidence, leadership and teamwork
Take part in Adventurous Training (AT) that allows you to go on sailing expedition and ski trips
Travel the world, and so much more!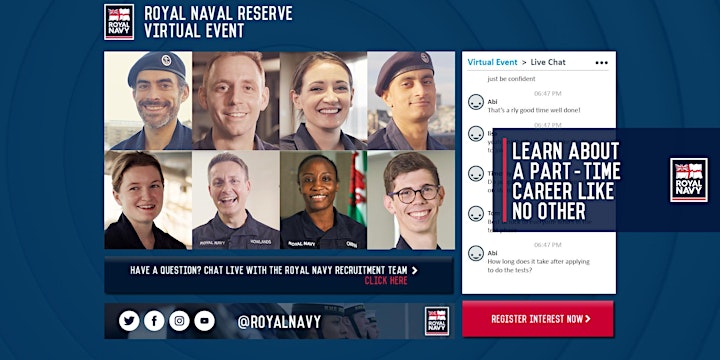 What's the eligibility to join the Royal Naval Reserve?
Aged between 16-42 for a rating role, and 17-42 for an officer role (upper age limit depends on the service and your chosen specialisation)
Aged between 16-56 as an ex-regular rating and 20-56 as an ex-regular officer
British, Irish, Commonwealth or dual citizenship
Looking for more information?
You can find out more about the Royal Naval Reserve by visiting the website, liking our Facebook page, or subscribing to our YouTube channel.
Consent and Privacy
If you are registering to attend the Virtual Royal Naval Experience, we would like to keep you informed of all our career opportunities in the Royal Naval Reserve with the data you've provided, as well as using your personal data for statistical purposes. We are committed to doing all that we can to keep your data secure. To prevent unauthorised access or disclosure we have put in place technical and organisational procedures to secure the data we collect about you – for example using varying levels of encryption. We also make sure that any third parties that we deal with have an obligation to keep all personal data they process on our behalf secure. Please note, that you can opt-out at any time. For full details on how we use and store your personal data please view the MOD Privacy Notice.
Additional Information
The official event stream link will only be distributed via Eventbrite to ticketholders, therefore any third-party links shared on social media should not be trusted. As this a FREE event, we will never ask you to provide any card details when registering for a ticket.
Having technical difficulties?
Email us at royalnavy@identitygroup.co.uk and we will assist.