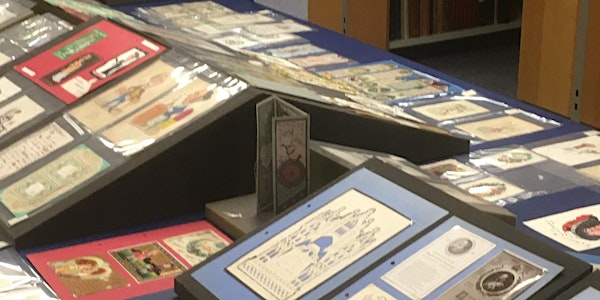 A Visit to Special Collections Museum for English: Shared Futures
Location
Special Collections Museum
Manchester Metropolitan University
All Saints
Manchester
M15 6BH
United Kingdom
Visit the Seddon collection of Victorian and Edwardian cards and displays of 19th-century periodicals and ephemera, plus student responses.
About this event
Note: This event is only available for delegates at the English: Shared Futures conference. Two sessions will take place for visits to the collection (10:30- 11:45 and 3:15- 4:30). These sessions will be ticketed individually, places are strictly limited.
The English Department at Manchester Metropolitan University has recently developed its partnership with the Special Collections Museum in order to foster nineteenth-century studies practice-based research, with an emphasis on public engagement and employability. Join members of the newly established Long Nineteenth-Century Network for this exciting opportunity to look round the Special Collections Museum, situated on the 3rd floor of All Saints Library at Manchester Met.
The museum includes an exhibition space and holdings of nineteenth-century print and artistic materials, including greeting cards, periodicals and magazines, examples from the Arts and Crafts and other nineteenth-century design movements, children's literature and Victorian ephemera, such as scrapbooks and recipe books. We invite you to view a selection of visual materials from the museum's extensive collections, to see the contribution of student interns and postgraduate researchers to an online exhibition and to hear more about the collaborative projects which bring nineteenth-century specialists from the English Department into conversation with the museum's curators.
Displays will provide an introduction to the AHRC-funded project Celebrations: Victorian and Edwardian Greeting Cards, which focuses on the Laura Seddon Collection of over 32,000 cards, including Valentines, Christmas cards, birthday cards and mourning cards. Other ephemera will also be available to view.
Some of these selections will have been made by students in the award-winning and innovative RISE internship initiative, who have been working with academics and curators to gain skills in curatorship and research into material culture. We would be delighted if you were able to spend some time filling out a questionnaire about the accessibility of the collection and how nineteenth-century cards should be catalogued.
There will also be a display of nineteenth-century illustrated periodicals, and some posters exploring methodologies of working with periodicals by PGRs and visiting experts, as part of our work towards an exhibition scheduled for 2023.
Hosts
Rachel Dickinson
Reader in Interdisciplinary Studies in the Department of English, Manchester Metropolitan University. Her research and engagement activity flow from a specialism in Victorian polymath John Ruskin, which began with doctoral work on archival correspondence. Experienced at running projects and collaborating with partners, she is Master of Ruskin's Guild of St George, an educational charity; conceived and coordinated a bicentenary Festival of Ruskin in Manchester (2019); was academic lead on a small Arts Council MUPI project (2017); chaired the HLF-funded Ruskin in Wyre (2017-19). Publications include chapters on Ruskin in Ruskin, the theatre and Victorian visual culture (Palgrave, 2009), Persistent Ruskin (Ashgate, 2013), John Ruskin and Nineteenth-Century Education (Anthem Press, 2018) and articles on Ruskin, art and textiles in Journal of Victorian Culture (2008; 2019) and E-rea Electronic Review of Studies on the English-speaking World (2018). She is a Co-Director of the Long Nineteenth-Century Network.
Emma Liggins
Reader in English Literature in the Department of English, Manchester Metropolitan University. Her research specialisms include nineteenth-century magazines, Victorian ghost stories and mourning. Since 2014 she has been the co-organiser of the North West Long Nineteenth Century Seminar, an interdisciplinary public lecture series. Her publications include George Gissing, the Working Woman and Urban Culture (Ashgate, 2006), The British Short Story (with Andrew Maunder & Ruth Robbins) (Palgrave, 2011), Odd Women? Spinsters, Lesbians and Widows in British Women's Fiction, 1850-1939 (Manchester University Press, 2014) and The Haunted House in Women's Ghost Stories, 1850-1945: Gender, Space and Modernity (Palgrave, 2020). She has experience of co-curating public exhibitions and delivering workshops with community groups, including 'Sew Near, Sew Far' at Brontë Parsonage Museum (2017, funded by ACE) and 'Romance and Revival: The Gothic at Speke Hall' (National Trust, 2017). She is a Co-Director of the Long Nineteenth-Century Network.
Sonja Lawrenson
Sonja Lawrenson is a Lecturer in eighteenth- and nineteenth-century literature. Her research centres on Irish women's writing, and more broadly on eighteenth-century imperialism, Romantic Orientalism, Irish theatre history and popular culture. She has published on a range of Irish women writers, including Maria Edgeworth, Sydney Owenson and Frances Sheridan.
Stephanie Boydell
Curator at MMU's Special Collections Museum where she is responsible for historic and contemporary craft and design collections, including the Seddon Collection. She has worked in the museum sector for over twenty years. She has expertise in design history, with specialisms in British nineteenth and twentieth century design and culture, collections management, and in the specific use and value of museum and gallery collections in teaching and research.