Location
The Holburne Museum
Great Pulteney Street
Bathwick
BA2 4DB
United Kingdom
UNESCO International Day for the Remembrance of the Slave Trade and its Abolition. Bath 2021. A walking conversation for truth and repair.
About this event
Two hundred and thirty years ago on the night of 22 to 23 August 1791, on the Caribbean island then called Santo Domingo, an uprising began that would play a crucial role in the abolition of the transatlantic slave trade. The International Day for the Remembrance of the Slave Trade and its Abolition is the day established by UNESCO to commemorate the abolition of the transatlantic slave trade. It occurs on the anniversary of the beginning of this uprising.
Join a walking conversation in the UNESCO World Heritage City of Bath connecting two new exhibitions attending to the trade in, and wealth generated by, captured and enslaved Africans. We begin with the presentation of a redacted plantation ledger at the Holburne Museum and then set off into the city. We will visit former residencies of slave-owners as well as those who campaigned to stop the trade. Wilberforce and Hannah More are on the route as well as the threads that connect to distant plantation uprisings and their leaders. Toussaint, Bussa, Sam Sharpe and the many who resisted. We will remember them and those who escaped to tell their stories. The walk finishes at the new exhibition in Bath Abbey: Monuments, Empire and Slavery.
The walk is hosted by artist Richard White and includes material from his project, Sweet Waters: sensing legacies of slave-ownership.
The walk concludes with a wrap up conversation with local MP, Wera Hobhouse and Rector of Bath Abbey, the Revd Canon Guy Bridgewater.
14.00 meet outside the Holburne Museum briefing and registration
14.15 group visit to Holburne museum, plantation ledger display/memorial and Gainsborough portraits
14.45 walking tour
This is entirely on hard standing, there are kerbs and steps. One steep stepped ascent.
16.30 approx arrive at Bath Abbey,
View exhibition and Markland window
17.00 closing conversation.
17.30 end
UNESCO says: This International Day is intended to inscribe the tragedy of the slave trade in the memory of all peoples. It should offer an opportunity for collective consideration of the historic causes, the methods and the consequences of this tragedy, and for an analysis of the interactions to which it has given rise between Africa, Europe, the Americas and the Caribbean.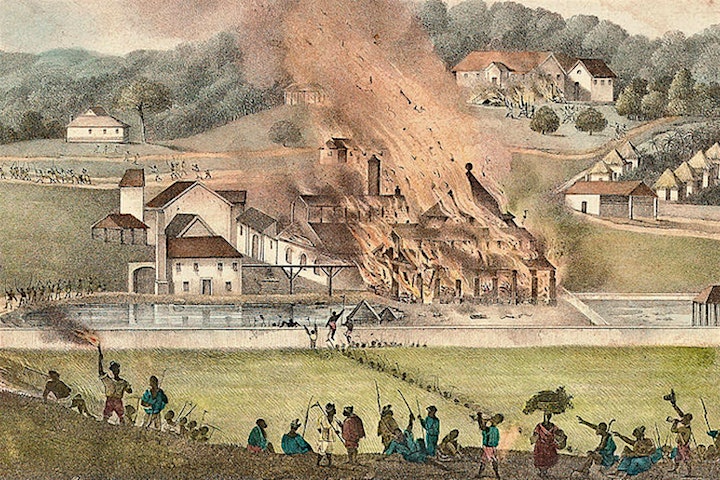 image credits:
walk thumbnail background: photo by Thomas Kinto on Unsplash
image below: Painting by Adolphe Duperly depicting the Roehampton Estate in St. James, Jamaica, being destroyed by fire during the uprising. Courtesy of Wikimedia Commons.