About this Event
A weekend with Merlin Nyakam
Come kick 2020 off with a two day workshop with Merlin `Nyakam! Merlin will be coming with his drummer Gaspard, playing the NKol. Together with drummers, Yahz and Dembas, this will be an unforgettable weekend, full of dance, song and music!! Come learn some new rhythms, dances and songs from Cameroon!!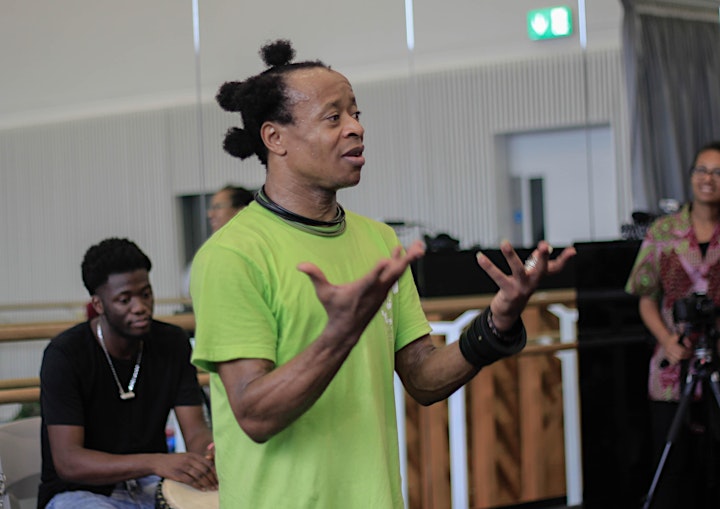 MERLIN NYAKAM
==============
Nicknamed, Merlin the enchanter, Merlin Nyakam is A dancer, singer, actor and choreographer. He has reached an international status for his interpretations and teaching of African and Afro-Contemporary dance.
He took his first artistic steps at 5, and at 14 he joined Cameroon's National Ballet. He became the company's main dancer at 16. In 1990, he founded his own company and won an award from Cameroon's Ministry for Cultural Affairs. He also won an "Epi d'Or" and is celebrated as "Best Dancer" in 1991.
Since 1992, in France, he participated in numerous creations with several choreographers, ranging from Gérard Gourdot, to Philippe Jamet, and Frédéric Lescure, Georges Momboye, Norma Claire, etc. He also danced for the singer Angelique Kidjo's FIFA World Tour, and remains her choreographer.
Since 1997, in the Montalvo-Hervieu duet company, he has been part of all their creations: "Hollaka Hollala", "Paradis", "le Jardin Io Io Ito Ito", "Babelle Heureuse", "Les Palladins" and "On Danfe".
In October 2000, he won the "Prix d'Accueil Studio" awarded by the "Val de Marne Biennal Dance" & the "National Choregraphic Center of Creteil and Val de Marne", which allowed him to create his own company: "La Calebasse de Merlin Nyakam". "Récréation Primitive", his first creation, was enthusiastically welcomed by professionals and by the public, and is followed this year by the promise of a "Liberté d'Expression" (Freedom of Speech).
African Dance and Song Class Description:
Meet Merlin Nyakam, his energy and generosity, during this Master Workshop. You will have a unique occasion to discover a body work based on the use of earth energy from the ground to the sky in an African Rhythm and dance environment. You will learn about the culture of Cameroon, thru song, rhythms and dance! His class will have musicians and will be an experience unlike any other! Merlin is a master international African Dancer/ Choreographer.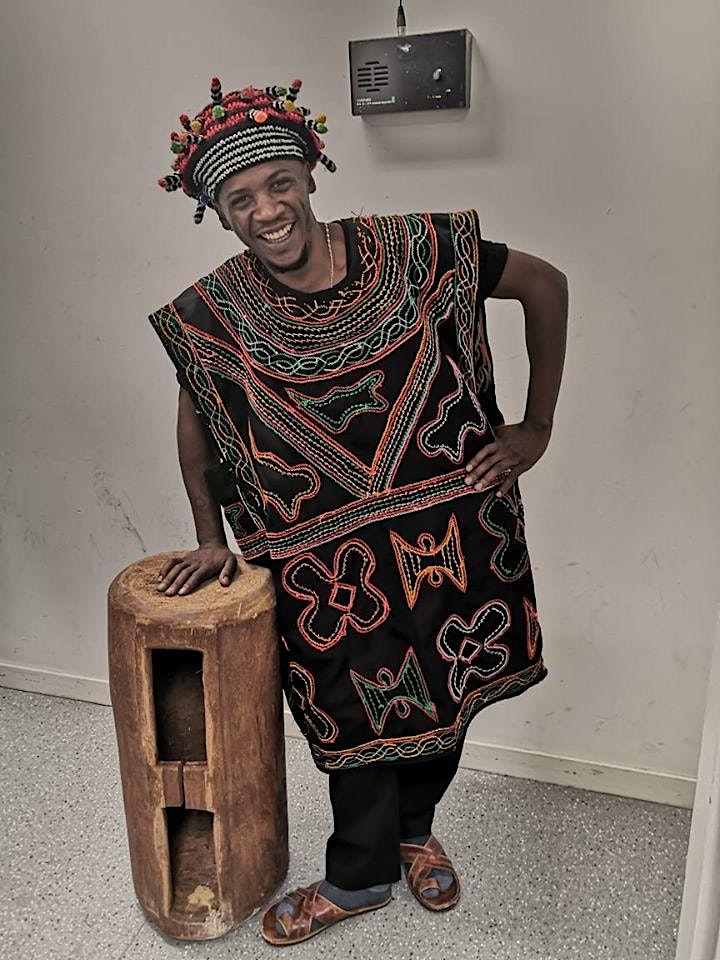 GASPARD NGUINI
==============
Artist Musician, percussionist, born in Mbalmayo, le 21 August 1989 in Cameroon. He began learning to play the Nkul(traditional drum) from his grandfather at the age of 9. He began playing for weddings, choirs, accompanying traditional dance companies, which allowed him to learn the rhythms and traditions of the Cameroon.
Between 2012 and 2016, he worked in collaboration with several groups including La troupe Arme des Maures de Perpignan en France, Bantou blues in London, dancer/choreographer Lazare Ohandja, Manuel Wambo in France and many more.
Gaspard eventually opened up a school of music in the Cameroon for the young Cameroonian musicians to learn to write and speak about their knowledge of their culture, rhythms and music of the Cameroon.
We are very lucky to have Gaspard accompaniny Merlin with his Nkul this weekend!!!.
Schedule for the weekend:
Saturday; 18/01/2020
18/01/2020 - 14:00 to 14:15 Registration
18/01/2020 - 14:15 to 17:15 Master workshop with Merlin Nyakam
18/01/2020 - 17:15 to 17:30 Stretching and packing up
18/01/2020 - 17:30 to 17:30 Must vacate dance studio!
Sunday: 19/01/2020
19/01/2020 - 14:30 to 14:45 Registration
19/01/2020 - 14:45 to 17:45 Master workshop with Merlin Nyakam
19/01/2020 - 17:45 to 18:00 Stretching and packing up
19/01/2020 - 18:00 to 18:00 Must vacate dance studio!
Cost:
Cost: £35/£38 (on the door) plus fees for one day / £65/£70 (on the door) plus fees for two days