Interactive training via Zoom for arts facilitators, for in-person or virtual activities
About this event
A4D Early-Stage Dementia Awareness Training for Arts and Heritage Organisations via Zoom
Summary
This interactive early-stage dementia awareness training specifically for arts facilitators and learning teams from arts organisations will be delivered for Arts 4 Dementia (A4D) by trainer Aubrey Maasdorp, with arts workshop guidance from Cicely Ryder-Belson and Nigel Franklin of A4D. While many of us are now back to in-person delivery, we include tips for effective virtual or blended activities.
There will be opportunities to network in breakout rooms.
Course Duration
Full day workshop from 10 AM - 5 PM  with an hour break for lunch around 12:45 - 13:45.
Course Title
Arts 4 Dementia: Early-Stage Dementia Awareness Training for Arts and Heritage Organisations
Suitable for
Arts facilitators, workshop leaders, animateurs, volunteers and postgraduate arts students. Organisational staff in areas focused on learning, access, inclusion, development, community outreach, audience development, or visitor programmes.
Aim of the Day
To give arts facilitators greater understanding, increased skills and confidence in communicating and working creatively with people experiencing the early stages of dementia and their carers. To help organisations work towards reaching new audiences, making their institutions more inclusive, and increasing their impact in the community, through in-person or remotely accessible activities.
Programme (approximate timings)
10:00  Welcome - A4D on "Identity"
10:15  Trainer Aubrey Maasdorp discusses ageing, memory loss, dementia types
11:30 - 11:45 Break 
11:45 Show Keith Oliver video - the challenges of young onset Alzheimer's, Person Centred Care
12:45 - 13:45  Lunch
13:45 Components of communication, skills, challenges, analysis, followed by understanding behaviours and the changing needs of participants.
15:00 - 15:15  Break
15:15 A4D workshops with Cicely Ryder-Belson, challenging approach to lift fog of dementia and release creative impulse, how to deliver effective virtual programmes.
16:00  Sharing examples of good practice.
16:30  A4D workshop model; aims and objectives, challenges and resolutions; funding, referrals including signposting through A4D and other arts and health networks;
How else A4D can help.
17:00 Close
Learning Outcomes
At the end of the session participants will be able to:
Demonstrate their understanding of the various types of dementia and how these impact on people's abilities and feelings in the early stages
Explain the key communication approaches, including using virtual delivery methods.
Describe with confidence the value of arts based approaches when working with people with early stage dementia
Explain the impact of Arts 4 Dementia's re-energising approach for participants
Engage the interest of participants with early-stage dementia and encourage them to develop new creative skills
Testimonials from Previous Trainings
It was an excellent day: very throught-provoking with lots of ideas to take forward.
I gained a different outlook on attitude towards engaging with those with dementia.
I feel very motivated and re-energised about my work.
Having been to many workshops (so feel that I am qualified to say) I thought it was fantastic, it was inspirational and uplifting (which was a surprise). The format of the day worked really well and Aubrey was a humorous, engaging and an extremely knowledgeable speaker and [the A4D workshop] insights were invaluable too. It was fantastic to meet so many like minded people from such varied artistic practices and backgrounds. It was a thoroughly enlightening day.
-------------------------------------------------------------------
Ticketing
Details of the event including the identity of the trainer may be subject to change. In the unlikely event of the training being cancelled, Arts 4 Dementia will be liable only for reimbursement of the cost charged to participants for this specific event.
Photography
We reserve the right to take video and/or still photographs of participants from the Zoom images.
Refunds
Arts 4 Dementia is not able to offer refunds to delegates unable to attend. A delegate unable to attend may appoint a replacement delegate by advising the name, organisation represented and email address of the replacement by email to admin@arts4dementia.org.uk before the start of the training.
Privacy
Arts 4 Dementia retains participant contact information in accordance with the Privacy notice published on its website www.arts4dementia.org.uk.
-------------------------------------------------------------------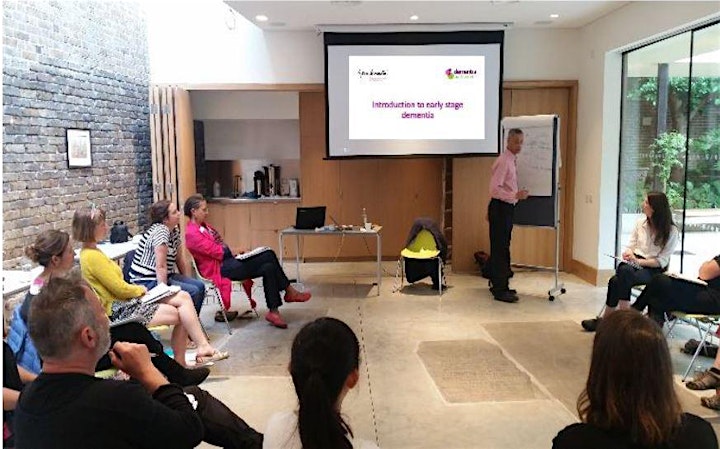 Date and time
Location
Refund policy
Organiser of A4D Early-Stage Dementia Awareness Training for Arts Orgs, 21 Oct 2021
Arts 4 Dementia (registered charity 1140842) was founded in 2011 and develops programmes hosted by arts venues, to help re-energise and inspire people with early-stage dementia and carers through challenging artistic stimulation, so they can live better for longer at home.
arts4dementia.org.uk signposts arts and heritage events for people affected by dementia and carers.
Our early-stage dementia awareness training for arts organisations, partnering with established trainer Aubrey Maasdorp and leading arts venues, empowers participants to deliver effective, person centred workshops.  We have to date trained over 600 facilitators from all over the UK who are now delivering workshops and other events to around 12,000 people with dementia and their carers each year.  And we support these facilitators with advice, best practice toolkit publications and other resources.

A4D focuses on what people can achieve, often much more than they imagine.