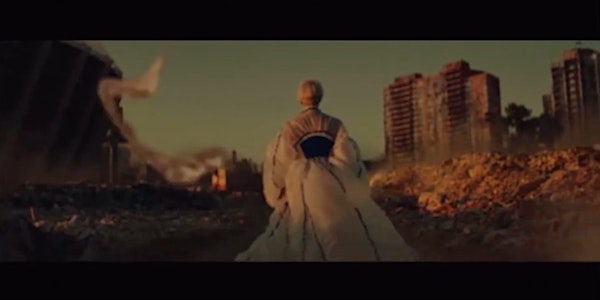 AAD Sessions: Forms of Resistance: Artistic responses from Kyiv and Lusanga
Forms of Resistance: Artistic responses from Kyiv and Lusanga. An AAD Session hosted by CREATURE
About this event
Wednesday 25th May, 2022, 5:30pm–7pm BST
Anna Marazuela Kim interviews Marc Wilkins, a film maker who invited her to Kyiv last fall to advise on creating Ukraine's first district of contemporary arts and culture. With the country under siege and artists' lives at risk, Marc has turned his efforts to holding their stories and supporting humanitarian efforts on the ground, using his platform as an award-winning professional to engage the widest possible international audience.
Marc will present his project, #u4ukraine, a series of short documentaries which record conversations with artists and cultural workers at the site of the invasion. His intention is to bring the West closer to the current situation in Ukraine, but also to demonstrate the creativity and courage of the people who remain. The series gives a public face to individuals whose lives have been transformed by the war, engaging the viewer directly and personally, creating a shared sense of catastrophe but also a positive means of making a difference.
Aleks Catina discusses provincialized irony as a differentiating factor in art practices of the Global North and the Global Elsewhere. The talk aims to bring two performative instances of subversion into dialogue with one another: Ibrahim Mahama's 'Judgment of the White Cube' (2022) calls into crisis the architecture of the White Cube art gallery in Lusanga, DRC, which was designed by OMA on the land of a former palm oil plantation. The project's Dutch initiator, Renzo Martens, controversially identified poverty as the local population's primal economic resource in his film-based artwork titled 'Enjoy Poverty'(2008). How is the decolonisation of criticality affected when irony is employed by the oppressed and provincialized?
We hope you can join us in solidarity to support our colleagues in the cultural sector and the people of Ukraine.
Image credit: still image from #u4ukraine
For internal use only: XX063 / XX055 / XX050 / XX051 / XX005 / XX081 / XX083 / XX028