Description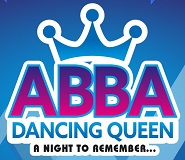 Dancing Queen - A Night to Remember is a spectacular tribute to ABBA and a leading UK LIVE show.
All the classic songs you love to hear are played including Mamma Mia, Waterloo and VoulezVous to SOS, The Winner Takes it All, Super Trouper plus a few surprises you will like including a medley of songs from the West End Theatres featuring "Our Last Summer" and "When All Is Said And Done".
The choreographed dance routines, costume changes and visual effects bring back the glitz and glamour of the 70`s and all performed by a fantastic six piece band fronted by the absolutely fabulous Agnetha and Frida - "Simply The Best In the Business" !!
Come along and experience this wonderful show - suitable for all the family.
Check out the promotional video at: www.abbadancingqueen.co.uk
It really is going to be A Night to Remember...