ABC Business Network - 2 April 2020 - Members Only.

Thursday, 2 April 2020 from 09:00 to 10:30 (BST)
Event Details
Breaking with tradition, and due to current government advice on public meetings, our next meeting of ABC Business Network will take place on Thursday 2nd April, 2020 ONLINE from 9:00am to 10:30am. This event will be open to MEMBERS ONLY as we navigate our way though this new format.
**Please register so you can get the online meeting link sent to your email address.**
Agenda:
Welcome from Chairperson, Turan Mirza.
1 Minute elevator pitch from each member
10 minute chat from speaker: Paul McAlister, Paul McAlister Architects Ltd.
Topic: Saving the environment one design at a time.
Paul McAlister Architects offers a unique service to those individuals planning to build their dream home or extending.  Our design service will 'future proof' against changes in energy legislation adding capital value to the home by achieving an 'A' rated energy performance.  

These architect designed homes demonstrate attention to detail ensuring quality in design and specification. The design process is tailored to meet site specific planning conditions with an emphasis on energy efficiency and reduced running costs. 

As Energy Assessors and Certified Passivhaus Designers we have expert knowledge and experience in designing Low and Zero carbons homes.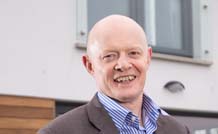 Tel: 028 38255 111
Web:   www.pmcarchitects.com
2 or 3 1-2-1s between members
Close

 
For further information on this event contact Turan Mirza, Chair of ABC Business Network
Email:  chair@abcbusinessnetwork.org
Tel:      07753 23 41 77

Save This Event
Organiser
ABC Business Network is a network which has been jointly founded by local business owners.
It exists to support local business owners in Armagh, Banbridge, Craigavon and surrounding areas by providing a networking, discussion and education forum, generating referrals and business leads, providing mutual support, sharing new ideas and business opportunities.
Every local business is encouraged to participate in the Network. The network's strength is its informality and openness.
Members of ABC Business Network always look for opportunities to refer or promote other members businesses wherever possible.