"About your next job" - a virtual lecture

Thursday, August 2, 2012 at 7:00 PM (BST)
Event Details
Olga is giving a virtual lecture titled "About your next job". If you are looking for your first or next job or about to start the search and are full of worries, uncertainties and anxieties - this lecture is for YOU!

Olga will be talking to you in a virtual lecture about how you can approach your first/next job search to attract the best results. She'll be sharing the first step you need to take to get the job closest to your ideal and how to blast through the fears you have around the job search. Olga will also share some unconventional tips about being your best at the interview!

This is not what you would usually hear at the career advice or career workshop - so if the usual advice has not worked for you, come to this lecture and hear some alternative approaches to try :-)

You can attend this lecture from the comfort of your sofa or desk via an internet link that will be sent to you.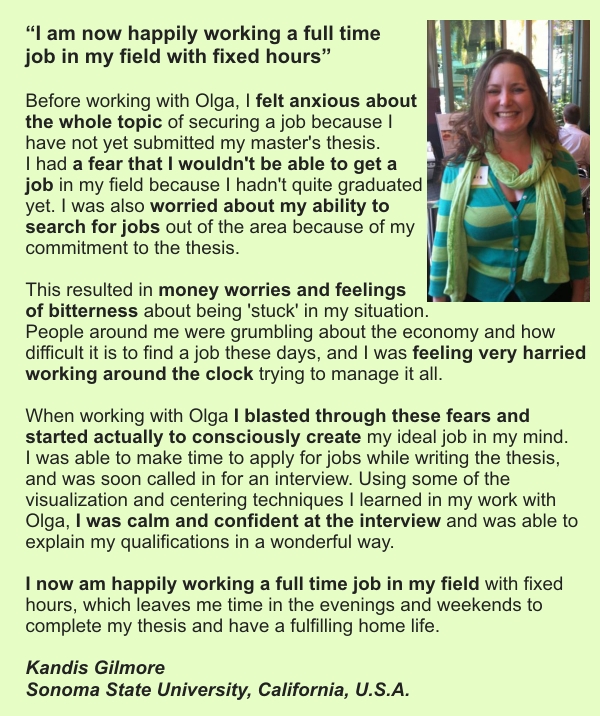 Organizer
Olga is Productivity Mentor for Scientists and the director and founder of the Productivity for Scientists Ltd. She empowers scientists around the world helping them to overcome overwhelm, become more productive, get in charge of their day while feeling happier in their lives. Olga offers workshops, lectures, online courses as well as private and group coaching programs. Olga has had a successful research career in science, having studied and worked for 15 years in the area of high-pressure physics and crystallography. She is a recipient of an international prize and an author and co-author of 38 scientific papers including an extensive review article and several publications in high-profile journals. She lives with her husband and three children currently 4, 8 and 10 years old. Olga shares her experience on "how to manage it all" in her Productivity for Scientists blog (http://olgadegtyareva.com). Start your journey to peaceful productivity with Olga's 126 ways to become more productive and 5 top tips on overcoming overwhelm which you can find at the top of the website.