Event Information
Location
Blackfriars Bridge
London
United Kingdom
Description
ABS and Orms are delighted the announce that the annual ABS Chicken Run will be taking place on Saturday 8th June 2019.
Runners will start at Blackfriars Bridge and follow a 5km route through the City of London, before finishing at Orms' studio near Old Street roundabout.
At the finish line, runners will be welcomed to the Orms after-party for food, drinks and games. We also invite family, friends and supporters picked-up along the way, to join us in marking the start of the summer season and raising funds for the work of ABS.
We encourage runners of all abilities and hope to inspire a little competition, with prizes on the day for;
Biggest team donation

Biggest individual donation

Best dressed (feathers welcome)

Fastest Team

Fastest individual

Biggest team
So, runners and aspiring runners, it is time to get training and get sponsored to raise as much as you can for ABS.
You can register as an individual or as a team by following this link.
So who are ABS?
The Architects Benevolent Society is a charity committed to helping those in the architectural community in times of great need. We are all too aware of the struggles we can come across throughout our lives, both professionally and personally. ABS offer a crucial safety net for those struggling with all kinds of issues; from financial difficulties and unemployment, to crushing family illness and mental health challenges. The chicken run is a key opportunity to help raise funds for health treatments, educational workshops, financial assistance, counselling... the list goes on. The team works hard to match the best care and solutions to those in need, tackling issues head on, quickly and with long term solutions.
Follow this link to find out more about the great work that goes on by the ABS team - http://absnet.org.uk
Whats more exciting - the chicken run this year is part of the #AnxietyArch campaign, which seeks to raise awareness and provide mental health support for people in the profession. Check it out on twitter or Instagram.
And Orms?
Orms are an architecture and design practice based on City Road. As winners of the Chicken Run's 'Biggest Team' award two years running, they were eager to host the event for 2019. Orms also turn 35 years old this year and have ambitions for making this Chicken Run a record breaking fundraiser.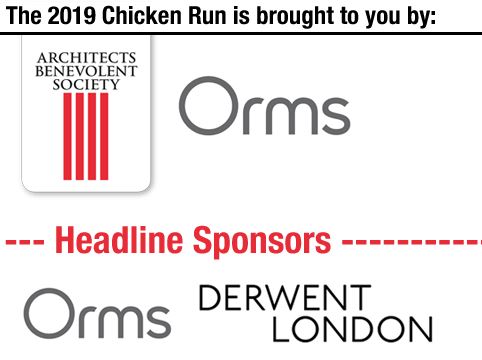 Date and Time
Location
Blackfriars Bridge
London
United Kingdom
Refund Policy