Description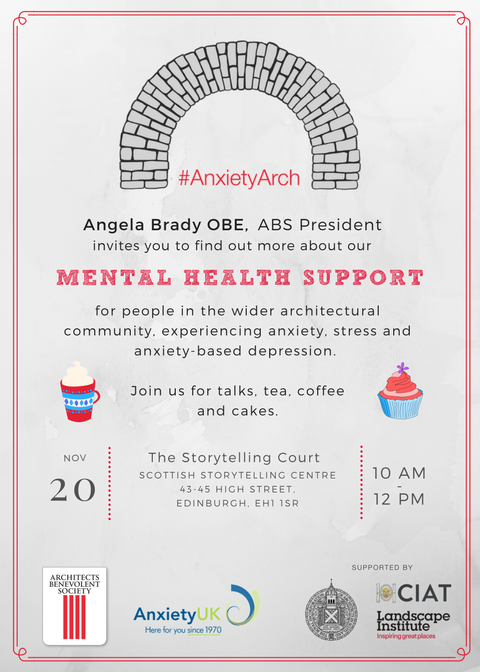 The Architects Benevolent Society is now able to provide timely access to practical support for people in the architectural community experiencing anxiety, stress and anxiety based depression.
Pressures of work, the vulnerability and uncertainty of the architectural professions, health, relationship and family difficulties are just some of the reasons individuals can experience anxiety, stress and anxiety based depression.
In consultation with membership organisations, we have partnered with Anxiety UK to provide support to members of the wider architectural profession living with anxiety, stress or anxiety based depression via a range of services, including one to one therapy, a dedicated helpline and email services to provide emotional support, self-help materials and annual membership to Anxiety UK.
We're pleased to be raising awareness of this valuable support service in Scotland, in the hope we can reach out to those who may need our support. The morning will consist of a few short talks around the subject, followed by a Q&A and networking opportunities.
This event is open to everyone studying or working in architecture, architectural technology and landscape architecture. It may be particularly beneficial to employers and university tutors & lecturers, to find out how we may be able to support your staff or students.
The event is free to attend. However, you can choose to make an optional donation. Any donations made will go directly to the Architects Benevolent Society, to help us support more people.