Description
Absolute Beginners : Make Pyjama Trousers
This is the perfect class to learn both how to sew, and gain basic dressmaking skills. At the end of the day you'll walk away with a completed pair of pj trousers and an arsenal of new dressmaking skills
NEW !

- Bonus online video lesson access after the course!
Want to learn to sew and dive into dressmaking?
If you're itching to learn to sew and make your own clothes, then this Absolute Beginners Pyjama Trouser class is for you! The Pj trousers are the perfect intro to sewing and dressmaking, without any of the worry about getting a perfect fit!.
Not only are pj trousers a great way to start your DIY wardrobe, they make ace pressies too!
Pattern option includes either Ladies, Men's or Children's Pyjama Trousers
This is a class for fearless beginners who may never have used a sewing machine. Or for anyone needing a refresher. We'll cover all the machine basics you'll need to make your very first piece of clothing. After that, the sky's the limit!!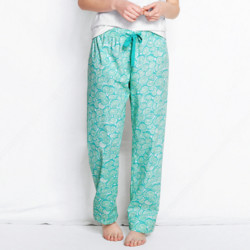 What's Included:
Morning session : Get "Sewing machine Confident"
Learn to use a sewing machine- Wind on a bobbin and thread up the sewing machine.
Learn to sew forward in straight lines, and turn corners.
Sew simple seams.
Find out about simple seam finishes.
Demystify the language of dressmaking patterns
You'll learn how to measure yourself and choose the right pattern size.
Get to grips with laying out large pattern pieces onto fabric
Understand the importance of lining up the fabric's straight of grain
Throughout the day( or 2 eve sessions) you will use an easy Pyjama pattern to make up your trousers in your own choice of fabric.
You will need to bring along 2.5 metres of fabric to make your trousers. plus 1.5 metres of ribbon for the waist, and if you have an unusual colour fabric, then get some thread to match.
You'll learn how to attach a seperate waistband and insert buttonholes.
Master top-stitching whilst attaching a cheeky patch pocket.
Special Bonuses: All students receive an exclusive link to access free video lessons after their class along with Downloadable instructions and worksheets
Cost and details
Cost: £95
Time: 10.30 am – 5.30 pm( weekends) or 6.30 pm -9.30 pm (Eves) See calendar for specific dates as this runs monthly
Materials required: 2.5 metres of light weight woven fabric suitable for pyjamas and 1.5 metres of ribbon ( details in booking confirmation) It's a good idea to wash and press you fabric before attending in case it shrinks!
Refreshments: Unlimited tea & coffee are included along with an awesome playlist of great tunes!
PS- If you can't make the London class, you can always take it as an online course!