Refund policy
Contact the organiser to request a refund.
Eventbrite's fee is nonrefundable.
A series of workshops on abstracting the landscape for novice and experienced artists. Workshop 3 Abstract Expression and Colour
About this event
These workshops are themed towards the abstract landscape. A series of stand alone sessions will push your use of traditional materials but introduce you to abstract ways of working. You don't need to be an experienced artist, just willing to explore and have fun. You also don't need to do all of the workshops, you can drop in as they are designed that way.
We will explore together the use of abstraction in the work of famous artists and then incorporate those techniques using; intuitive Composition and Form (Grace Hartigan, Lyubov Popova and Peter Landon), Texture and surface (Mark Bradford, Joan Eardley, Helen Frankenthaler), Abstract Expression and colour (The Fauvists, Kandinsky and Clifford Still), Line and tone (Maggie Hamlin, Joan Mitchell and Frank Auerbach).
WORKSHOP: 3 Abstract Expression and Colour
This workshop covers the use of colour in abstraction. This time we begin with figurative uses of expressive colour and then break that down into more and more simple but expressive uses.
The session is two hours long, with a range of short and long workshop tasks. You will be using a variety of quick studies to then work on a final piece and we will be working on small quick studies and then a final piece. You will be recording from the artist's photographs from locations he has visited. The artist will also lead demonstrations, on screen examples and QandA throughout the workshop.
Materials needed for this particular workshop are: collage materials, glue, paper or canvas, drawing materials and paint or ink with water, tissues and brushes.
Other workshops in this series:
Line and tone (Maggie Hamlin, Joan Mitchell and Frank Auerbach)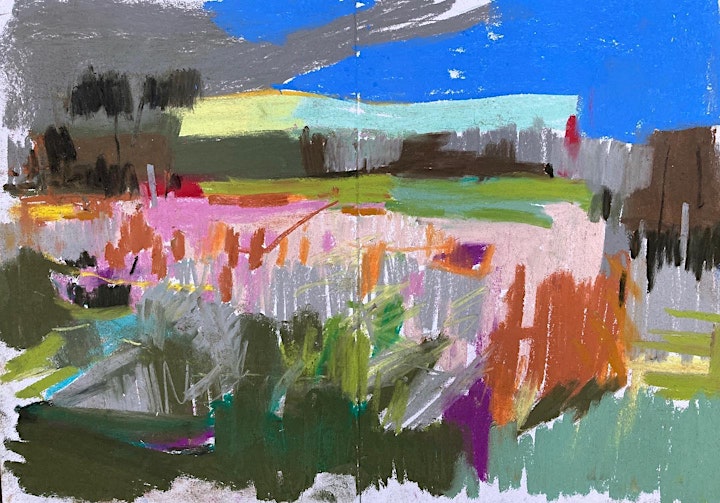 Neal Vaughan is an experienced workshop leader and teacher. From his studio base in Carshalton, he creates work in a variety of ways as a multi disciplinary contemporary fine art landscape artist.
'The work I am currently focused on is recording locations across the UK, following popular walks and trails to work quickly on sketches or final works 'plein air.' This hopefully gives my work a vitality and freshness that is becoming increasingly popular with collectors, workshop attendees and galleries alike.'
Neal has been working within the creative industries for over 25 years, starting in broadcast media, then progressing onto visual arts as an artist, workshop leader, teacher and project manager/events organiser. Exhibitions have included individual and group shows, he is an elected member of Chelsea Art Society (CAS) and has been selected to exhibit with a number of other high profile societies including the Royal Society of British Artists, Croydon Arts Society, and the United Society of Artists.
To support his art practice further he teaches art at Coulsdon Sixth Form College and he is the brains and drive behind the hugely popular Carshalton Artists and their Open Studios. If you wish to explore his work further go to: www.nealvaughan.co.uk