Description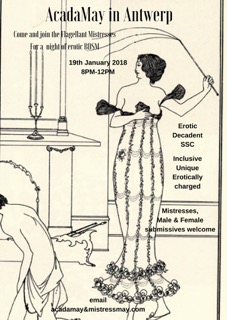 AcadaMay is an event for female dominant women to exercise their skills on submissives of either sex.

After 3 successful years in London and occasional events in Berlin, Rome, Dublin and Madrid Mistress May is finally bringing her AcadaMay to the dungeon of the Fetish Cafe here in Antwerp.

The whole ethos of AcadaMay is that 'nobody is left out'. All Dommes are encouraged to work supportively, to assist each other, exchange skill sets and to work as a team with all the subs during the course of the evening. This creates a very free flowing dynamic where no one is left on the sideline looking for someone to play with. Its also an ideal scenario for Femdomme couples and single submissives to widen their experience in a safe and secure way. In fact its perfect for single subs of either sex to attend even if they are nervous that they don't know anybody.

On arrival Mistress May will have a conversation with Dommes and subs about their desires, fantasies and limits and will introduce them to suitable play partners. Nobody is left out!

* Evening will start promptly at 8pm and run until midnight.
* Discretion taken very seriously.
* Fully stocked bar.

Time: 8pm prompt until 12am
Location: Fetish Cafe, Antwerp
Fee: 20 Euros singles, 30 Euros Couples

If you wish to attend, contact me on the email below and I will send you an invitation with instructions on how to reserve your place.
CONTACT:
acadamay@mistressmay.com
www.acadamay.com
follow us on twitter https://twitter.com/AcadaMay