About this Event
MIYAKI PRESENTS ACAPELLA COMEDIAN LIVE IN LEICESTER | 28 SEPTEMBER 2019
MIYAKI PRESENTS ACAPELLA COMEDIAN LIVE IN LEICESTER on 28th SEPTEMBER 2019. ACAPELLA is a leading African Comedian from Nigeria, who is certainly gonna make you 'laugh in seconds'. ACAPELLA COMEDIAN is a must attend event. ACAPELLA COMEDIAN has perfromed in Lagos, MMC and AY Live including many more. Come to ACAPELLA COMEDIAN Live in Leicester, where you will find the best of rib cracking Comedy that will keep you smiling and laughing.
Families are welcome! Kids are free of charge! Please purchase a ticket for children over 15 Years. This is not a one - off event. But, you are yet to see so many more events like this in Leicestershire, unique and vibrant. (Children 15+ Years age)
VIP TICKETS INCLUDES :
1 Bottle of Brandy
1 Bottle of smooth Wine
Mineral Water bottles
Miyaki Cuisine dishes
Catering by MIYAKI RESTAURANT
KINDLY LIKE n SHARE
#MiyakiRestaurant #BlackOwnedBanking #AcapellaComedy #SupportBlackOwnedBusiness #HartCultureCreditUnion #HCCU #AfroBeats #DJPaul #DJProBeats #DJZigma #MCKevinBBC #MCUncleT #Comedy #NigerianComedy #740Waves #WaveKings #Wizkid #Davido #Badosneh #LeicesterCity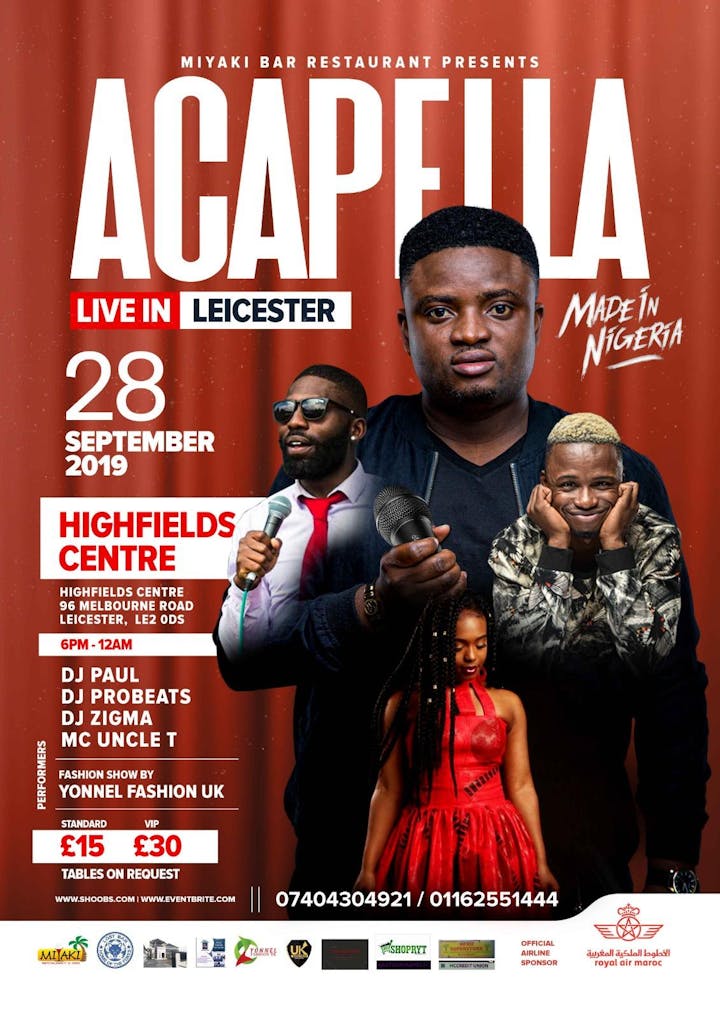 Catering and mouth watering Cuisine by Miyaki Catering in Leicestershire.