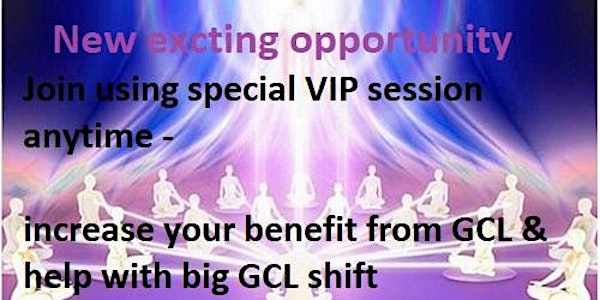 Accelerated Healing to unlock maximum benefits from Global Circle of Light
Event Information
Refund policy
Contact the organiser to request a refund.
Eventbrite's fee is nonrefundable.
This more intense weekly opportunity, much higher level of service & participation, so amazing opportunities for transformation & growth
About this event
Beauty of this very intensive opportunity we be co-creating together it is building on over 200 healing zoom circles we held in last 2 years together and 5 years of anytime Global Circle of Light, so together we be amplifying and able to transcend, shred in pace not possible before often through 10s if not 100s generation of ancestors and 10s,100s Soul had same pattern allowing for you resolve what it important & needed for you and then over weeks after our healing to manifest newer easier reality.
Each time you take part, you be able to reconnect to even deeper parts and bring greater love & healing.
This is one of more powerful zooms we hosting with such condense healing over 40min with 2 healing sessions and opportnity to chat/share/discuss after.
A powerful opportunity for unity and to connect with this 21st Century meditation and healing through Higher-self with us at the Global Circle of Light
Open to all, as everyone will be contributing through their energies 100% of Soul. Benefits to 100% from healing energies and participation are:- amplified passion for unity.
Sessions focus in different ways to amplify & anchor together new opportunities and realities; to let go of uncertainty, and challenging beliefs, while us and collective going through massive shift.
ADDITIONAL INFORMATION & OPPORTUNITIES
We have Online healing every Tuesday, Thursday & Saturday. Many healing opportunity to join anytime.
You welcome to join special FB group dedicated to our online/zoom healing events ( updates, sharing, easier invite friends, quicker access to zoom links) https://www.facebook.com/groups/GCLonline/
Healing is a journey, growth at time can take time so we have 200+ special tools available anytime to compliment healing and deal with any healing crisis, emotional release or accelerate self mastery... www.unitylove.org/uplift-embrace or
by just listening any of our audio on https://www.youtube.com/c/globalcircleoflight
WHAT DO YOU NEED TO CONNECT/TAKE PART
After you register, you able to click link to connect to zoom session.
For mobile or PC you need to download zoom app. You don't need video or microphone but those can enhance experience.
EVENT OUTLINE
The evening will start with a short introduction. Please join 12:50pm to 1pm BST
This is on online event and you are invited to join online using zoom. Please try event online zoom link early to make sure you know how to join and downloaded necessary app. We suggest people join on time so start to benefit from healing, but participants can join and leave anytime during event.
There will be brief guided grounding healing session while people joining, to help settle and allow have best experience.
The event will start promptly at 1:00PM . You welcome to join for part or all healing.
There will be 2 x 20min healing meditation and optional 15min opportunity for discussion after.
PRICING, REFUNDS AND CANCELLATIONS
This event is being run for up to 100 participants, donations are welcome and help with energies and reach more people with healing.
Please email us if you would like to take part but cannot make donation.
You be receiving healing & energies for your highest good the moment you register. If something changes and you not able to join (see www.unitylove.org/takepart how to receive additional healing and benefit.
If you unable attend please email us globalcirceoflight@gmail.com asap, there is no refunds but we can offer you complimentary participation in following week healing event.
Feel free to pass this event onto anybody who you feel can benefit from this experience and interested to help the shift we and Earth going through.
Date and time
Location
Refund policy
Contact the organiser to request a refund.
Eventbrite's fee is nonrefundable.