Accelerated Transformational Healing for Relationship Themes. Focus: Healing Your Karmic Relationships
About this event
{ This event has been moved to 15th August, apologies for the inconvenience }
Transformational Healing, Alignment & Elevation of Relationship Themes to Meet the New Conscious Relationship Frequency. Held by 2 Channellers & Teachers: Vaz Sriharan & Adya Nova. This is a series of several intensives to offer radical transformation around Relationships.
This is open to all: whether you are single or in a partnership.
HEALING YOUR RELATIONSHIP STORY: KARMIC RELATIONSHIPS
This intensive focuses on Healing your Karmic Relationships. What are Karmic Relationships? Across your past lives you have interacted with a wide range of souls. There are specific souls who you will choose to experience specific dynamics in order to heal & elevate from. Often, unhealed situations between two or more souls are magnetised together in other lifetimes in order to resolve them.
However karmic themes are repetitive by nature. They are designed to keep presenting themselves so that a different decision and outcome can emerge. Often souls meeting karmicly know on a soul level they have deep themes to heal. This is especially prominent for those on the conscious / spiritual path who will call in those souls - because their intention is deeper healing. Thus karmic relationships are can often be temporary in nature. However karmic themes can be transmuted between souls if the patterns are consciously met & dissolved.
Karmic relationships are often painful because they hit deep wounds that are being played out. Additionally, vows we have made in previous lives can return in conflict to what we wish for in this life. Often it seems to be like we're being punished by attracting the same type of individual time and again. The key is to give yourself permission to let these types of relationships go. Seems simple right? Well, as you know it's more diffiuclt than that. We all hold on tightly to our karmic stories for a reason - because we believe (from our wounds) that we only deserve the current experience.
In order to release karmic relationships we need to anchor the vibrations of Surrender, Forgiveness, Self Worth, Trust in New Stories.
We will be working to disengage from karmic stories and patterns and sending love to the souls you have bonded with across time. Letting one another go so you can engage in a new story around your relationships and self worth.
* * * * *
ZOOM LINK IS GIVEN IN EVENTBRITE CONFIRMATION EMAIL.
A REPLAY OF EVENT WILL BE SENT TO ALL THOSE WHO REGISTERED
* * * * *
Session Outline
❀ Sharing, Teaching & Exploration of the Workshop Theme
❀ Activational Commands - Breathing Release & Shadow Integration. Working with the Higher Consciousness and Shadow Side to subconsciously reprogram polarised and limiting beliefs around your Karmic Relationship Themes. Clearing Vows and Contracts.
❀ Healing Your Relationship Story: Karmic Patterns - Divine I AM Transmission - Focused Release/Cleanse Transmission for Relationship Themes during your Past Lives and Multidimensional DNA (Carrying the Stories across Time). Clearing Imbalanced beliefs, patterns and stories. Healing Your Karmic Stories
The Transmissions consist of Channelled Energy via the Planetary Grid. We will be working with Ascended Beings of Light, your Soul Family and your Higher Self throughout this process.
If you're interested to explore more: Read Vaz's article on Karmic Relationships - Click Here
Keep an eye out for the remainder of our Series of Multiple Intensives, including: Inner Child (previous), Open to Love, Sexuality & Intimacy, Self Love, Attracting a Soul Mate, Sacred Union.
HOW WE WORK
Relationships are a fascinating and challenging aspect of our lives... yet whether we label ourselves as single or in partnership - we are always in a relationship to something. This is because we are always relating to others in physical reality. Meeting, healing and elevating Relationship dynamics therefore is an essential part of healing for every soul.
We are offering this series to anchor the new frequency of Conscious Relationships that is birthing on the planet. As a couple ourselves we are holding a template of divine feminine and sacred masculine for this series. Yet we are aware that we are also on a very human journey, like everyone else. Our work therefore is to be open, vulnerable, honest about the real aspects of relationships: the struggles, the ideas, perceptions, expectations and lessons. We find an authentic approach rather than the fairy tale idea offers a truly liberating path into Consciously relating with one another - in a new way. We use our multidimensional healing & activational gifts to offer a space for transformation for all... us included!
HOW THIS SESSION WILL WORK
This will be a LIVE Zoom Webinar, which will be view only. You will be sent details of the Webinar following your registration. This is a Sliding Scale 'pay what you can afford' webinar, please choose from the available options to signify what you are able to invest in your development towards this process.
For more about Vaz Sriharan & Adya Nova visit their websites: www.vazsriharan.com and www.adyanova.com
* * * * *
(Art in Image by Krystleyez)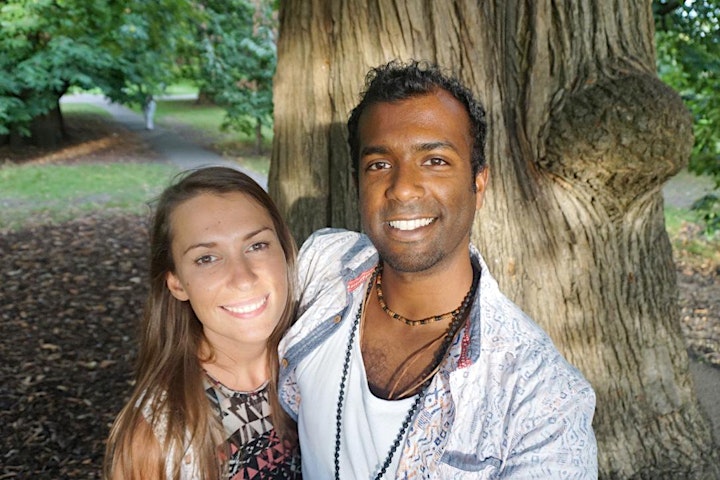 Date and time
Location
Refund policy
Organiser of Accelerated Relationship Healing (Karmic Patterns) with Vaz & Adya
VAZ SRIHARAN
Vaz is a Spiritual Guide, Mentor & Intuitive Channel. Reiki Master, Founder of Divine I AM Transmissions, Trailblazer Academy & the London College of Spirituality.
Vaz has been open to spirit since a child and also emerged from many years of depression through spiritual growth. Vaz has a background as a Cityworker and has trained in Transpersonal Psychotherapy & Person Centered Psychology. He has been working with, exploring and practicing energy healing for nearly 20 years and is passionate about continuously evolving the way we work. Today he works in a number of fields from healing to community work.

www.vazsriharan.com


ADYA NOVA
Adya is a Visionary Artist, Intuitive Channel, Energy Healer (Reiki Master & Divine I AM Transmission Facilitator) and Founder of Trailblazer Academy.
She is a co-organiser and facilitator at the London College of Spirituality founded by her fiancé Vaz Sriharan. She devotes all her work to Divine Consciousness, bridging multidimensional realms and bringing through healing frequencies and the light of Great Spirit through her work. Adya is a catalyst for others to remember their Divinity & Essence, aligning to clarity and opening up to the ever present Magic in life.