Event hosts: Champions Group on Adaptation Finance, supported by E3G and the International Institute for Environment and Development (IIED)
About this event
*En español debajo
*En français ci-dessous
The United Nations General Assembly in September 2021 is a major opportunity to progress adaptation finance issues, particularly ahead of COP26. Also taking place during Climate Week NYC, this UNGA high-level side event is an opportunity for progressive providers of climate finance to stand with climate vulnerable countries and respond to their priorities.
Countries will be signalling strong political commitment on adaptation finance to spark momentum. We will hear from ministers and senior officials on their ambitious adaptation finance plans, and how they seek to improve the quantity, quality and access to adaptation finance.
These issues have featured across many major meetings already this year, including at the Climate Adaptation Summit, the Climate and Development Ministerial, and the G7 Summit. This event on 22 September is the next in the milestone moments for accelerating adaptation finance on the road to COP26.
Time: the webinar will start at 3pm BST | 4pm CET | 10am EST.
Event speakers: Ministers and senior officials from Ireland, the United Kingdom, the Netherlands, Sweden, Denmark, Finland, with more to be announced.
Translation will be available in French and Spanish. Other languages considered on request.
Acelerando la financiación de la adaptación
La Asamblea General de las Naciones Unidas (AGNU) en septiembre de 2021 es una gran oportunidad para avanzar en temas de financiación de la adaptación, especialmente durante estos días previos a la COP26. Por ello, este evento paralelo de alto nivel de la AGNU, que también tendrá lugar durante la Semana del Clima de Nueva York (enlace en inglés), será una ocasión para que proveedores progresistas de financiación para el clima se unan a los países vulnerables al clima y respondan a sus prioridades.
Los países participantes mostrarán un fuerte compromiso político en materia de financiación de la adaptación para dar un nuevo impulso. Escucharemos a ministros y altos cargos hablar de sus ambiciosos planes de financiación de la adaptación y de cómo intentarán mejorar la cantidad, la calidad y el acceso a la financiación de la adaptación.
Estos temas ya se han tratado en muchas de las reuniones importantes de este año, como la Cumbre de Adaptación al Clima, la reunión ministerial sobre Clima y Desarrollo y la Cumbre del G7 (enlaces en inglés). Así que este evento será otro momento clave para la aceleración de la financiación de la adaptación en el camino hacia la COP26.
La traducción estará disponible en francés y español. Consideraremos otros idiomas bajo petición.
Anfitriones: Grupo de Campeones sobre la Financiación de la Adaptación, apoyado por E3G y el Instituto Internacional para el Medio Ambiente y el Desarrollo
Fecha y hora: Miércoles, 22 de septiembre de 2021, 16:00 (CEST) / 15:00 (BST) / 10:00 (EST)
Ponentes: Ministros y altos cargos de Irlanda, Reino Unido, Países Bajos, Suecia, Dinamarca y Finlandia. Otros ponentes por confirmar.
Accélérer le financement de l'adaptation
L'Assemblée Générale des Nations Unies (AGNU) qui se tiendra en septembre 2021 constitue une excellente occasion pour faire avancer les questions sur le financement de l'adaptation, en particulier avant la COP26. Cet événement de haut niveau en marge de l'AGNU, qui se déroulera également pendant la Semaine du climat à NYC (lien en anglais), est l'occasion pour les bailleurs progressistes de financement climatique de se montrer solidaires avec les pays vulnérables sur le plan climatique et de répondre à leurs priorités.
Les pays feront preuve d'un fort engagement politique en matière de financement de l'adaptation afin de créer une dynamique. Les ministres et les hauts fonctionnaires nous parleront de leurs ambitieux plans de financement de l'adaptation et de la manière dont ils cherchent à améliorer la quantité, la qualité et l'accès au financement de l'adaptation.
Ces questions ont déjà été abordées lors de nombreuses réunions importantes cette année, notamment lors du Sommet sur l'adaptation au changement climatique, de la Réunion ministérielle sur le climat et le développement ainsi que lors du Sommet du G7 (liens en anglais).
Cet événement est le prochain des moments importants pour accélérer le financement de l'adaptation en se préparant à la COP26.
L'interprétation en français et en espagnol sera disponible.
Organisateurs: Groupe des champions sur le financement de l'adaptation, soutenu par E3G et l'Institut international pour l'environnement et le développement.
Date et horaire: Mercredi 22 Septembre 2021, 16:00 (CEST) / 15:00 (BST) / 10:00 (EST)
Intervenants: Ministres et hauts fonctionnaires issus d'Irlande, du Royaume-Uni, des Pays-Bas, de Suède, du Danemark et de Finlande, et d'autres seront annoncés ultérieuremen
About attending
Webinars are online workshops that people can attend via the internet from their desk or portable internet device.
This webinar will use the Zoom video conferencing platform. For those who have not attended a Zoom webinar before, please read this guide to participation as an attendee.
The event will be recorded to be distributed publicly afterwards. By registering for this event, you agree to give your consent for this.
The information you provide will be held on our database to process your booking. We do not share data with any third parties. We may contact you in the future about other IIED events. Please let us know if you do not want to receive any further information from us.
Image: A farmer with her millet crop in Mozambique. (Photo: copyright IIED/Mike Goldwater)
Contact: Ebony Holland (ebony.holland@iied.org) and Alex Scott (alex.scott@e3g.org)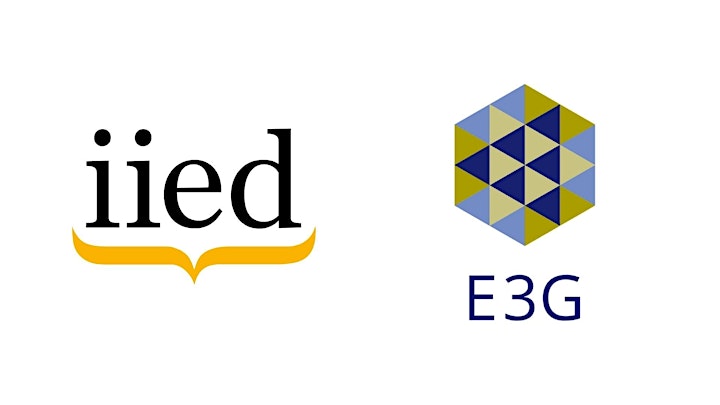 Organiser of Accelerating adaptation finance
IIED is a policy and action research organisation. We promote sustainable development to improve livelihoods and protect the environments on which these livelihoods are built. We specialise in linking local priorities to global challenges. IIED is based in London and works in Africa, Asia, Latin America, the Middle East and the Pacific, with some of the world's most vulnerable people. We work with them to strengthen their voice in the decision making arenas that affect them — from village councils to international conventions.