Description
As part of the Accelerating Healthcare Access Summit, Philips Foundation and Ashoka are delighted to invite you to our 'Ecosystem Day' - a full-day learning platform where experts from diverse fields will engage with the world's leading social entrepreneurs and work together to advance access to healthcare for all.

The Ecosystem Day will convene 100+ diverse experts with 14 of the most innovative social entrepreneurs, whose work in reducing heath inequalities has positively impacted millions of people worldwide. From innovating on new technology, to changing national policies, these Fellows have pioneered solutions that are making health services accessible to the most remote and vulnerable groups.
Join us in an interactive and collaborative day to meet and work with 14 Ashoka Fellows, exploring transformative strategies to create social impact at systemic scale.
Preliminary program: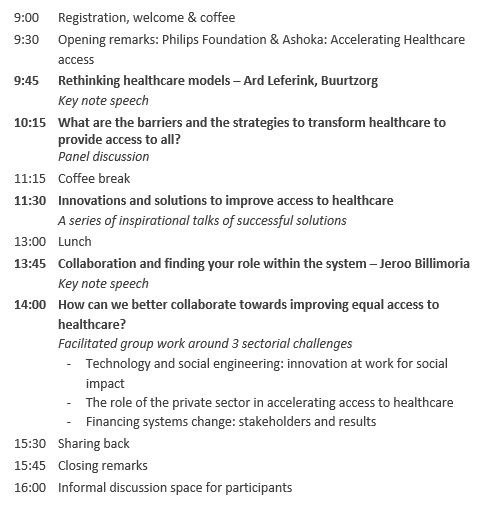 You will leave the day with:
A greater understanding of the systemic barriers preventing healthcare access, identifying root cause issues instead of symptoms.

Knowledge of the models and innovative approaches of 14 social entrepreneurs from different geographies.
Learnings on strategies for multi-stakeholder collaboration and your role within the system.
New connections to key ecosystem actors and inspirational exchanges.
Participating Ashoka Fellows will include:

Visit our website to see all participant Fellows.
The Ecosystem Day takes place as part of the Accelerating Healthcare Access Globalizer Summit. Ashoka's Globalizer program develops practical wisdom on strategies for scaling social impact by challenging participating organizations to think beyond growth in the traditional sense. Rather than merely expanding operations, social entrepreneurs consider how to open up access to their ideas and truly improve systems for longlasting widespread impact. Click here to watch the highlights of the first Philips Foundation Globalizer experience.
---
This event is by invitation only. If you wish to attend but have not received an email invitation, please get in touch with Koen Joosse at koen.joosse@philips.com. Unfortunately, due to limited seating we will have to cancel any tickets booked without previous email invitation.