Description
READ FULL EVENT DESCRIPTION HERE.
Another great night dedicated to the Internet of Things with a stunning speaker line-up from four brilliant companies:
- the research lab of one of the largest UK merchandise retailers
- the company behind the Nike Fuel Band and the Nike+
- a leading technology market research and analysis firm
- an IoT accelerator based in Hong Kong

Like usual the night will be fuelled with plenty of drinks.
Hardware Pioneers is kindly sponsored by Intel, UL and Kickstarter
---
About the speakers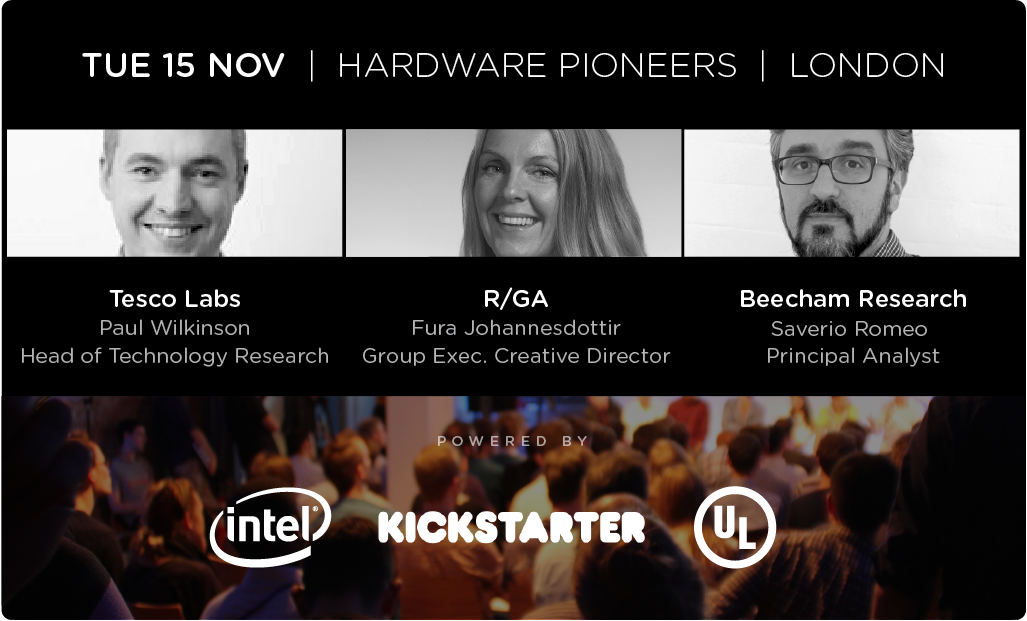 Paul Wilkinson - Head of Technology Research at Tesco Labs
Talk title: Simpler shopping
About the speaker: Paul keeps track of technology trends and stay up to speed on what's coming next in the consumer and enterprise worlds and use that to influence where we should spend our effort. He also looks after our relationships with some of the biggest tech companies in the world, working with them to keep Tesco up to date with developments and helping to shape their future products.
About the company: Tesco Labs is here to help you experience the future. Here to envisage, design and create the future Tesco today. Tesco Labs gives even the most ambitious ideas time to develop. Real, far sighted, game changing innovation means you have to take risks.
Fura Johannesdottir, Group Executive Creative Director at R/GA

Talk title: Humanizing IoT
About the speaker: Having worked at R/GA for over 10 years, Fura has provided both strategic and creative vision for her clients and teams in New York and Stockholm. She was the creative lead on R/GA's Nike account in NYC for a number of years where she drove the e-commerce & retail business, moving the account into new territories by exploring new emerging trends and innovations. She also led the creative team for Samsung US and was one of the creative leads on R/GA's Walmart account.
About the company: R/GA is expanding its successful Ventures initiative globally, launching its first UK program in association with InnovateUK. The London-based Venture Studio program is designed to help early-stage and growth-stage startups creating connected products and services to level up as businesses and brands on a global scale.
Saverio Romeo - Principal Analyst at Beecham Research
Talk title: The Rising Adoption and the Complexity of the IoT Vision
About the speaker: Saverio runs research in the areas of M2M, Internet of Things, wearable technologies and smart solutions for vertical sectors. During last six years, Saverio has focused his technology and market research on the evolution of the M2M market and the Internet of Things vision. He has advised organisations such as Telefonica, Vodafone Group, myDevices, Inside Secure, Telespazio, Sierra Wireless, Telit International, Sony, Inmarsat, Wireless Logic and more.
About the company: Beecham Research is a leading technology market research, analysis and consulting firm established in 1991. They have specialized in the development of the rapidly-growing Connected Devices market, worldwide since 2001.
The team at Beecham Research is expert in M2M/IoT services and platforms and also in IoT solution security, satellite M2M and Wearable Technology.
Bay McLaughlin - Co-founder of Brinc
Talk title: Why Your Hardware Company Doesn't Need Venture Capital
About the speaker: Bay has supported technology startups for the last decade. Over half of this time was spent at Apple as a founding team member of their global SMB channel and as the founder of their first Entrepreneurship Evangelism channel.
The other half of his career has been spent inside of or founding startups, two of which failed, one of which exited successfully.
About the company: Brinc is an ultra hands-on hardware accelerator based in Hong Kong that supports entrepreneurs looking to unlock the world's data through connected solutions. They offer a comprehensive program tailored for hardware startups looking for speed, access and the know-how to build successful companies.


---
Agenda
6:30pm - Arrival and registration.
6:40pm - Networking and drinks.
6:50pm - Event opening.
7:00pm - Paul Wilkinson - Head of Technology Research at Tesco Labs
7:20pm - Fura Johannesdottir, Group Executive Creative Director at R/GA
7:40pm - Saverio Romeo - Principal Analyst at Beecham Research
8:00pm - Bay McLaughlin - Co-founder of Brinc
8:05pm - Community announcements and demos: This is your time. If you would like to share what you are working on with the community or make any sort of announcement. You have 2 minutes max for a short shoutout.

8:20pm - Drinks and networking.
9:30pm - Event ends.
---
Local partners
ihorizon - London based accountants specialising in outsourced accounting and finance solutions to entrepreneurs and tech startups in the UK and US.
Airspace - We've just moved in this fabulous new co-working space in the heart of London (Oxford Street). If you'd like to join us and access special discounts contact Emily mentioning you are part of the Hardware Pioneers community.
---
About Hardware Pioneers
Discover more about Hardware Pioneers on our website.
Get notified about future events by subscribing here.
Check out what people say about @HdwPioneers on Twitter!