HAPPY 2022!! Let's get the year off to a positive start to ensure busy = balanced.
About this event
When looking to achieve our goals in a busy environment, it's easy to neglect mental, physical, and emotional health. How could technology help an individual, in a work / educational environment, to better manage this? Join us and our friends from Code Institute for our next virtual panel discussion.
Tackling burnout and prioritising mental health and wellbeing are fundamental to ensuring the workforce stay happy, healthy, and supported. Join us to get 2022 off to a positive, manageable start as we continue our mission to build meaningful careers within the Digital Space.
Discussion points:
Why is mental health and well-being awareness fundamental
How to avoid burnout
How to build a resilient workforce and the role of the employer
The importance of anti-stigma mental health campaigns
How to combat cultural barriers
Predictions for 2022
Our panel:
- Yoni Lavi - Subject Matter Expert @ Code Institute
- Megan Wood - Host & Chair @ SODA Social
- Natalia Obergon - Billingual Psychotherapist
#SODASocial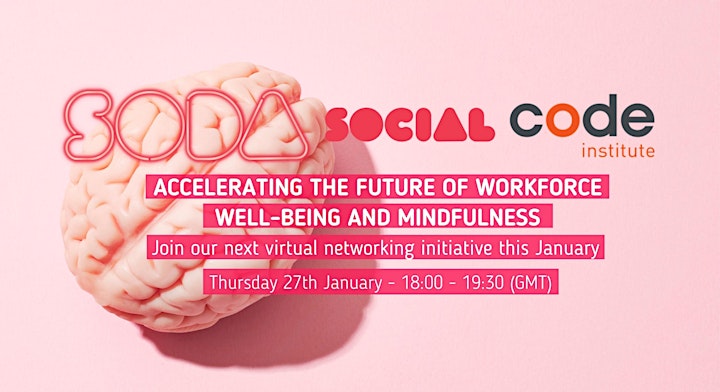 Organiser of Accelerating the future of workforce well-being and mindfulness
Diversity is an action, inclusivity is cultural, and belonging is a sensation. We are a not-for-profit devoted to empowering diversity and inclusion in the technology space. A balanced and diverse workforce drives innovation and businesses need to do more than attract and retain women into their communities, we exist to bridge that gap. Our goal is to inspire, empower and diversify the technology world, one meetup at a time.

Whether you're 10 years deep or a fresh face, we can't wait to meet you! We are a group that celebrates the achievements of women who have overcome the barriers they face within the tech space. This is the perfect opportunity to engage with tech enthusiasts looking to expand knowledge, socialise and celebrate diversity and inclusion within the technology space. Get involved, engaged and empowered.