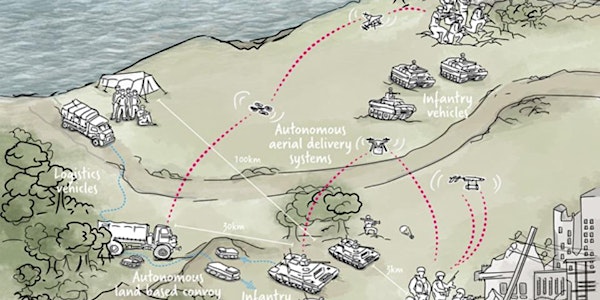 Accelerator Innovation competition webinar: autonomous last mile resupply
Description
Webinar: Accelerator autonomous last mile resupply themed competition

Register above and you'll be sent log-in details
This webinar will be a summary of the presentations briefed at the Accelerator Innovation Network event on 23 May in London.
This Defence and Security Accelerator (Accelerator) themed competition seeks to develop and demonstrate the use of autonomous systems to deliver mission-critical supplies, focussing on the challenging 'last mile' resupply in the land environment.
It is important to note the last mile is a concept, not a fixed distance, and may be up to 30km in some scenarios.
To achieve an autonomous last mile resupply system, we need to develop and demonstrate technologies in 3 key areas, which we have set as 3 challenges for this Defence and Security Accelerator (Accelerator) themed competition:
Challenge 1: unmanned air and ground load carrying platforms
Challenge 2: technologies and systems to allow load carrying platforms to operate autonomously
Challenge 3: technologies to autonomously predict, plan, track and optimise resupply demands from military users
Total funding
At present, up to £3 million funding is available in total for this competition - up to £1.5 million will be allocated to phases 1 and 2.
Competition close
Proposals must be received by no later than 12 noon on 21 June 2017. Your proposal must be submitted online via the Accelerator submission service.