Accelerator Innovation Network Event: autonomous last mile resupply
Sales Have Ended
Registrations are closed
Sorry but registration for this event has reached capacity. Please add your details to the waitlist in case any spaces become available.
Sales Have Ended
Registrations are closed
Sorry but registration for this event has reached capacity. Please add your details to the waitlist in case any spaces become available.
Description
Accelerator Innovation Network - registration closes on Friday 19 May at 12:30pm.
**Including themed competition Autonomous Last Mile Resupply**
What's going on at the Innovation Network?
Accelerator briefings and competition
Update on Defence and Security Accelerator (the Accelerator) - welcome to the Innovation Network event, latest news from the Accelerator and an overview of the day - Dr Lucy Mason, Head of Defence and Security Accelerator.
Autonomous Last Mile Resupply themed competition briefing
This Defence and Security Accelerator themed competition is looking for novel proposals that use autonomous systems to deliver mission critical supplies to users operating in front-line military situations, and for this competition we're focussing on the challenging 'last mile' of resupply.
The aim of an autonomous last mile resupply system is to:
• reduce the demand on existing platforms and infrastructure
• reduce the risk and burden on military personnel during last mile resupply tasks
• increase the efficiency of the last mile logistic resupply operations with pace and accuracy
• provide an 'assured resupply' capability for forward military users to enable more agile operations in complex environments.
For this competition we are particularly interested in:
• novel air and ground load carrying platforms
• technologies and systems to allow load carrying platforms to operate autonomously
• technologies to autonomously predict, plan, optimise and track resupply demands from military users
Find out more about this competition which has been allocated £3 million in funding across two phases.
Introduction to the Accelerator - are you new to the Accelerator? Find out what we're all about, our funding opportunities and how to work with us - Jim Pennycook, Innovation Partner
Create a great Accelerator proposal - what is important and where does it go? Find out how best to use Accelerator online submission service - Bruce Hardie, Enduring Challenge Manager.
Individual face-to-face meetings
Accelerator themed competition meetings - meet with technical experts from Dstl and MOD to discuss your potential proposal to the Accelerator themed competition on 'autonomous last mile resupply'.
You will be able to pre-book these meetings using the link which will be sent to you once the meeting times have been released. You'll also be able to book on the day if there are still spaces available.
The Hub
Network, meet Accelerator, Commercial, MOD and subject matter experts, plus previously successful suppliers.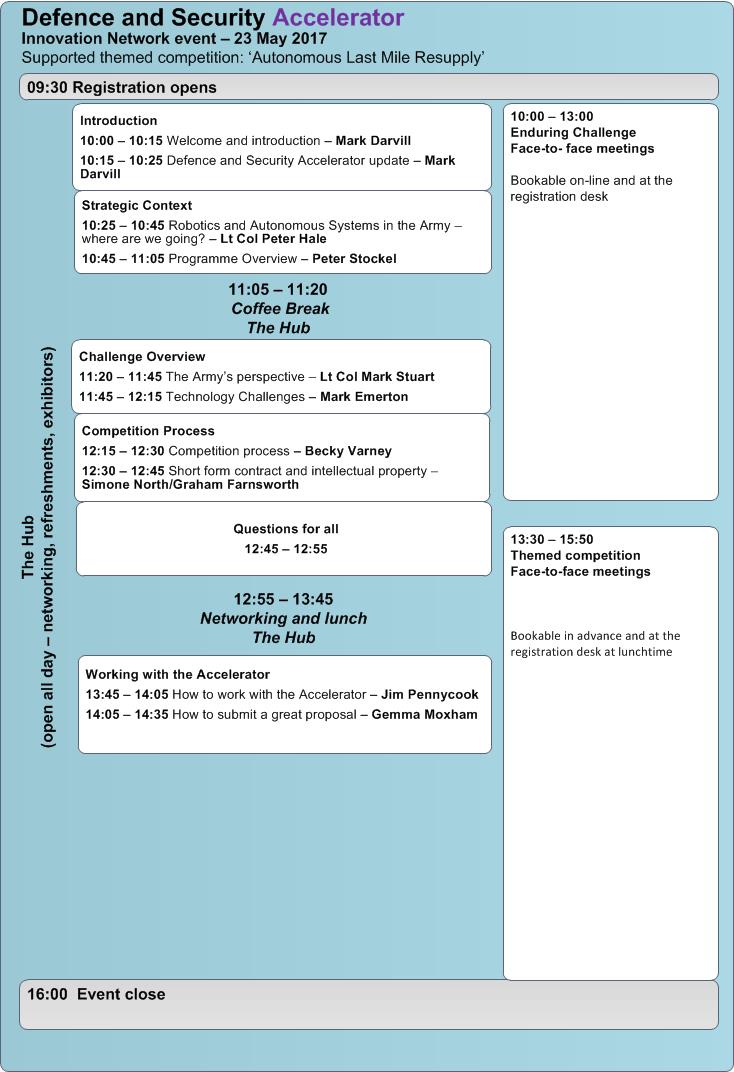 Accelerator-hosted events are free to attend. Please make sure you can definitely attend before signing up. If you need to cancel please cancel your ticket via Eventbrite or contact mailto:accelerator@dstl.gov.uk so we can offer your place to someone else as early as possible.