Accelerator Innovation Network featuring 'Finding explosives hidden in elec...
Description
Accelerator Innovation Network - registration closes on Wednesday 22 November 2017 at 12:30pm.
**Including themed competition Finding explosives hidden in electrical items**
What's going on at the Innovation Network?
Accelerator briefings and competition
Update on Defence and Security Accelerator (the Accelerator) - welcome to the Innovation Network event, latest news from the Accelerator and an overview of the day - Defence and Security Accelerator.
Finding explosives hidden in electrical items themed competition briefing Find out more about this competition. Up to £3 million is available for phase 1 of this competition.
This Defence and Security Accelerator (Accelerator) themed competition seeks to make a real difference in aviation security through innovative science and technology. The competition is looking for proposals to improve our ability to prevent explosives hidden within electrical items in passenger baggage from being taken on board an aircraft.
This Accelerator competition is part of the wider Department for Transport and Home Office Future Aviation Security Solutions (FASS) programme. This programme will invest £25.5 million over a 5 year period (2016-2021) to promote innovation and deliver a step change in aviation security.
This competition has 2 challenges which seek to enhance the detection of threats hidden in electrical items for:
airport central security screening; and

portable screening, where there are significant constraints on size, weight, power
Introduction to the Accelerator - are you new to the Accelerator? Find out what we're all about, our funding opportunities and how to work with us
How to submit a great Accelerator proposal - what is important and where does it go? Find out how best to use Accelerator online portal
Individual face-to-face meetings
Accelerator themed competition meetings - meet with technical experts to discuss your potential proposal to the Accelerator themed competition on 'finding explosives hidden in electrical items'.
You can pre-book these meetings using the link you'll receive in your email confirmation after you register above. You'll also be able to book on the day if there are still spaces available.
Agenda
This is a draft agenda, and is subject to change.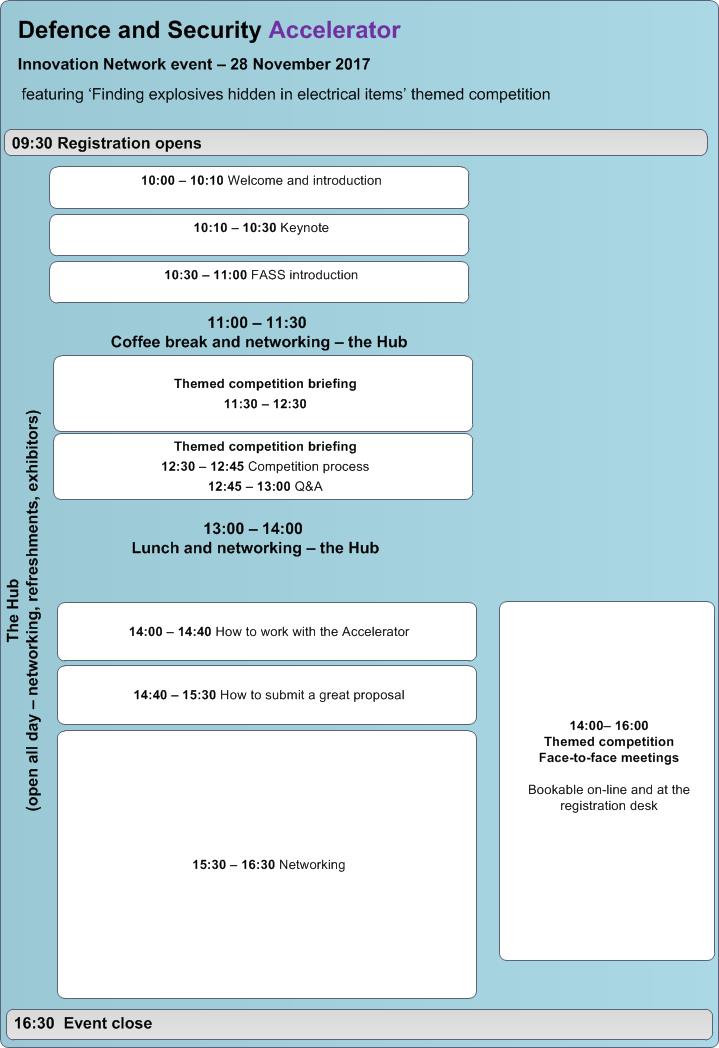 The Hub
Network, meet Accelerator, Department for Transport, Commercial, MOD and subject matter experts, plus previously successful suppliers.
Accelerator-hosted events are free to attend. Please make sure you can definitely attend before signing up. If you need to cancel please contact accelerator@dstl.gov.uk so we can offer your place to someone else as early as possible.