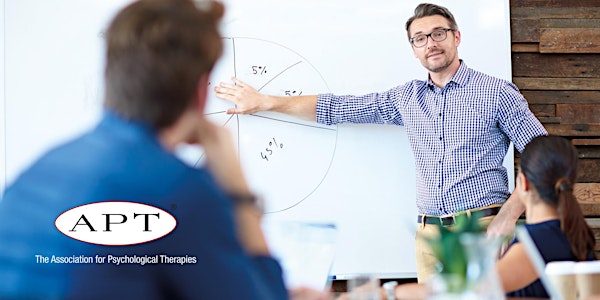 Acceptance and Commitment Therapy Training (ACT Essentials)
Refund policy
Refunds up to 30 days before event
Eventbrite's fee is nonrefundable.
Accredited Acceptance and Commitment Therapy (ACT) training from the Association for Psychological Therapies (APT)
About this event
Executive Summary:
Acceptance and Commitment Therapy (ACT) adopts a new strategy that moves away from the 'rational strategies of behaviour and thought change' that many people have tried and failed with. Focusing mainly on how people understand and perpetuate their difficulties through language, ACT concentrates on exciting interventions based on metaphor and paradox, with experiential exercises to show how to break free of language traps, overcome common behavioural problems and enhance life satisfaction.
To find out more or to contact APT click here.
Who should attend?
People who attend this course normally fall into one of two categories:
1. Professionals who see patients in 1:1 treatment settings and have a significant degree of clinical skill.
2. 'Whole teams' (either in inpatient or community settings) seeking to add to their common approach.
To find out more or to contact APT click here.
The ACT Essentials course covers a great deal:
The differences between ACT and traditional cognitive behavioural therapy. Noticing, accepting and embracing thoughts and feelings, including unwanted ones, and taking action on them.
Getting in touch with "self-as-context" - the part of you that observes and experiences but is different from the part of you that has feelings, sensations, and memories.
Clarifying personal values and acting in accordance with them, thereby enhancing the quality of one's life.
The idea that the normal human state is one of distress, rather than distress being pathological.
Experiential avoidance, cognitive entanglement, and psychological rigidity, all of which may prevent one from acting in line with one's real values.
The FEAR acronym as a summary of what causes us problems:
Fusion with your thoughts
Evaluation of experience
Avoidance of your experience
Reason-giving for your behaviour
And the ACT acronym that summarises a more adaptive way of behaving:
Accept your reactions and be 'present'
Choose a valued direction
Take action
Cognitive defusion: Learning how to overcome the natural tendency to regard our thoughts, images, emotions, and memories as sacred.
Acceptance: Accepting our thoughts and allowing them to come and go without fighting them.
Awareness of the here and now, experienced with openness, interest, and receptiveness.
Observing the self: Accessing a transcendent sense of self, the ever-present part of you that observes and experiences.
Values: Finding out what is most important to you and having clarity on it.
Committed action: Acting responsibly in line with your values.
To find out more or to contact APT click here.
What this Acceptance and Commitment Therapy course will do for you:
You will have a clear idea of what is meant by the 'third wave' in therapy – and the first and second too.

You will know exactly what is involved in ACT, and be able to use ACT approaches with your patients, and perhaps especially with those for whom traditional CBT has proved less effective.

You will be better at accepting your own thoughts and feelings, as a prerequisite for helping others.

You will be more in contact with your own personal values and more prepared to act responsibly on them, and to help others do the same.

You will be less distressed by your distress when you are distressed, and able to show others how to achieve that.
To find out more or to contact APT click here.
What you receive as a result of attending the training:
You will be registered as having attended the course, thereby gaining APT's Level 1 accreditation, and receive a certificate to this effect. The accreditation gives you access to online resources associated with the course. Your registration lasts indefinitely, and your accreditation lasts for 3 years and is renewable by sitting an online refresher which also upgrades your accreditation to APT Level 2 if you are successful in the associated online exam.
Your accreditation is given value by the fact of over 100,000 people having attended APT training. See APT accreditation for full details.