Sales Have Ended
Registrations are closed
Tickets are no longer available, please head to our Access All Areas socials for more info @aaaseminars
Sales Have Ended
Registrations are closed
Tickets are no longer available, please head to our Access All Areas socials for more info @aaaseminars
ACCESS ALL AREAS: Impact "The Rise Of UK Rap" webinar with Tileyard Impact is FREE for all.
About this event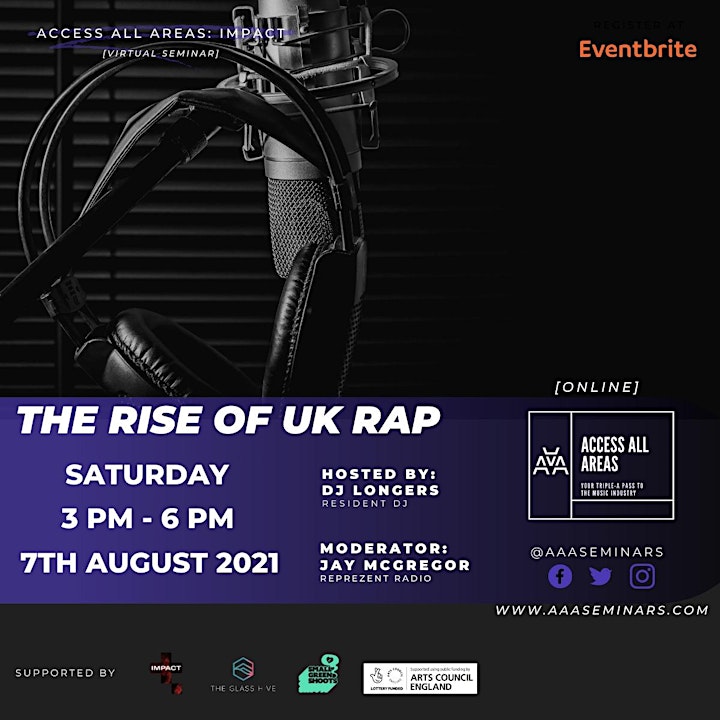 Firstly on behalf of the USM Media Group and Access All Areas team we hope that this message finds you, your family, friends and co-workers well during these exceptional times. Please stay safe and follow the government and NHS guidelines and we will get through this together. We hope to see you all again at future events but in the meantime, we have teamed up with our partners at Tileyard Impact to launch a series of FREE monthly online webinars to help educate and navigate talent, managers and industry executives through the COVID-19 pandemic. Please find more info on our new free event series below:
ACCESS ALL AREAS: Impact is a new up close and personal music seminar, industry networking event and artist showcase that aims to be your "Triple-A Pass To The Music Industry". This unique webinar event series will be brought to you virtually throughout the lockdown period, continues on Saturday, Aug 7th in conjunction with our partner, Tileyard Impact FREE of charge!
ACCESS ALL AREAS: Impact announces their "Rise Of UK Rap" panel with 9 panellists and 3 unsigned artist performances! This 3-hour webinar will be guest moderated by AAA resident moderator Jay McGregor from Reprezent Radio. She will be speaking to key players from the British music business who will be taking part in a frank discussion about The Rise Of UK Rap.
The panel will be discussing The Rise Of UK Rap, charting its history, looking at the reasons why UK artists are finally breaking through, highlighting some of the key players in the scene and why the are majors finally paying attention to the UK Rap talent? We will also look at violent and misogynistic lyrics within the genre and are the major labels only signing artists that have negative lyrical content? Are Grime and Drill really Hip-Hop or is it UK's take on the genre? Why arent UK rap artists streaming in big numbers internationally? We also ask the question do UK Rap acts still need the co-sign of artists from States to break through internationally? And finally, our panel will be highlighting what names will break out from the UK Rap scene in the next year.
Our formidable panel of industry execs we have assembled covers the full spectrum of the UK Music Industry including MC, Podcaster and Presenter of Yo! MTV Raps UK, Poet; No-Signal Head of Programming, EMI Music Exec and Presenter, Scully; Rapper/Singer and BBC The Rap Game UK finalist, Lesia; Rinse FM DJ and Presenter, Sarah Harrison; Platinum selling Producer, Mentor and ACM Lecturer, King Tut; UK Hip-Hop legend and 1/3 of UK Rap Supergroup Kingdem, Blak Twang; DJ, Presenter and co-owner of Syncdin, DJ Biggoss, ACM Rap / Music Biz Lecturer, DJ and co-owner of Syncdin, Miss C Brown; and last but not least and Lawyer, Head of Business Affairs for Ninja Tune and MC, Abi Lufadeju!
But that's not all, the networking sections of the event will be hosted by one of the UK's hottest club DJ's; DJ Longers with our #LockdownLive showcase featuring exclusive live performances from three unsigned UK artists including Tee Peters, Qveen Nvcs and Jayo! Plus more special guests to be confirmed!
So on Saturday Aug 7th, come and hear from some of the biggest names in the game at ACCESS ALL AREAS: Impact so whether you're an artist, producer, songwriter, DJ, musician, manager, budding music exec or maybe you just want to connect with more of your industry peers this is a music webinar for the next generation of the music business. This event will guarantee to be a sell-out, so make sure you pick up your FREE tickets on sale now from Eventbrite UK.
• Running Order:
3-315pm: Networking Session & live DJ set hosted by DJ Longers
315-330pm: #LockdownLive performance by Jayo
330-415pm: "The Rise Of UK Rap" Panel moderated by Jay McGregor
415-430pm: Audience Questions
430-445pm: #LockdownLive performance by Qveen Nvcs
445-515pm: "The Rise Of UK Rap" Panel moderated by Jay McGregor
515-530pm: Audience Questions
530-545pm: #LockdownLive performance by Tee Peters
545-6pm: Networking Session & live DJ set hosted by DJ Longers
• Moderators: Jay McGregor (Reprezent Radio)
• Panellists:
Poet - Presenter, Podcaster, Host of Yo! MTV Raps UK and MC
Blak Twang - Member of UK Rap Supergroup @ KingDem, Artist and UK Hip-Hop legend
Scully - Head of Programming @ No Signal, Specialist Commericial Manager at EMI Music and Presenter
DJ Biggoss - Presenter, Club DJ, Promoter and Co-Owner @ Syncdin
Lesia - Rapper / Singer-Songwriter and BBC The Rap Game UK Finalist
Miss C Brown - ACM Lecturer, Co-Owner @ Syncdin and DJ
Sarah Harrison- Radio Presenter @ Rinse FM London and Club DJ
Abi Lufadeju - Lawyer, Head of Business Affairs for Ninja Tune and MC
King Tut - Multi-Platinum Producer and ACM Mentor/Lecturer
• Live Performances:
• Lockdown Live! Unsigned UK Artist showcase with performances from:
Jayo, Qveen Nvcs and Tee Peters
• Resident DJ & Host: DJ Longers
• Tickets: FREE only from Eventbrite
• Supported by: Tileyard Impact, Small Green Shoots, Arts Council and The Glass Hive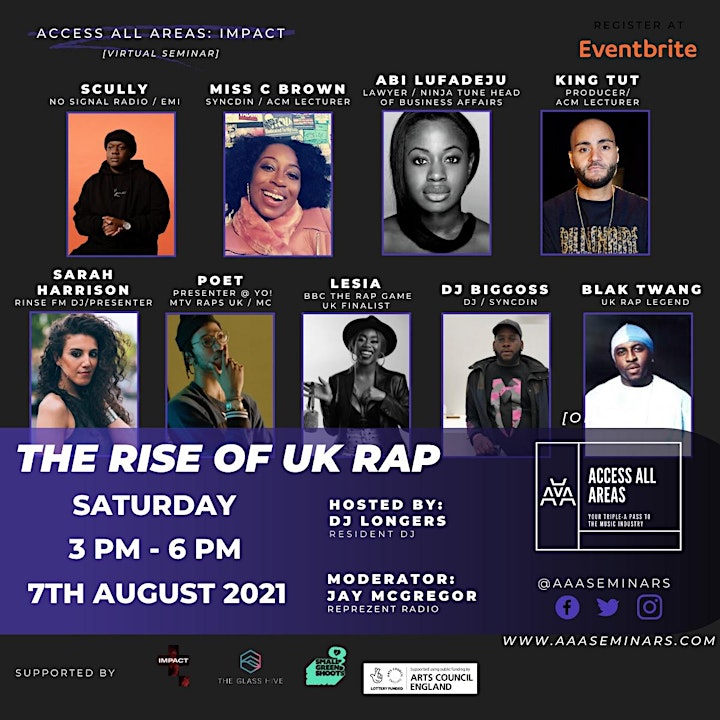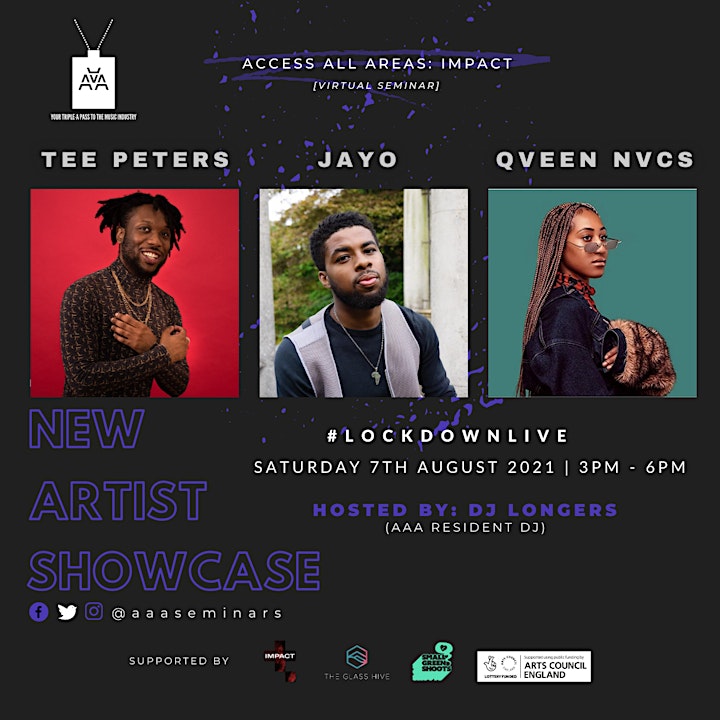 Organizer of Access All Areas: Impact "The Rise Of UK Rap" Webinar
Access All Areas is a music education brand launched in 2020 with a unique monthly seminar, new artist showcase and networking event. Our events primarily target 15-24-year-old NEET and Ethnic minority creatives and executives. Access All Areas is Your Triple-A Pass To The Music Industry ™