Sales Have Ended
Registrations are closed
Any issues with streaming please contact our social media team via Twitter / Instagram @AAASeminars
Sales Have Ended
Registrations are closed
Any issues with streaming please contact our social media team via Twitter / Instagram @AAASeminars
ACCESS ALL AREAS: Impact "Racism In The UK Music Industry: 1 Year On" webinar with Tileyard Impact is FREE for all.
About this event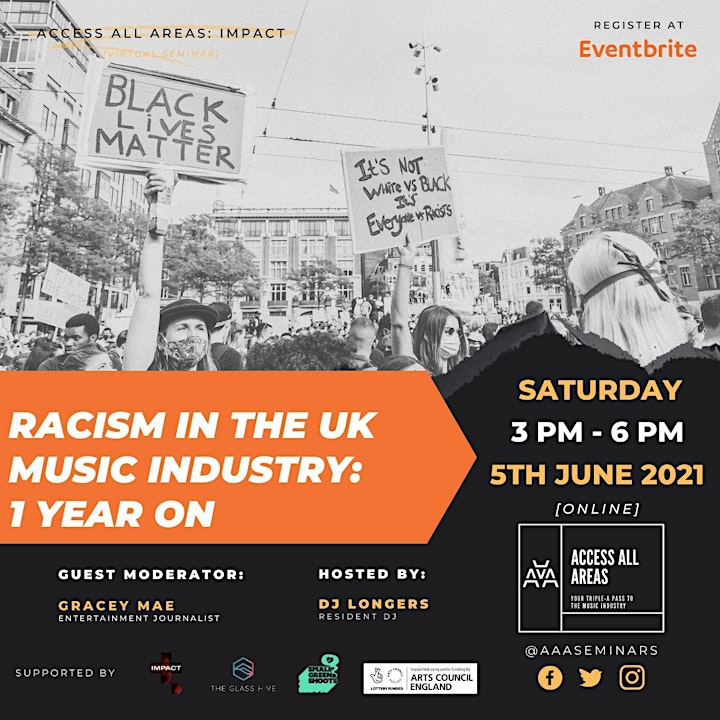 Firstly on behalf of the USM Media Group and Access All Areas team we hope that this message finds you, your family, friends and co-workers well during these exceptional times. Please stay safe and follow the government and NHS guidelines and we will get through this together. We hope to see you all again at future events but in the meantime, we have teamed up with our partners at Tileyard Impact to launch a series of FREE monthly online webinars to help educate and navigate talent, managers and industry executives through the COVID-19 pandemic. Please find more info on our new free event series below:
ACCESS ALL AREAS: Impact is a new up close and personal music seminar, industry networking event and artist showcase that aims to be your "Triple-A Pass To The Music Industry". This unique webinar event series will be brought to you virtually throughout the lockdown period, continues on Saturday, June 5th in conjunction with our partner, Tileyard Impact FREE of charge!
ACCESS ALL AREAS: Impact announces their "Racism In The UK Music Industry: 1 Year On" panel with 8 panellists and 3 unsigned artist performances! This 3-hour webinar will be guest moderated by entertainment journalist Gracey Mae from Westside Radio. She will be speaking to top executives from the British music business who will be taking part in a frank discussion about Racism In The UK Music Industry.
The panel will be discussing Racism within the British music industry, showcasing some of the positive movements in the last year since our first groundbreaking seminar on the topic including the Power Up program, Black Music Coalition, UK Music's Diversity Survey and Black Lives in Music survey. We will also discuss what further changes need to be made within the music business in light of the Government Commission on Race and Ethnic Disparities as well as pay and conditions, promotion opportunities, artist contracts and mental health. And finally, highlight the reasons why diversity is important to the country's music industry as one of the UK's biggest exports.
Our formidable panel of industry execs we have assembled covers the full spectrum of the UK Music Industry including Ammo Talwar MBE, the Chairman of UK Music Diversity Task Force, Dr Monique Charles an Academic and Music Lecturer at the University of West London, Vice Chairman at MMF Kwame Kwaten, Ben Wynter, Founder of the Power Up program and Entrepreneurship & Outreach manager at AIM, songwriter Michelle Escoffery who is President at PRS Council and Module Leader & MA Songwriting Lecturer at Tileyard Education, Kienda Hoji at Assistant Head of School of Arts at the University of Westminster and Music Business Lawyer, Cherisse Beaumont CEO of Black Lives In Music and last but not least Kwaku, Founder of BritishBlackMusic.com and Black Music Congress.
But that's not all, the networking sections of the event will be hosted by one of the UK's hottest club DJ's; DJ Longers with our #LockdownLive showcase featuring exclusive live performances from three unsigned UK artists including Boy Nash, Sonz of Thunder and Tonia Soulbird! Plus more special guests to be confirmed!
So on June 5th, come and hear from some of the biggest names in the game at ACCESS ALL AREAS: Impact so whether you're an artist, producer, DJ, manager, budding music exec or maybe you just want to connect with more of your industry peers this is a music webinar for the next generation of the music business. This event will guarantee to be a sell-out, so make sure you pick up your FREE tickets on sale now from Eventbrite UK.
• Running Order:
3-315pm: Networking Session & live DJ set hosted by DJ Longers
315-330pm: #LockdownLive performance by Sonz Of Thunder
330-415pm: "Racism In The UK Music Industry: 1 Year On" Panel
415-430pm: Audience Questions
430-445pm: #LockdownLive performance by Tonia Soulbird
445-515pm: "Racism In The UK Music Industry: 1 Year On" Panel
515-530pm: Audience Questions
530-545pm: #LockdownLive performance by Boy Nash
545-6pm: Networking Session & live DJ set hosted by DJ Longers
• Moderators: Gracey Mae (Westside Radio)
• Panellists:
Ammo Talwar MBE - Chairman @ UK Music Diversity Task Force & CEO @ Punch
Dr Monique Charles - Music Lecturer @ University of West London / ACM
Kwame Kwaten - Vice Chair @ Music Managers Forum / CEO @ Ferocious Talent
Ben Wynter - Founder @ Power Up & Unstoppable Music Group / Entrepreneurship & Outreach manager@ AIM
Michelle Escoffery - President @ PRS Council / Module Leader & Songwriting Lecturer @ Tileyard Eduction
Kienda Hoji - Assistant Head of School of Arts @ University of Westminster / Music Business Lawyer
Cherisse Beaumont - CEO @ Black Lives In Music
Kwaku - Founder @ BritishBlackMusic.com/Black Music Congress
• Live Performances
• Lockdown Live! Unsigned UK Artist showcase with performances from:
Boy Nash, Sonz of Thunder and Tonia Soulbird
• Resident DJ & Host: DJ Longers
• Tickets: FREE only from Eventbrite
• Supported by: Tileyard Impact, Small Green Shoots, Arts Council and The Glass Hive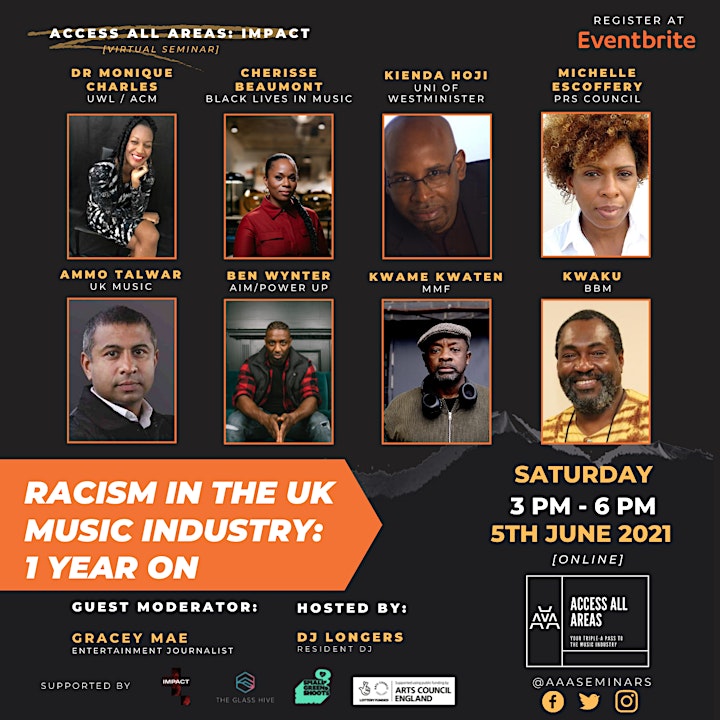 Organiser of ACCESS ALL AREAS: "Racism In The UK Music Industry: 1 Year On" webinar