Description

Are you looking to start or grow your Shropshire business?
Would you like to find out about the funding and support available for your business, all in one session?
There are numerous funding and support options available to Shropshire businesses.
This event will give you the opportunity to discuss your business requirements directly with key support programmes and funders, including:
Midlands Engine Investment Fund
Business Growth Programme
Department for International Trade
Marches Building Investment Grant
Manufacturing Growth Programme
University of Wolverhampton Business Solutions Centre
Good 2 Great – Start2Great and Smarter Growth
The event will also include the Shropshire launch of the Business Energy Efficiency Programme (BEEP):
Businesses will now be able to receive free energy efficiency assessments and grants of up to £20,000 to help fund activities such as LED Lighting, Heating, Insulation, Compressors, Energy Efficient Equipment, Fast Shutting Warehouse Doors and Renewables.
This is a free opportunity for businesses to learn about the support available through the Business Energy Efficiency Programme and wider support, listen to a business who is already benefitting from financial savings through the BEEP programme and attendees will come away with some energy saving tips to take back to their own sites.
The programme has already helped 250 businesses across Worcestershire, Herefordshire and Telford & Wrekin and now Shropshire small and medium size enterprises will be able to access this two-pronged combination of technical support and grant funding.
For more information visit www.business-central.co.uk/beep or call 01905 677888
The Business Energy Efficiency Programme is part-financed by the England European Regional Development Fund Programme as part of the European Structural and Investment Funds Growth Programme 2014-2020.
Agenda:
Registration & networking: 09.00 - 09.30
BEEP Launch: 09.30-10.15
Networking & opportunity to talk to funders/support agencies: 10.15-12.30
Complimentary refreshments available.
For more information on the Marches Growth Hub visit www.marchesgrowthhub.co.uk
Organiser of Access to Funding and Business Support Event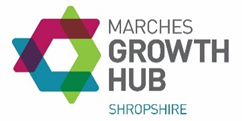 The Marches Growth Hub Shropshire is one of three physical hubs making up the Marches Growth Hub offer to businesses. The other hubs are located in Herefordshire and Telford and Wrekin.
The Marches Growth Hub - Shropshire provides information, advice and training open to all Shropshire businesses regardless of size or sector, and is available to new and existing businesses.