Find out how to apply for and access innovation grant funding to help take your innovation to market.
About this event
Geovation joins forces with Innovate UK Edge to bring you valuable insights into the Innovation Grant Funding landscape.
Join us live for your chance to ask any questions you may have.
Become a Geovation Member today, if you are not already, for the opportunity to connect with the Geovation team and become part of a community of location-data innovators.
Why should you join this session?
Understanding the latest innovation grant funding opportunities and how to access them can be tricky. However, it could make all the difference in helping your ground-breaking innovation off the ground.
This free masterclass is designed to provide an overview of innovation grant schemes for start-ups and small businesses, eligibility criteria and steps your business needs to take in order to access them.
What will you learn?
The Innovation grant landscape – what opportunities for funding are out there?
What stage is my innovation at? Explaining Technology Readiness Levels (TRLs).
What definition of SME does my business fit?
Stages of technology development (maturity) - Why are they important?
What grants are suitable for my business (whether my business is a start-up or an established / growth business)
Is my business eligible to apply for this grant?
Is my idea / concept an example of radical innovation?
What is the process of applying for grants – such as Innovate UK's SMART grant?
How can I prepare a good grant application?
Learn about resources and support available to help with your innovation journey.
Who are your session experts?
Abrar Jawaid, Innovation and Growth Specialist Team Manager
Abrar holds a Biochemical Engineering and Science degree and a PhD in hydroacoustic decortication (removal of fibres from plants using acoustic energy) and has worked in academia, industry and the public sector in various roles.
He has led numerous research and development projects, in addition to helping in the establishment of a couple of start-ups in the field of biofuels and renewable energy. He is using this expertise to support innovative companies seeking to secure innovation grant funding to progress their R&D further towards commercialisation.
Sandra Steinhauer, Innovation and Growth Specialist Team Manager
Sandra offers bespoke support to help ambitious innovation-led businesses enhance their innovation capacities and gain access to EU and national grant funding for research, development and innovation. She provides expert advice on Innovate UK funding competitions, like the Smart Grant, and EU funding possibilities within Horizon Europe and previously Horizon2020. Having previously spent twelve years in Brussels in various business support roles she has been involved in grant funding in some shape of form for the past 16 years.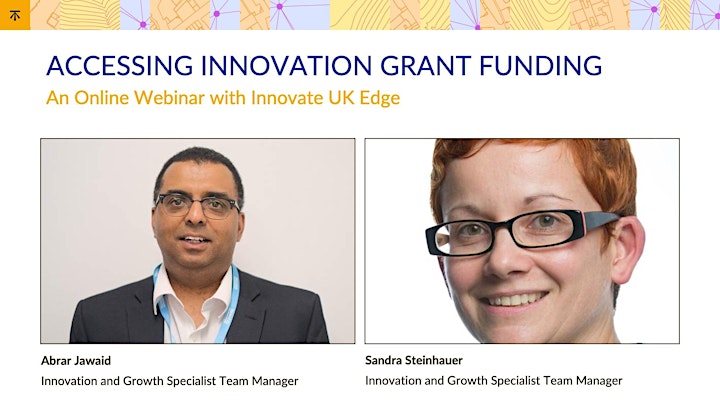 Organiser of Accessing Innovation Grant Funding