Accessing Skills Development Support Made Clear - 27 February 2018
Description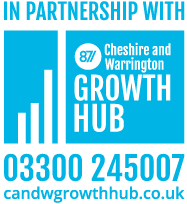 Start 2018 the right way for you and your business by learning how to improve yourself as a business owner and up-skill your workforce to unlock business growth. At this event, you will be able to access the range of Skills Development support available across Cheshire and Warrington. To help you navigate the wide range of support available, you will hear from a host of local experts able to provide you with the most relevant, up to date and most importantly, practical advice, that you can access locally as a Cheshire and Warrington based business looking to develop and grow.
In partnership with the Cheshire and Warrington Growth Hub, you will hear from a range of ambassadors for Business Growth who can help you access:
The Business Growth Programme

who deliver practical and meaningful business support across a wide range of business growth areas including accounts and finance, marketing, HR, product development and many more in order to unlock growth within your business
The Department for International Trade in the North West who deliver through their programme supported by the European Regional Development Fund "The Enhancing SMEs International Trade Performance Programme" - a range of support and match-funded grants to help the growth and development of your export business. This includes match funded grants of £1,500-£3,000 for eligible companies.
West Cheshire College who deliver a range of business support services to help businesses with growth, including the most recent development, the FUSE programme which provides training designed to meet the STEM and Digital skills needs of SME businesses.
The Local Enterprise Partnership

will also be in attendance, giving you the opportunity to have your say in the development of the local Skills and Education Plan for Cheshire and Warrington based businesses
As well as hearing about all of the new support available from our informed expert panel of speakers, you will also have the opportunity to talk to any one of the programme experts individually at the event in an informal networking session to find out how your business could benefit from the support available.
Places are limited so book soon to avoid disappointment.
To book and check eligibility please call 03300 245007 or email support@candwgrowthhub.co.uk or register now.

In Partnership with: