Accessing Support: Challenges faced by BME and Muslim women
PKAVS & Perth and Kinross HSCP are partnering with Amina Muslim Women's Resource Centre to bring this unique learning opportunity.
About this event
Amina is an award-winning organisation, recognised by Muslim communities and key partners within Scotland for its pioneering and responsive approach to addressing key issues and needs of Muslim women.
Having invested in this specialist area where there was previously a gap in services in Scotland, Amina is recognised as the national hub for gaining access to, and consulting with Muslim women across Scotland. The organisation has been instrumental in initiating and tailoring services to meet the particular needs of Muslim women to ensure that they are able to fully participate in society without fear of discrimination or inequality. Some current projects include: a national helpline for Muslim and BME women in Scotland, campaign and prevention work to end violence against women and girls, poverty relief, English classes, digital inclusion, befriending and friendship groups, life in the pandemic exhibition and workshops on islamophobia to schools.
This free learning opportunity will take place on Friday 24th September, 10am-12pm via Zoom. Safa will offer a personal reflection on her experiences of being a BME Muslim women in Scotland, the challenges faced by clients she supports on accessing services and how service providers can ensure best practice in supporting BME and Muslim women.
We are luck to have Safa Yousaf delivering the session. Safa has been with Amina for over 7 years working on a range of projects from delivering workshops on Islamophobia in Schools to working on the ending Violence Against Women project. Safa is currently the project manager for the Helpline project and the ending Violence Against Women programme. Safa has delivered workshops and training across Scotland to schools, conferences, community groups and service providers.
We hope you can join us!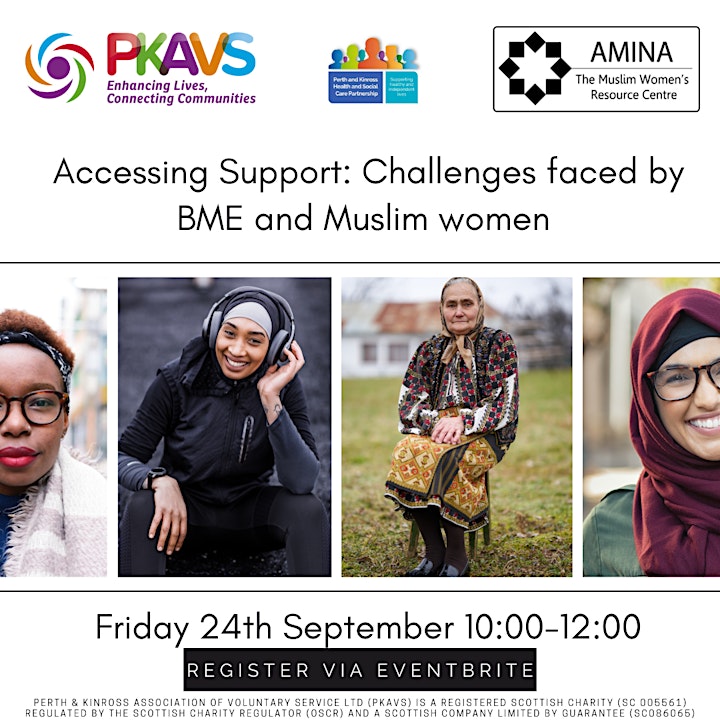 Organiser of Accessing Support: Challenges faced by BME and Muslim women