Accident prevention workshop: slips, trips and falls in the workplace
Description
Harrogate & District Health and Safety Forum
HEALTH AND SAFETY WORKSHOP - accident prevention: slips, trips and falls
Registration from 12:00
Event starts at 12:30
---
Slips, trips and falls are the leading cause of accidents in the workplace. The resulting injuries can be devastating for the individual involved and generate a huge financial burden on industry from injury claims and working days lost.
For over a decade the presenter has worked at the Health and Safety Laboratories on numerous research projects and incident investigations to develop an understanding of why people fall and how to prevent incidents.
During his talk, he will discuss how the workplace environment, task design, human behaviour and footwear can all influence the risk of slips, trips and falls and will explain how small changes can significantly reduce the risk.
This event will include three facilitated workshops giving delegates the opportunity to discuss causes and identify solutions to slip, trip and fall accidents.
Who should attend?
This event is suitable for anyone involved in managing slips, trips and falls in their business, trainers and consultants.
It will also be of interest to those responsible for selecting flooring and footwear and also those involved with ensuring good cleaning practices.
Numbers will be restricted to 60 delegates so early booking is advised.
Programme
12:30 - 12:35 Welcome
12:35 - 12:50 What the law says, Stats relating to Slips trips and falls, Riddor reporting
Tony Moule – Local Authority Enforcement Officer
12:50 - 13:50 How the workplace environment, task design, human behaviour and footwear influence risk of slips trips and falls
Mark Liddle – Scientist, Health and Safety Laboratories
13:50 - 14:10 Facilitated Workshop
Scenario 1 - Slip
14:10 - 14:30 Tea break
14:30 - 15:00 A closer look at Trips and Falls
Mark Liddle – Scientist, Health and Safety Laboratories
15:00 - 15:40 Facilitated Workshops:
Scenario 2 – Trips
Scenario 3 – Falls
15:40 Sum up and Q&A
---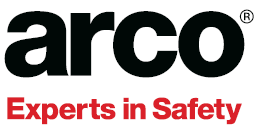 Arco are pleased to support the Harrogate & District Health and Safety Forum in improving workplace safety