Description
Accounting and Financial Management for Small Charities
We know that in small charities everyone involved is doing many jobs at once, and it's rare to have a dedicated accountant or finance manager. But these topics are too important to let slide, and so it's vital that everyone involved has an understanding of your charity's legal and financial obligations.
The workshop is aimed at anyone involved in their organisation's accounting - whether that's Trustees, managers, staff or volunteers. The aim is to ensure you understand what the requirements are for your specific charity, as well as help explain some of the jargon and offer some practical tips - ideally to help avoid large accountancy costs!
We will also take a brief look at the role of the Trustees, and the principles of good governance.
We will assume a minimal level of prior knowledge or experience and offer some real-life examples of best practice, as well as handy examples of where things can go wrong.
N.B – If delegates are able to bring along the latest set of their charity's financial statements that would be useful.
The workshop will cover the following:
An introduction to accounting
- Who needs to prepare what, why and how.
- Basic accounting concepts for small charities

Financial statements for charities
- What to look out for
- Writing the Trustees Report
Trustees' responsibilities and how to apply them
Level: Introductory, for those taking their first steps into charity accounting or governance, or who wish to refresh their understanding of the basics.
---
Trainer Bio: Clair Moelwyn-Williams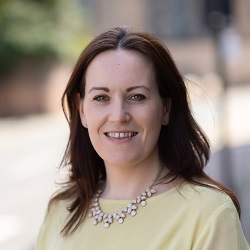 A chartered accountant with a demonstrated history of working in the accounting and audit industry, specialising in the charity, social enterprise and not-for-profit sector. Clair is an Independent Examiner and experienced presenter, facilitator and public speaker, specialising in Trustee Training, Governance reviews, Internal control reviews and technical updates.
Partner Info: WVSC
Small Charities Coaliton are pleased to be working with Wolverhampton Voluntary Sector Council (WVSC) to bring you this session.
WVSC exists to support the development and sustainability of an effective voluntary and community sector, promoting the principle and practice of voluntary and community activity, in order to facilitate the development of diverse, strong communities and to enhance quality of life within the City of Wolverhampton. You can find out more about their projects and get in touch via their website.
Arrival Information:
This session will be taking place at WVSC Training Room. Upon arrival, please ask for the Small Charities Coalition. We ask that all attendees arrive 15 minutes before the workshop starts to allow for registration and ensure a timely start and the smooth running of the workshop.

Please note that there is no parking for attendees at the venue itself, but there are lots of spaces on adjacent roads and nearby. Please visit the WVSC website here for more information. Please contact us if you are a disabled driver to book your accessible parking space.
Catering:
Teas and coffees will be provided, but not lunch, so please bring a snack if you're likely to get peckish.
Accessibility:
The venue is fully wheelchair accessible, but we want to make sure our workshops meet all your needs, so please email us at events@smallcharities.org.uk once you've booked to discuss in more detail.
Booking:
You must be a member of Small Charities Coalition in order to attend this workshop. If you aren't already you can register for free here.

The Small Charities Coalition is a national membership organisation that helps trustees, staff and volunteers of small charities (under £1million turnover) access the skills, tools and information they need to get going and do what they do best.

Waitlist:
If the places have all been filled please do add your details to the waitlist and we will let you know as soon as a place becomes available.

Cancellations and Refunds:
If you cancel your place at least 3 full working days before the event takes place then you are entitled to a full refund by request. Refunds for cancellations after this point are given at the discretion of Small Charities Coalition.
If you cannot make a workshop please advise us as soon as possible. Workshops normally have a waitlist and if you notify us early enough then there's a good chance another charity can attend in your place.