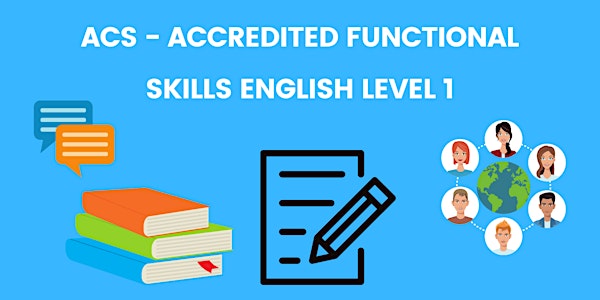 Multiple Dates
Accredited Functional Skills English Level 1( FREE Online Course)
Improve your English skills over the course of 9 weeks and beyond
About this event
Update 1st July
Please register for the Level 1 & 2 Course instead every Friday between 10am to 2.30 pm
To sign up check: https://www.eventbrite.co.uk/e/functional-skills-english-level-1-and-2-free-online-course-tickets-144071556905
The friday course is the same as level 1but teaches L1 AND L2.
Schedule
Start date: 12th April 2021 to end 26th July 2021Time & Day: 10am to 2pm Course will run every Monday
Study Location: Online via Microsoft Teams
Info
Improve your English skills over the course of 9 weeks and beyond
This course is for people who want to gain a Functional Skills qualification.
You will complete three exams: reading, writing and SLC (speaking, listening and communication) to gain the full qualification. The course covers everything you need to know to pass the exam. You will need to attend lessons regularly online and complete homework in your own time.
Entry requirements
To complete an online pre-course assessment to ensure you are placed in the correct course.
Accreditation
Accredited by NCFE
What are the benefits of the course? What work is involved in gaining the qualification?
This qualification contains one mandatory unit (comprising three components – Reading, Writing and Speaking, Listening and Communicating, all of which must be achieved at the same level).
give learners the opportunity to:
Develop an understanding of Functional Skills English at Levels 1
develop their skills and competences in English
achieve a nationally recognised qualification
prepare for employment
progress to further study.
What to do after getting ticket?
1. fill out the enrolment Employment, Skills & Adult Learning Enrolment Form
On what platform will the course be taught?
Microsoft Teams - will enable you to access the team's page to course material, ask questions and join meetings quickly all in one place (please note If you do not have a Microsoft account, you will be required to sign up).
The first day time you'll join you will be assessed to ensure you're doing the right level.
Organiser of Accredited Functional Skills English Level 1( FREE Online Course)
African Community School is a community organisation operating from Hackney. We provide a safe environment for children, young and adult through a range of services to relieve poverty and promote social and economic well- being of young children living in Hackney and surrounding areas.