Start your professional career journey with our Hypnotheapy courses.
About this event
Professional, Comprehensive and Accredited hypnotherapy training in Devon.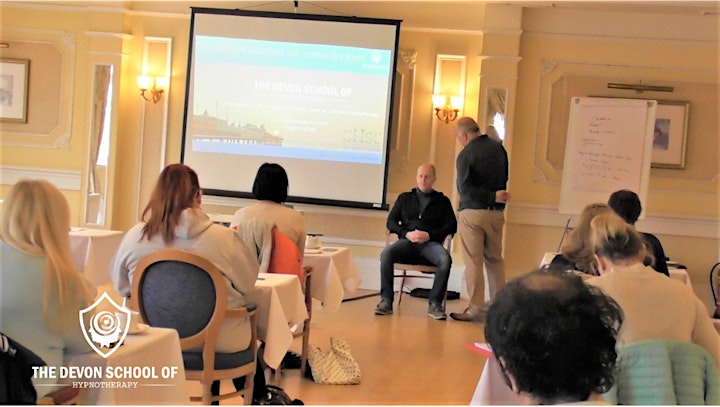 Our one weekend a month,10-month Hypnotherapy training course is fully accredited by the General Hypnotherapy Standards Council-the Uk's number one Hypnotherapy professional body.
Upon completion, you will be a fully qualified and accredited hypnotherapist with the skills and knowledge to safely and effectively treat your clients professionally. You will also be equipped with all the latest information and guidance in setting up your own private practice.
From day one, you will learn and develop your skills with the support of working professional hypnotherapists, including previous students.
We go further than other schools in supporting and nurturing our students into confident and professional hypnotherapists through our open-door policy, student areas on our website and private chat groups.
Please note the ticket price listed covers the DEPOSIT ONLY of the certificate in hypnotherapy course.
The full cost of the certificate course, including handouts, is £195.00 with an early bird special of £185. The remainder is payable by the final day of the course.
All students must complete the Certificate in Hypnotherapy weekend course before proceeding to the Diploma as this gives you the opportunity to ensure we are a good match for one another.
The Diploma in Hypnotherapy costs in total, including handouts, is £2450.00. Instalment plans available.
The cost of the Certificate in Hypnotherapy weekend is subtracted from the total cost of the Diploma in hypnotherapy upon successful completion of the Certificate weekend.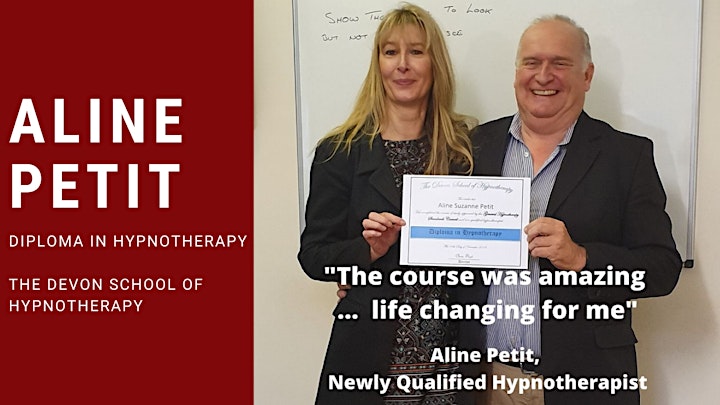 Your journey starts here with our weekend Certificate in Hypnotherapy.
-A stand-alone qualification or Module one of the Diploma in Hypnotherapy.
The two-day Certificate in Hypnotherapy course combines both theory and practical elements, including understanding what hypnotherapy is, why it is effective, its uses and how you can safely and effectively hypnotise someone.
From weekend two onwards, you will;
Learn to assess the needs of clients
Understand the laws relating to hypnotherapy and advertising
Parts therapy
Client-centred therapy
Creating client plans
Regression techniques
Physiology of stress
Motivation
Different scripts and their uses
How to write scripts
Business development
Further information is available on our website or give us a call.
Telephone: 01803 500300 / 07841 595960
Email: chris@fleethypnosis.com
Organiser of Accredited Hypnotherapy Training
Founder and tutor Chris Fleet began training as a hypnotherapist in 2002. He passed his Advanced Structured Hypnotherapy Diploma with 96%. Each year Chris undertakes CPD courses to maintain his knowledge and accreditations.
Details of Chris Fleet's qualifications can be found on our website.
During his training Chris realised the many facets to hypnosis and hypnotherapy including its vast uses in treating clients.
Today, Chris not only treats clients in his private practice, Fleet Hypnosis but also teaches students at The Devon School of Hypnotherapy.
"I am passionate about hypnotherapy and how it can change people's lives. I see it as my duty to train people to the best of my ability. My aim is to pass on as much knowledge as I can without holding anything back just in order to gain more money from students." Chris Fleet