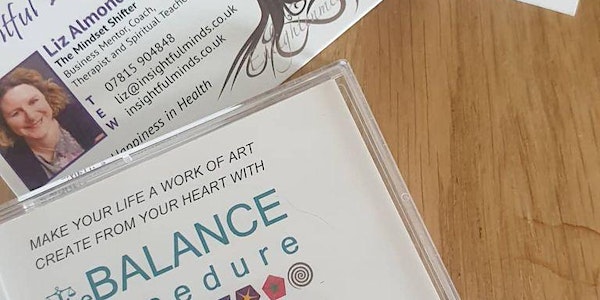 Accredited Level 2 - The Balance Procedure
Become an Energy Practitioner of the Balance Procedure, release your stress, empower your clients and increase your income!
About this event
Two training sessions - 3rd February/3rd March from 1-3pm
Pre requisite: To be qualified at Level 1 The Balance Procedure and that you have had an hour long energy balancing session with an accredited Level 2 practitioner.
Having become Level 1 qualified, you will have been benefiting from the Balance Procedure such as feeling more aligned, lighter, brighter and happier. You have shifted your heavy past and you are busy creating the future you have dreamt about. You are ready to empower your own clients and to share the Balance Procedure with others as well as looking at using the Balance Procedure to boost your own income.
This training will give you the skill set to release even more of your past and will teach you how to pass on your passion for the Balance Procedure to others. You will be taught how to run a client session, to work out the numerology behind your students success and how to find clients so that you can make The Balance Procedure a viable income stream to your business. You will also be supported to be able to train others in the Balance Procedure Workshop.
The training is in two parts.
Part one focuses refreshing your knowledge on the Balance Procedure, on teaching you how to run a client session and how to gain case study participants.
Part two focuses on reviewing your case studies and fulfilling the two open book assessments - a multiple choice quiz and a game focused on how anatomy and physiology integrates with the Balance Procedure so that you may support your clients with long term chronic health conditions. We also look at how you can make a business out of selling energy balancing sessions and selling the Balance Procedure books/cards.
There is a month between training sessions to allow you the focus to find 4 case study participants so that you can carry out 4 x 1 hour sessions. You may charge for these case studies. A suggested fee would be £50. There is an additional cost to this training - you will need to purchase 4 x 4 sets of cards/books. These are currently £17.50 each including P&P. When you are a qualified and accredited Energy Practitioner of the Balance Procedure, you will be charging £150 per hourly session.
This training includes the 4 hours training and assessment support and includes certification fee of £50 as you will qualify in 2022. When you have completed your 4 case studies and assessments, you will send these to me to be assessed a week before the second session. I will send you a set of slides so that you can run your own training session of the Balance Procedure Workshop. When you have completed this, you let me know and I will send your passed assessments to Jenny Cox (The creator of the Balance Procedure) with your certification fee. Jenny will contact you to set up a 1-1 session.
You will have a 1-1 session with Jenny to review your learning from delivering a training session and to enable you to ask any questions you have about the Balance Procedure. Provided you meet all the assessment criteria, Jenny will then pronounce you to be an Energy Practitioner of the Balance Procedure and will send you out a certificate for you to provide to insurers.
NB. In 2022, the certification process changes and the certification fee will be paid directly to the trainer.