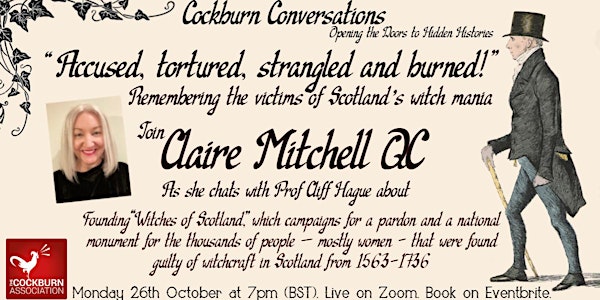 Accused, tortured, strangled & burned! Remembering victims of witch mania
Event Information
Refund policy
Contact the organiser to request a refund.
Eventbrite's fee is nonrefundable.
Claire Mitchell QC joins Prof Cliff Hague for a Cockburn Conversation about plans to obtain a pardon and memorialise Scotland's "witches"
About this event
On October 26th at 7pm we are hosting another Cockburn Conversation, this time with Claire Mitchell QC, founder of Witches of Scotland, and Professor Cliff Hague, chairperson of the Cockburn Association.
Witches of Scotland campaigns to obtain an official pardon, Parliamentary apology and national memorial for the thousands people - mostly women - who were accused, tortured and executed for supposed acts of witchcraft in Scotland between 1563 and 1736.
You can find out more about the project in this Scotsman article and are encouraged to ask any questions you may have during the Q&A session near the end of the hour. Questions can also be submitted in advance to admin@cockburnassociation.org.uk . Please subject your email: "Cockburn Conversations – Claire Mitchell QC".
Tickets to this event cost £4 (with a further 90p booking fee to Eventbrite), any profit will be split between the Cockburn Association and Witches of Scotland project.
If you enjoy our Cockburn Conversations please do consider becoming a member of the Cockburn Association - The Edinburgh Civic Trust. We are an independent conservation charity and we need your assistance to help us continue protecting Edinburgh's wonderful civic amenities and unique built heritage.
Only ONE ticket per screen, per event is required to be booked.
Claire Mitchell QC was called at the Bar in 2003, having been a solicitor in private practice since 1996. She has built up a strong Appeal Court practice, with an emphasis on constitutional, human rights and sentencing questions. She has attended the Privy Council and Supreme Court on a number of occasions in relation to cases of general public importance to the law of Scotland. At the 2013 Law Awards of Scotland she received a "Special Recognition Award" for her contribution to legal thinking over the previous decade.
Long aware of the injustices suffered by thousands of women during the Scottish witch mania, she was inspired to found Witches of Scotland during a walk in Princes Street Gardens. She noted that no monument exists there to adequately memorialise the atrocities relating to this dark episode in Scotland's history that took place on this site when the park was the city's Nor' Loch.
Professor Cliff Hague is a freelance consultant, researcher, author and trainer and chairperson of the Cockburn Association. Professor Hague taught generations of Scottish and international planners and was Head of the then Department of Town and Country Planning in Edinburgh College of Art / Heriot-Watt University. Today, he is Professor Emeritus of Planning and Spatial Development at Heriot-Watt University in Edinburgh and has previously been the President of the Royal Town Planning Institute, and of the Commonwealth Association of Planners and the Chair of Built Environment Forum Scotland.
Founded in 1875, the Cockburn Association is Scotland's oldest conservation body. Our purpose is to enhance the amenity of Edinburgh and its neighbourhood and to protect its rich architectural and landscape heritage. We are a membership organisation, open to everyone who is passionate about our city.
Our "Cockburn Conversations" provide a contemporary public forum, reminiscent of the coffee houses, salons and taverns of Edinburgh in the age of Enlightenment, where we discuss local heritage matters and debate important contemporary civic issues that affect the city and its communities today.
Have a look on Eventbrite or our social media channels for information about the other Cockburn Conversations in this series and please do watch out for future events.
Date and time
Location
Refund policy
Contact the organiser to request a refund.
Eventbrite's fee is nonrefundable.
Organiser of Accused, tortured, strangled & burned! Remembering victims of witch mania
The Cockburn Association, established in 1875, is the oldest civic amenity body in the UK and we are entirely independent from local and national government. We are regarded as an influential and authoritative charity and enjoy the support of a diverse range of individual, affiliate and corporate members. We are active throughout Edinburgh and work, largely through volunteers, to protect and enhance our outstanding environment for everyone.   The Association campaigns on issues which impact on our daily...