Join Excellerate Black Futures for an educational session with Bolanle Akinbolu
About this event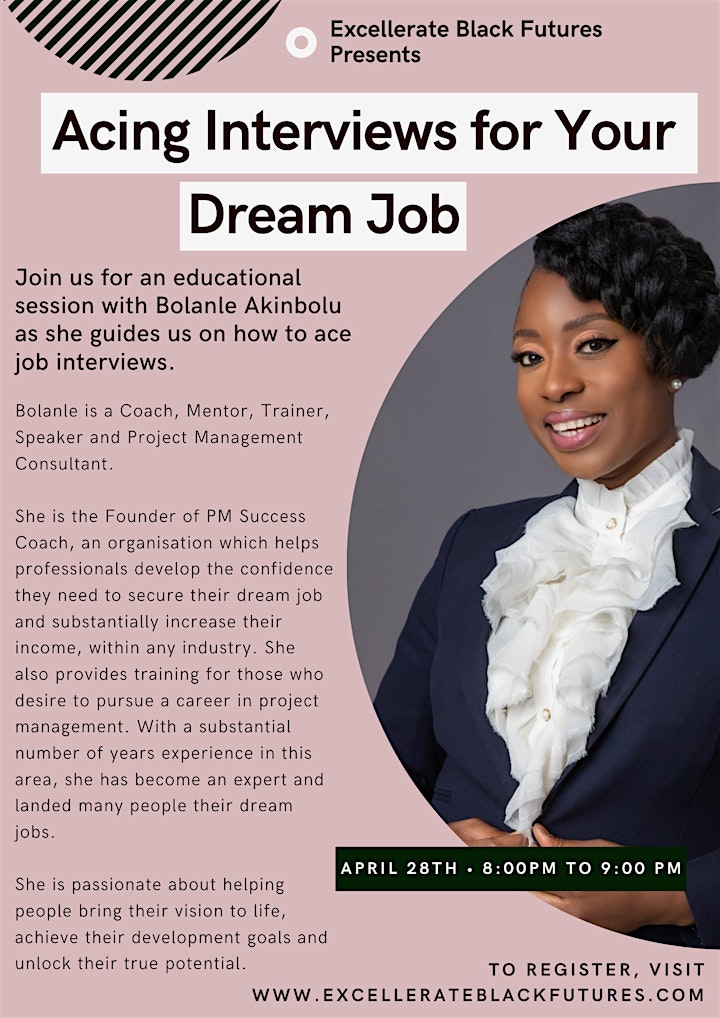 Excellerate Black Futures is pleased to invite you to our Educational session with Bolanle Akinbolu on How To Ace Interviews For Your Dream Job.This educational session is designed to be informative, leaving you feeling inspired to take bold steps in your aspirations. There will be opportunities for Q&A, and joining details will be emailed upon registration.
About Bolanle Akinbolu
Bolanle is the Founder of PM Success Coach, an organisation which helps professionals develop the confidence they need to secure their dream job and substantially increase their income, within any industry. She also provides training for those who desire to pursue a career in project management. With a substantial number of years experience in this area, she has become an expert. She is an Award Winning Mentor and has successfully trained and mentored over 500 clients, including Senior Leaders and Executives.She is passionate about helping people bring their vision to life, achieve their development goals and unlock their true potential.
About Excellerate Black Futures
At Excellerate Black Futures, we are passionate about helping black talent to succeed. With several years of joint experience in HR and professional backgrounds including Talent Acquisition, Learning, Leadership and Talent, we educate young professionals, entrepreneurs, students and graduates, helping them to excel and accelerate their careers through our six week talent programme and our monthly events. Click here for more information and to join our online family where you'll be the first to hear about upcoming events and opportunities.