Introduction to Data Analysis in Python hosted by the Advanced Computing Research Centre
About this event
This workshop will teach you the basic tools available in Python for data analysis. It will particularly focus on Pandas to learn how to:
Read in data files
Combine data together
Summarise and aggregate your data
Filter your data
Visualise your data
It will also introduce Jupyter Notebooks as a way of interleaving prose with your code as a form of 'literate programming'.
Please look at our Code of Conduct which we follow at all virtual and in-person events.
This programme may be subject to change.
Join online at: https://teams.microsoft.com/l/meetup-join/19%3ameeting_NDJmYjkyZTctNjM2NS00YzYxLTk4MTMtZjk3NThmNzA0ZGI1%40thread.v2/0?context=%7b%22Tid%22%3a%22b2e47f30-cd7d-4a4e-a5da-b18cf1a4151b%22%2c%22Oid%22%3a%22c1646949-ddd6-411a-9bbd-d7d794656457%22%7d
Advanced requirements/set up:
It will be taught in JupyterLab using the notebook interface and so before the session we recommend installing Anaconda Python.
Audience level:
You should have a good understanding of the basics of Python, at least as far as taught in the Beginning Python course.
Learning Outcomes:
Use Jupyter Notebooks to explore data
Use Pandas to select, manipulate and filter tables of data
Visualise data using Seaborn
Speakers:
Dr Christopher Woods, Head of Research Software Engineering
Dr Matt Williams, Research Software Engineer, Jean Golding Institute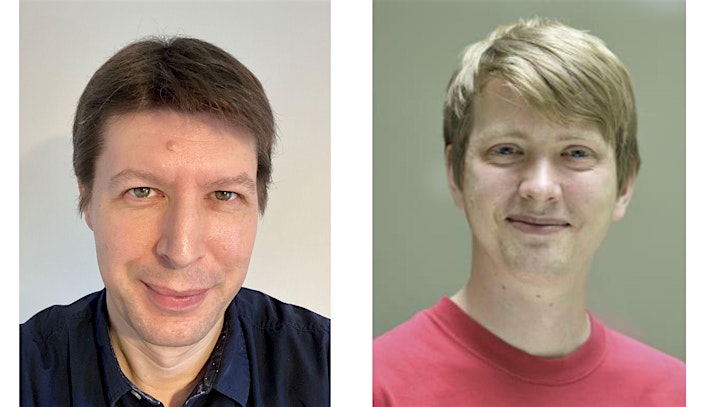 Left to right: Christopher Woods, Matt Williams
Christopher is Head of Research Software Engineering at the University of Bristol. He founded the group in 2016, via an EPSRC RSE Fellowship. The group has grown to 10 members, and now works with researchers across the University. The group provides training in software engineering, data analysis and machine learning with thousands of attendances each year. Christopher was Joint-Chair of the UKRSE Association from 2016-2019 and a founding trustee of the Society of RSE. His background is in computational chemistry, working at the Universities of Southampton and Bristol from 1999-2014, primarily focussed on developing molecular modelling software.
Matt works in the Jean Golding Institute as a Research Software Engineer (RSE). Matt joined the University in 2016, coming from the University of Birmingham where he provided support for the LHC's world-wide computing platform. He worked to support the synthetic biology community at Bristol as part of the Advanced Computing Research Centre (ACRC). He has a strong background in Physics and computational modelling. He is especially interested in making research software more sustainable through the use of testing, version control and automation of processes. He leads the software engineering teaching team in the RSE group in the ACRC. Matt is the President of the Society of Research Software Engineering, working to support and promote software-driven research.

The ACRC has helped establish Bristol University as a world-class centre for research and teaching in advanced computing systems. They deliver hundreds of millions of core hours to researchers across multiple supercomputers and manage Petabytes of research data.
This event is part of Bristol Data Week 2022, organised by the Jean Golding Institute. Running from Monday 13 June - Friday 17 June 2022, this will be our 5th annual Data Week; an interactive programme of speakers, training, and workshops, open to all and completely free of charge.
Keep up to date with other sessions happening throughout Bristol Data Week, on the Jean Golding Institute website, follow us on Twitter @JGIBristol and connect with us using #BristolDataWeek