Event Information
Refund Policy
Refunds up to 7 days before event
Eventbrite's fee is nonrefundable.
About this Event
ACT Therapy Training Course | ACT for Beginners | ACT Training Fully Online
Certified Program. 2 x Interactive Q and A Sessions (90 mins each) and 3 x Recorded Training Sessions (90 mins each).
Get started in learning this radical therapy and training over a period of 5-weekly sessions.
It's called Acceptance and Commitment Therapy or Training and I'm a big fan of the approach for 3 reasons.
1. ACT is based on 40 years of lab and clinical research, showing how well it works, which is always important.
2. ACT doesn't focus on making you feel better. It focuses on making your life more RICH and MEANINGFUL. In this way, feeling better just becomes a welcome side-effect rather than a focus, which works very well in my experience.
3. ACT is not just a therapy. The approach works so well, people have even used it to to grow their organisation, improve their coaching skills and even help win gold medals at Olympics.
Research has found Acceptance and Commitment Therapy is beneficial for many different challenges, including:
workplace stress
test anxiety
social anxiety disorder
depression
obsessive-compulsive disorder
psychosis
chronic pain
substance abuse
diabetes
As ACT is a trans-diagnostic approach that increases psychological flexibility, so its approach are potentially beneficial for everyone who is open to trying it.
Here's how it works:
1. You purchase a ticket here on Eventbrite. We have discounted early bird tickets if you wish to save some money.
2. Closer to the start date, we will email you a link, so you can sign up and attend the online training via live video calls (we use Zoom). Each week you will be reminded of the session automatically by email.
3. The first session is live and interactive on Monday 27th July at 6pm UK. It's also recorded if you can't make it.
3. The next three sessions are video training sessions. You will be emailed them each week, and expected to watch them and share your experiences in the private Facebook group with Shamash. You can ask any questions you wish there.
4. The final session will also be live and interactive, on Zoom. You'll learn more content and have time to ask Shamash any questions you have.
5. Everyone will receive a set of recording and the slides of each session, so if you can't make any session , no problem at all!
6. At the end of the training, you'll receive a certificate to show you've completed 10 hours of training which could be used for CPD if you wish.
Not Sure? It's 100% Risk Free!
Still not sure? We get it. Sometimes you're not sure if a training is for you. So, if you attend or watch all the recordings and still don't enjoy it or find any benefits, just let us know at the end of the program and I'll give you a full 100% refund.
About Shamash
Shamash is the international bestselling author of the Mindfulness For Dummies series and The Mindful Way through Stress. Based in London, he runs workshops and speaks at conferences all over the world and now uses webinars to show others how to teach mindfulness, too. Shamash also co-founded the world's first Museum of Happiness in London.
FAQ
1. What online program do you use for the training?
For our first and last session, which is interactive, we use Zoom Webinars. It's free for you to use it, and you can watch on desktop, laptop, tablet, iPad or a smart phone. If you can download the Zoom app and have a fast wifi connection, you're good to go!
2. What if I can't make it after booking it?
We can automatically put you onto the next training we do like this. We run it every few months.
3. I'm a coach/therapist. Can I get a certificate to show I've done this beginners training?
Yes, we will email you one at the end of the training.
4. What books do you recommend we read?
I recommend you read:
'Get out of your Mind and into your life' by Steven C. Hayes
The Happiness Trap by Russ Harris.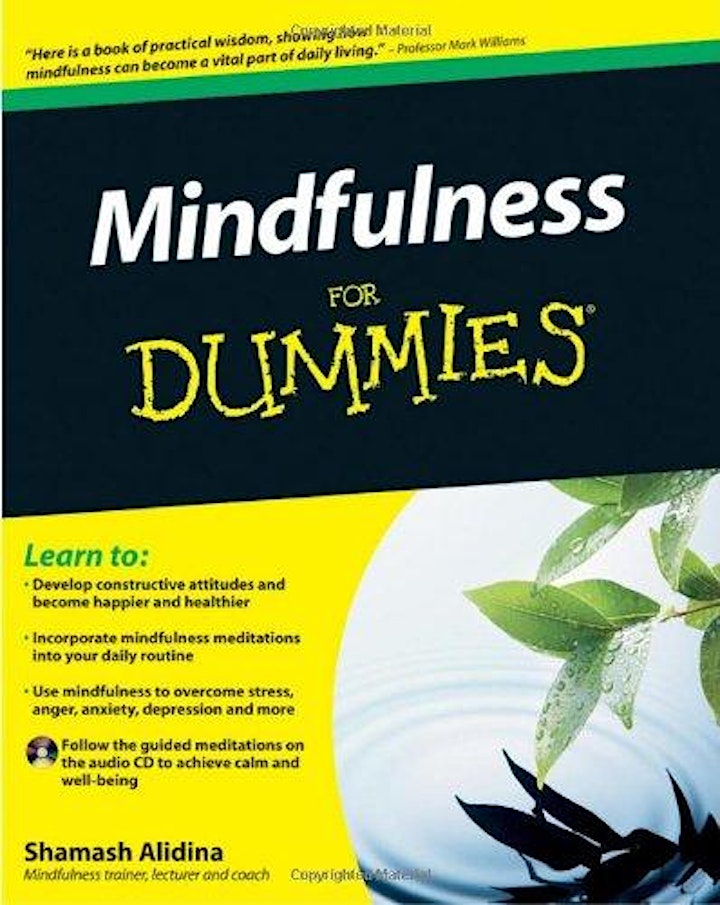 Date and Time
Location
Refund Policy
Refunds up to 7 days before event
Eventbrite's fee is nonrefundable.