Description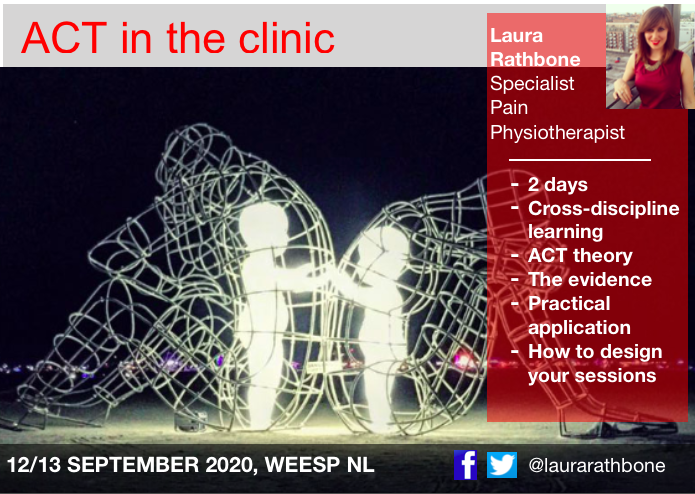 ** Aimed at Physiotherapists who work with persistent pain - applicable to other registered professionals, ask if you aren't sure **
Have you ever struggled with keeping people on side during the treatment process? Do you find it hard to make specific and meanigful goals with your clients? Do you sometimes notice that there are many personal and social challenges for the person in pain that are very hard to address and work with? Then this course could help you to find practical techniques that help the people you work with to navigate their pain story and make meaningful change.
ACT is a process-focused psychological approach and a 3rd-generation of cognitive and behavioral therapy. It has been shown to be helpful with life problems such as chronic pain, anxiety, depression, PTSD, substance abuse, psychosis, eating problems and weight management.
It is based on 6 dimensions of change that interract to create a level of psychological flexibility within the person. Psychological flexibility is a person's ability to change a pattern of behaviour or thinking in order to achieve a goal inline with their values.
Experiential avoidance, cognitive entanglement, fusion with an unhelpful concept of 'self', loss of contact with the present moment and a consequent failure to take necessary behaviour change steps towards helpful strategies or behaviour change may play a role in on-going suffering. ACT specifically targets these areas in 'real-time' to promote behaviour-change towards a person's values and the life they choose.
After this course:
You will have a clear idea of what is involved in ACT, and be able to use ACT approaches with your patients

You will be better at accepting your own thoughts and feelings and recognize the role they play in any treatment contact, as a prerequisite for helping others

You will be more in contact with your own personal values and more prepared to act responsibly on them, and to help others do the same

You will be able to recognize, accept and work with your own distress, and through this, will be able to teach others to achieve this themselves.
------------------------------------------------------------------------------------
This course will be an intense programme focusing on the use of ACT for people with pain and will explore:
The story of ACT and how it has developed (exploring what is meant by Relational Frame Theory (RFT) which forms the foundation of this therapy).
We will take a 'deepdive' into the evidence which underpins our clinical reasoning for this approach.
What we mean by terms such as 'cognitive defusion', 'acceptance' and 'observing the self'
Building up the skill of 'present moment awareness'
How to assess and develop therapeutic interventions based on a narrative-based model of care
Getting in touch with "self-as-context" - the part of you that observes and experiences but is different from the part of you that has feelings, sensations, and memories.
Experiential avoidance, cognitive entanglement, and psychological rigidity: and how to manage this in the moment
Formulation: how to assess a person's willingness to change and highlight target processes for intervention
Application: we will look at how to devlop and ACT-based assessment approach as well as therapeutic sessions specifically targeting certain processes of the "hexaflex" (the six dimensions) as well as experiencing these from the patient-perspective
The course:
This course will be a 15 hour course spread over one weekend and will be followed by a small-group online development session that will give you the space to ask questions about experiences or cinical practice development.
There is also the option for an extended period of mentoring which will include four one-hour online sessions of individual mentoring.
Tea + coffee and Lunch are included.
About Laura Rathbone:
Laura Rathbone is a clinical specialist physiotherapist working in the field of persistent and complex pain and lives in Amsterdam, the Netherlands. She gained her MSc in Advanced Neuromusculoskeletal Physiotherapy from Kings College London in 2015. Here she was heavily influenced by the teaching of Prof Mick Thacker who introduced her to the wider philosophical discussion around human experience and pain.
She has held multiple Physiotherapy roles in London within 1st and 3rd contact environments working in clinics, GP practices, hospitals and a specialist program. She worked as part of the multi-disciplinary team delivering the INPUT Pain Management program at St Thomas' Hospital under the management of Prof. Lance McCracken. This is a highly specialised programme for people with persistent and complex pain. Here she gained an in-depth working model of ACT and became skilled in session development for groups and individual work.
Laura is dedicated to the understanding and exploration of the science of pain. She co-hosts Le Pub Scientifique in Amsterdam and guest lectures on the topic of pain and incorporating psychological frameworks into practice.
She is currently interested in the 'how' and 'why' people experience pain. She is exploring the philosophical discussions around conscious experience and how humans interact with their environment. She is particularly keen to explore how these models feed into the development of a modern, person-centered health care service.
The location:
Weesp is a beautiful example of a 'typical Dutch' town with it's cobble-stone roads, windmills, canals and not to forget it's own Jenever!
Just a 20 minute ride from Amsterdam's Centraal Station, Weesp is a combination of 18th century 'Oude Weesp' and modern Amsterdam culture as it joins the municipality of big city. There are plenty of restaurants and bars for you to spend your evening chatting about pain and the humanities in!
Accommodation in Weesp can be limited, contact me if you need advice or have questions.