Event Information
Refund Policy
Refunds up to 1 day before event
Eventbrite's fee is nonrefundable.
A one-day online workshop on how to use Acceptance and Commitment Therapy to help people who struggle with their self-esteem.
About this Event
Online workshop on 25/02/2021, 9:30-16:30 GMT
A recording of the workshop will be available until 5pm UK time 31/03/2021.
Are you a therapist or coach who works with issues relating to self-esteem? Do you work with people who struggle with their self-image? People who don't know who they are? People who constantly judge themselves negatively? People who lack direction and drift through life? If so, this workshop will be of great relevance to your practice.
Background
The concept of low self-esteem has become prominent in everyday language and is often applied to the kind of people described above. The idea that 'high self-esteem' is preferable to 'low self-esteem' is pervasive amongst therapists and the people who engage their services. However, due to the emphasis on self-rating and judgement, working to raise a person's self-esteem lacks consistency with the principles and values that characterise more contemporary, or 'third wave' developments in cognitive behavioural therapies. Modern innovations suggest powerful new ways of helping client's to stop fighting for 'high self-esteem' and move to developing deep self-acceptance, and lead lives that are rich, fulfilling and fun.
This workshop is based on the presenters' new book, 'The Mindfulness and Acceptance Workbook for Self-Esteem', and will present cutting edge developments in contemporary theory and practice, drawing on Acceptance and Commitment Therapy (ACT) and Relational Frame Theory (RFT) to help therapists simplify their interventions as related to notions of the self.
Learning Objectives
To promote the latest developments in ACT and RFT in making sense of the self in therapy
To help practitioners understand the important difference between self-esteem and self-acceptance
To equip practitioners with practical skills for moving towards self-acceptance through the elegant use of the therapeutic relationship
The workshop will balance theory and practice, making use of didactic, discursive and experiential methods including live demonstrations and recorded material from therapy sessions.
The workshop will be recorded and the recording will be available to watch until 5pm UK time 31/03/2021. We are not able to extend beyond this date. You may attend live, watch the recording or both.
The ticket price includes a code to redeem a free electronic copy of 'The Mindfulness and Acceptance Workbook for Self-Esteem', which will be emailed to you separately within a few weeks of registering.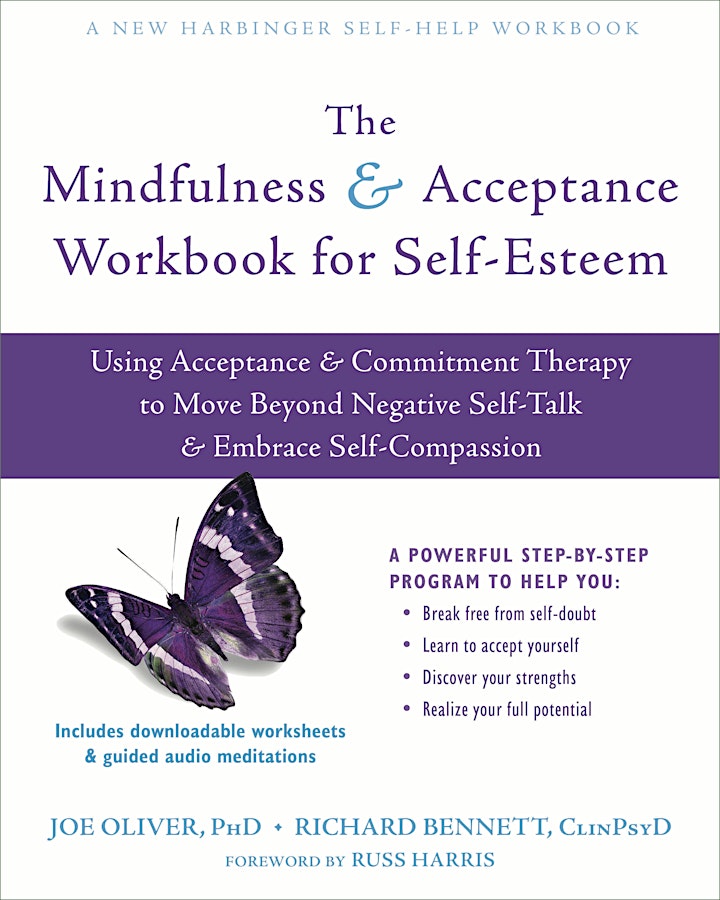 About the presenters
Dr Joe Oliver works as a consultant clinical psychologist and joint director of the cognitive behavioral therapy for psychosis postgraduate diploma program at University College London. He runs Contextual Consulting, delivering therapy and training in the UK and internationally.
Dr Richard Bennett works as a clinical psychologist and cognitive-behavioral psychotherapist. He leads the postgraduate diploma in cognitive behavioral therapy at the University of Birmingham and runs a psychotherapy practice, Think Psychology, in Birmingham, UK.
Praise for 'The Mindfulness and Acceptance Workbook for Self-Esteem'
"The solution to low self-esteem sits hidden in a place you'd never think to look. This book shows you where that place is, and how to use your greater freedom from self-criticism to take your life in a new direction. Gentle, witty, and wise—the book feels like a conversation with a helpful friend. If self-esteem is a struggle for you, do yourself a favor and read this book." - Steven C. Hayes, PhD, Nevada Foundation Professor in the department of psychology at the University of Nevada, Reno; and originator and codeveloper of ACT
"Joe Oliver and Richard Bennett are well known for publications and training that have both a solid foundation in the contextual behavioral science (CBS), and are easy for readers to absorb. This book will give readers the opportunity to loosen from some of their old self-talk and create bigger lives." - Louise Hayes, PhD, clinical psychologist; and coauthor of The Thriving Adolescent; Your Life, Your Way; and Get out of Your Mind and Into Your Life for Teens
"The authors of this fabulous workbook have a story to tell, and if you listen to it and learn from it, it will change your life. In a remarkably practical, humble, and genuine way, the authors tell us a story about living with the joys and sorrows of wanting to belong, of wanting to fit in, of wanting to care about and be cared for by others. This workbook teaches you how to stand tall in the presence of these vital human pursuits, to accept your anxieties and self-doubts, and to act according to your personal values. Above all, this workbook will teach you that it is pointless to search for self-esteem and self-acceptance, because you already have it. It was given to you as a birthright. This book will teach you how to reclaim it! Highly recommended!" - Kirk Strosahl, PhD, codeveloper of acceptance and commitment therapy (ACT), and coauthor of The Mindfulness and Acceptance Workbook for Depression
Feedback from our previous #ACT100 workshops
"Inspiring, engaging and humourous - most engaged I've been at a training day"
"One of the best CPD courses I've ever attended"
"Presenters were very engaging and easy to understand. They kept my interest for the whole day"
"Role play/live demonstrations of techniques were incredibly helpful!"
"This was an amazing workshop and will really benefit my personal and professional self"
"Thanks so much. Really engaging. Great double ACT 😁"
"Brilliantly paced. All relevant. Very generous with pricing and free amazing book! Really enjoyed it"
"Really enjoyable. Great presentation style from both , worked amazingly together. Really appreciated the vulnerability and humour . One of the best trainings I've been on"
"Great day as always. Joe and Rich are such great presenters"
Date and Time
Location
Refund Policy
Refunds up to 1 day before event
Eventbrite's fee is nonrefundable.