Sales Have Ended
Ticket sales have ended
Sorry, time expired Please try again Having problems contact us: karrieannfox@actionfox.com
Sales Have Ended
Ticket sales have ended
Sorry, time expired Please try again Having problems contact us: karrieannfox@actionfox.com
Description
How serious are you about your business?
If you are tired of simply surviving in business and are ready to take more cash, win more deals, dramatically improve your bottom line and, to put it bluntly, get your business back on track, then ActionCLUB is for you.
What is ActionCLUB?
ActionCLUB is a program that builds a strong foundation for business owners around ALL the key fundamentals of business. It is a program of eight 2½ hour sessions and four planning days, run over 12 months that leads you through the key components of running a successful business. You will receive a coaching call between sessions to keep you on track.
During the program you'll learn how to:
Achieve more by improving your priority setting and time management skills
Define your unique selling proposition and turn it into a powerful, competitive weapon
Dramatically increase your lead generation and conversion skills
Develop loyal, profitable customers who keep coming back
Differentiate between cash flow and profit margin
Hire, develop and retain the best people
Create systems that allow the business to run without you
Session Timetable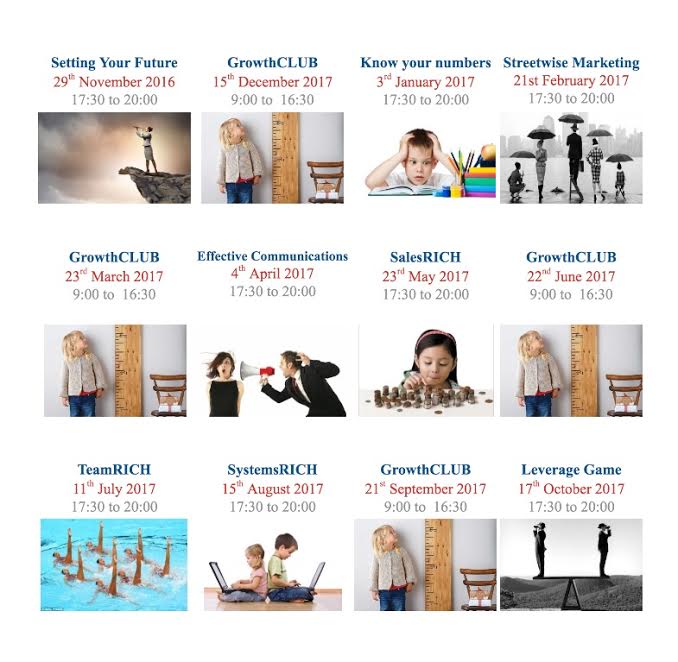 £149 per session
Use code FIRST to receive £50 off your first session
Get £50 off your next session if you bring a paying guest